Russians in Jersey in The Times 1799
Russians in Jersey in The Times 1800
Les États de Jersey et les Russes en 1800
Memories of Russians in Jersey
Lé régiment appelé 'Les Russes'!
Russians in Jersey during the German Occupation 1940-1945
'Warmest feelings' from Russia
Harold Le Druillenec en Russie
Jersey Norman-French in the Kremlin
George d'la Forge pâle d'la Russie
Some small stories - Tchiques p'tites histouaithes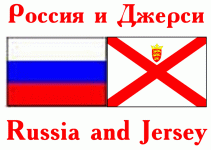 Some lesser-known aspects of Jersey history are the occasional links between Russia and Jersey. Personal contacts, trade and military necessity have, from time to time, brought our histories together.

The presence of Russians in the population of slave-workers brought to Jersey by the occupying forces during the German Occupation is perhaps more widely known than the Russian troops stationed in the Channel Islands at the end of the 18th century, or the visits made by Russian anarchist philosopher, Peter Kropotkin.

But besides the influential and the important, there are also personal testimonies of visits and contacts that are added here from time to time. All further material gratefully received.
R'tou à la page d'siez-mé | Back to home page