Sus ches pages ou trouv'thez un tas d'pages tchi contcheinnent man travas entouor l'histouaithe et la tchultuthe dé Jèrri. Y'a les Pages Jèrriaises, auve des milles articl'yes et d'poésies et du vocabulaithe, et tchiques pages auve des îndex dé poèmes en Français, Angliais et Dgèrnésiais. J'pâle lé Russe et j'ai mîns des pages auve un mio d'l'histouaithe des lians entré Jèrri et la Russie. J'sis un artiste, et y'a eune page auve d'l'înfo entouor mes livres, et des pages auve des portraits et l's histouaithes des statues d'Jèrri. J'ai fait des portraits et j'ai prîns des photos dé dolmens étout, et ous en trouv'thez des pages ichîn étout. J'sis Villais et Chrétchien et don j'ai mîns des pages entouor Saint Hélyi tch'apportit la Pathole dé Dgieu en Jèrri. Y'a des pages entouor les Trais Léopards et la Couleu d'Jèrri. En siéthant les lians, ou trouv'thez les pages des Sections dé tchi j'sis membre. S'ous avez des tchestchions, ou pouvez m'e-mailer. Mèrcie bein des fais pouor vot' vîsite!
Ex-Président d'la Section d'l'Histouaithe d'l'Art et d'la Photographie, Membre d'la Section d'la langue Jèrriaise, Membre d'la Section d'l'Histouaithe, Ex-membre du Conmité d'la Bibliothèque, Designeu d'l'Exhibition d'la 125ième Annivèrsaithe d'la Société, Maître-pêtre des Pages Jèrriaises
Geraint Jennings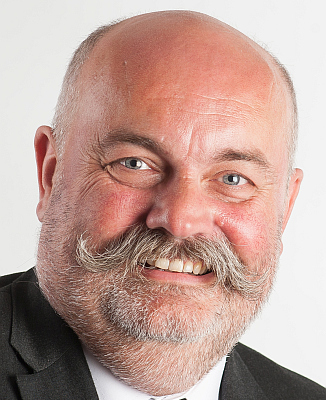 Séyiz les beinv'nus!
Welcome!
geraint@societe-jersiaise.org
On these pages you will find lots of pages containing my work on the history and culture of Jersey. There are the Pages Jèrriaises, with thousands of articles and poems and vocabulary, and some pages with indexes of poems in French, English and Dgèrnésiais. As I speak Russian, I have put up some pages with some history of the links between Jersey and Russia. I am an artist, and there is a page with information about my books, and pages with pictures and the histories of the statues of Jersey. I have done some pictures and taken photos of dolmens as well. I live in Town and have therefore put up some pages about Saint Helier who brought the Christian faith to Jersey. There are some pages about the Three Leopards and the Jersey Flag. By following the links, you will find the pages of the Sections of which I am a member. If you have any questions, you can e-mail me. Thank you very much for your visit!
Past Chairman, Art & Photographic History Section, Member of la Section de la langue Jèrriaise, Member of the History Section, Ex-member of the Library Committee, Designer of the Société's 125th Anniversary Exhibition, Webmaster of the Pages Jèrriaises