Memories of Russians in Jersey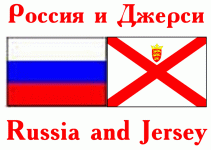 Great must have been the excitement of the inhabitants when on the 24th November, 1799, the first detachment, the Russian Corps of Emmé (now the Pauloski Regiment), which still wears the same head-dress - a tall gilt mitre - arrived in the Island. And how their amazement, not to say alarm, must have increased as week after week brought fresh numbers of these denizens of a strange and distant land. By January 1800, 6,505 Russians had landed in Jersey, the sister isle of Guernsey likewise receiving about the same number, the whole force being under the command of a Frenchman, General Vilmenil, who was created a field-marshall on the restoration of the Bourbons.
As there were also about 8000 English troops in the place, it was somewhat difficult to find accommodation for the strangers. A large camp was formed on Grouville Common. Many were quartered in the St. Helier's Bay, in the so-called Blue Barracks, which were on the sand hill that then stretched between First Tower, and Cheapside. Mention is made of Laurence's, and Pipon's Barracks the exact site of which I am unable to discover. They were probably private houses hired as temporary quarters; for we find that the old parsonage at St. Brelade's, St. Ouen's Manor and Belle Vue near St-Aubins were all used as such. About St. Aubin's were distributed 995 men of a Regiment of Chasseurs, and a Regiment of Grenadiers, 61 being in hospital there. The General Infirmary of the Island was also hired by the Russians, and was used mostly, as a Hospital, though some of the troops seem to have been placed there as well.
To our good Jersey people, who in 1799 were more shut out of the world than they are now, the sight of these soldiers, especially of the Cossacks with their strange manners and costumes, must have been a revelation and if report speaks true not altogether a pleasant one for food being scarce, the Russian troops who were half starved used to prowl about and lay hands on whatever they could seize, even it is said committing highway robberies on the people returning provision-laden from the markets.
Their love of tallow was so great that they went round begging for candle ends, which they greedily devoured ; and woe to the tradesman who unwittingly displayed packets of these dainties outside his shop - the temptation was too great! It is recorded too that on one occasion the town of St. Aubin's was left in total darkness the Russians having drunk up all the oil from the lamps. Perhaps in consequence of this uncritical gormandizing it is said that the officers illtreated the men fearfully, and that their cries could be heard some way off .
There appears to have been a good deal of sickness among the troops ; and being so badly fed and poor they could not resist disease. Many of them died, and were buried like dogs any where. There is a little Cemetery on Grouville Common where they were interred simply with their blankets around them. It was consecrated some years after their departure; but it is now all overgrown and desolate, with no stones to tell us the names of the men who lie there. Some skeletons found in the garden of Grouville Rectory were supposed to be those of Russians; and some were certainly buried in the moat of St Ouen's Manor, witness the fact that they were long believed to haunt it.
A lady, whose grandfather was very intimate with some of the Russian officers, told me that he used to take delight in electrifying them. It caused them terror, as they thought the shocks due to magic; so that at last they would only consent to undergo the ordeal, when his daughter was included among the victims. She also said that her grand father had often told her how beautifully their accoutrements smelt of Prussia leather.
Another anecdote I heard was that when the Russian officers were asked where they lived, they would answer with a shrug "sur le Mont où nous couchons". Query is this the origin of Mont Cochon, as some were quartered at the Blue Barracks near the foot of the hill now bearing that name.
Philippa Marett
Jersey Ladies' College Magazine
R'tou à la page d'siez-mé | Back to home page