Members are invited to research pictures, photos and other materials relating to the history of art and photography with a Jersey connection. Topics touched on by the Section have included: statues in Jersey, gargoyles, stained glass windows, portraits of Lillie Langtry, care of old photographs, pub signs and commercial art, murals, portraits of family and local figures, early photographers, decorative arts, and gravestones. The history of art and photography in Jersey is a little-researched field, so any information anyone digs up, whether through casual interest or serious research, contributes greatly to our knowledge of the visual aspect of the Island's heritage.

The Prince's Tower



The historic monument that the Société Jersiaise demolished. Vandalism or sacrifice?
Jean Philippe "Turnkey" Giffard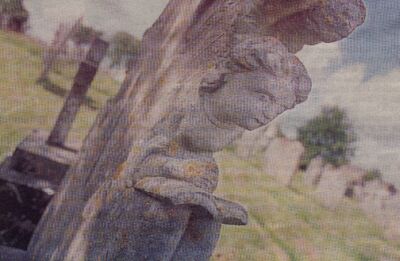 Sculptor, prison warder, maker of figureheads
"Turnkey" Giffard and the Devil
Les Caves dé Champion - Troglodyte Caves
Jean Philippe "Turnkey" Giffard
Lé Creux du Vis - Devil's Hole
La Prison de Jersey
Poème Lyrique: Sir John Everett Millais, Baronet, Membre émérite de l'Académie Royale.
Le 8 Juin 1892: Le jour de naissance - la fête de Sir John Everett Millais, Baronnet - le peintre par excellence.
In Memoriam of Sir John Everett Millais Baronet, President of the Royal Academy
Millais: references


Henry W. Sohier
Henry William Sohier: poem
Edmond Bliampid - Edmund Blampied
Three leopards



Variations in the iconography of the Jersey arms: a photographic essay
Iconography of the Jersey Leopards - History Section lecture
Statues



Statues and Monuments in Jersey: a historical and pictorial overview
La Repasseuse



J.L. David's Neo-Classical picture in St. Helier Parish Hall
Fishermen's Chapel



Mediaeval wall paintings in St. Brelade
Railings in Jersey



Gates and railings - fancy ironwork in urban settings and rainbow colours
Les Vibert photographiés
Born in 1781 - photographed in 1864
Le Daguerréotype
First demonstration in Jersey?
Notes and Cuttings
Miscellaneous material
Ouless family
References for PJ Ouless, WW Ouless and CP Ouless
Frank S. Dobbs
Illustrations
Caricatures
Political and social satire
Lillie Langtry - The Jersey Lily



The funerary monument of Jersey's homegrown courtesan
Glass Church



Glass interior by Lalique - an Art Deco masterpiece