Art & Photographic History Section
La Section d'l'Histouaithe d'l'Art et d'la Photographie
Art & Photographic History Section
La Section d'l'Histouaithe d'l'Art et d'la Photographie
Three leopards - Les Trais Léopards
Variations in the iconography of the Jersey arms: a photographic essay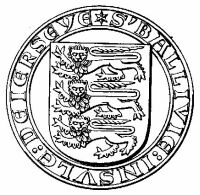 In June 1998 the Art & Photographic History Section conducted a walkabout quiz around St. Helier looking at variations in a very common symbol: the arms of Jersey.
Many buildings, both official and others, display the three gold heraldic lions (or leopards) on a red ground, sometimes carved, sometimes painted, sometimes cast in metal, sometimes engraved in glass. This page shows some of the interesting variations, from older more leonine representations to sleeker more leopard-like modern versions. Some are smooth, some are shaggy, some are fierce, almost monstrous, while some resemble cuddly pussycats.
Earlier representations tend to be more naturalistic, if sometimes primitive, while the more recent ones have a tendency towards heraldic abstraction. Modern versions tend to have less individuality and charm.
More information and more pictures can be found in Iconography of the Jersey Leopards
| | | |
| --- | --- | --- |
| | | |
| Fish Market, Cattle Street | Markets | Société Jersiaise, Pier Road |
| | | |
| Jersey Museum, Weighbridge | Picquet House, Royal Square | Nat West Bank, Library Place |
| | | |
| Jersey Telecoms, Minden Place | States Building, Royal Square | Tunnel under Fort Regent |
| | | |
| Liberation Square | Ariadne Steam Clock, Waterfront | Caesarea Court, Val Plaisant |
Since 1981, the Jersey flag has included a crowned version of the arms:


And the banner over the Bailiff's chair in the States Chamber represents the three leopards: