Fêtes 1998 - 2012
1998
Montebourg
La preunmié Fête des Rouaisouns eut lieu à Montebourg et fut un si grand succès qu'nou dêcidit d'continnuer la tradition en viageant en Jèrri l'année tchi veindrait.
The first of our annual Fêtes took place in Montebourg in continental Normandy and was such a success that the tradition was started of a different place hosting the Fête des Rouaisouns every year.
1999
Jèrri
Les Rouaisouns d'1999 eûtent lieu à Hamptonne, auve des stâlles, des gammes, des costeunmes - et bein seu, d's èrctitâtions et des chansons.
Hamptonne hosted the Fête in 1999, showcasing not only the recitations and songs, but also stalls and traditional pastimes.
2000
Dgèrnésy
Tchil ênorme succès qu'la Fête de la Vieille Langue Normande en Dgèrnésy en 2000! Les Dgèrnésisis mênagîtent d'attither un tas d'monde à la Fête ès Vauxbelets.
Guernsey's event in 2000 was the biggest and best yet - and attracted crowds of people to Les Vauxbelets.
La Fête d'la Vielle Langue Normande 2000: photos et texte - photos and text
La Fête d'la Vielle Langue Normande 2000: photos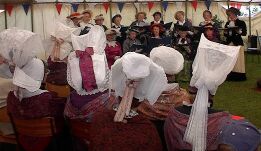 2001
Coutanches
D'èrtou à la grand'tèrre pouor les Rouaisouns dé 2001 où'est qu'la Ville dé Coutanches nos atchilyit pouor eune raide bouonne célébrâtion d'la langue et les tchultuthes des Îles et des régions Nouormandes.
Back to the Norman mainland in 2001 for a celebration of language and culture in Coutances.
Les Rouaisouns 2001: photos et texte - photos and text
2002
Jèrri
La Fête Nouormande èrvînt siez nous du 3 au 9 d'Juîn 2002. Ch'fut la pus grande et la miyeu célébrâtion d'not langue et d'not' tchultuthe, et des langues et tchultuthes dé Dgèrnésy et d'la grand' tèrre.
The biggest and best Fête yet - a week-long programme of events leading up to a weekend of colour and culture
La Fête Nouormande 2002: touos les portraits et l'programme
2003
Dgèrnésy
La grand' tente ès Vauxbelets vit eune journée d'dans'sie, d'chant'tie, et d'tchultuthe - auve des bannètes, des coêffes, des tappeurs, des castchettes et un amas d'aut's chapieaux et d'costeunmes!
Back to Guernsey in 2003 for another day of language and culture at Les Vauxbelets.
Les Rouaisouns 2003: photos
2004
Bayeux
Dans la chapelle d'la Tapiss'sie à Bayeux, et dans les rues d'la ville, auve les Fêtes Médiévales, les Rouaisouns 2004 mèrtchîtent les 800 ans d'la s'pathâtion d'la Nouormandie.
The language of William the Conqueror celebrated in the Bayeux Tapestry complex. And out and about in the medieval heart of the town, the Fête Nouormande 2004 celebrated 800 years of separate history but common culture.
Photos d'la Fête Nouormande 2004
2005
Jèrri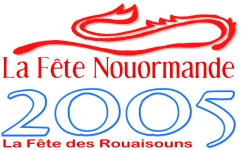 2006
Dgèrnésy
Fête Nouormande 2006
2007
Bricbé
Fête Nouormande 2007
2008
Jèrri
Fête Nouormande 2008
2009
Dgèrnésy
Fête Nouormande 2009
2010
Fotaine-eul-bourg
Fête Nouormande 2010
2011
Jèrri
Fête Nouormande 2011
2012
Dgèrnésy