Vraic



In this article, the Jèrriais words vraic, vraitcheur, hèrnais, collet and cliaque are used in the English text. Note also use of the Jersey-English verb to vraic. Note the glossary of vraic terminology (N.B. uncorrected in reproduced text - corrected spellings are plîse, hèrnais, faûcillon, fourque, tchéthiéthes, grappîn, râté)




Fertile crop from the shore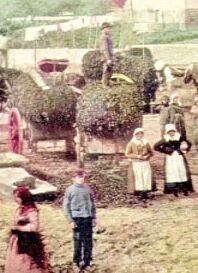 If Jersey finds it difficult to make a profit out of cultivating the land, it should look to the sea and the shore.

That is the opinion of Gerald Thomas, who now lives in New Zealand but was the entomologist at Howard Davis Farm for 36 years.

In his professional life Mr Thomas was concerned with identifying the insects and other invertebrates which attack the Island's crops and animals.

However, he was always keenly interested in the seaweeds growing around the Island and the role they have, for so many years, played in agriculture and even in the kitchen.

It follows that Mr Thomas is not suggesting that the decline of farming and growing should be compensated for by fish culture or more shellfish beds, but by harvesting kelp and other marine algae.

Naturally enough, inspiration for this innovative idea came initially from the traditional use of vraic - the usual Jersey term for seaweeds of various sorts - as a highly effective fertiliser for crops such as the Jersey Roval potato.



Recipe



'During my years at the States Farm, the best advice I ever received was this: "Grease the land with a good lick of vraic and you can't go wrong",' said Mr Thomas.

That recommendation came from an old Jerseyman, and as well as being a sound recipe for gardening success it also spurred further investigation of what vraic in all its shapes and forms has to offer not only the farmer but also people in general.

Gathering information from books such as Dr Frank Le Maistre's Dictionnaire Jersiaise-Français, from a former Jersey Official Analyst, from growers and from vraitcheurs, the harvesters of vraic, Mr Thomas has compiled a dossier of information about the uses made in Jersey of all sorts of seaweeds.

He has written: 'The uses which seaweed has had in Jersey are several. It has been used as a farm manure, as a fuel - the ash then being used as fertiliser - and for payment of dues to a seigneur.

'One species, Chondrus crispus or carragheen, an edible vraic, was collected during the German Occupation and used to make table jelly.'

He also writes about merle, a calcareous algae which grows on the seabed, being imported from Brittany for use instead of lime as a soil sweetener.

Meanwhile, in the sort of laboratory work with which he was so familiar, another seaweed, Gelidum amansi, which grows in tropical waters, furnishes agar, the medium on which bacterial and fungal cultures are incubated for the diagnosis of disease.

In the Far East the same weed and other seawater algae are regularly used for food.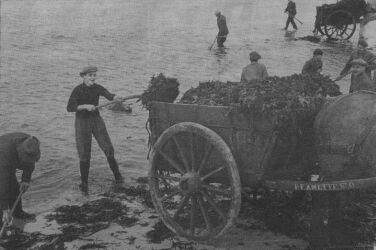 Here in Jersey vraic has had its place in history.

Records from 1299 show that it was a frequent cause of quarrels and even criminal charges in the Royal Court when there were violent clashes etween collectors.

In the late 16th century when Calvinist ecclesiastical law was at least as important as secular statutes, parish Constables told farmers the dates on which vraic might be cut in allocated zones of the shoreline.

A hundred years later, restrictions were placed on knitting, an activity which occupied a great many Island households, so that vraicing would not be interrupted.

Those who flouted the law could be imprisoned on bread and water.

For centuries vraitcheurs relied on horses and carts - particularly the hernais, a two-wheel conveyance with no springs often portrayed by Jersey artist Edmund Blampied.

Later, old lorries and trailers, used in conjunction with tractors equipped with buck-rakes were employed, but vraicing is now far less common as a result of the dominance of chemical fertilisers and the decline in agriculture.






Kelp harvesting is an industry in Brittany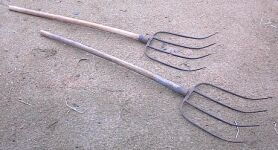 La Frouque à vrai
pouor chèrgi du vrai dans un hèrnais
The Vraic fork
for loading seaweed onto a cart

Analysis undertaken by Gerald Thomas shows that vraic has a nutrient content which compares very well with farmyard manure.

It also has the advantage of containing no weed seeds.

As well as containing respectable levels of nitrogen, phosphorus and potash, vraic yields lime and common salt.

A ton of kelp processed by slow burning can, in the meantime, produce eight pounds of iodine, large qualities of volatile oils, paraffin oils, naphtha, ammonium sulphate and valuable alginates, which are used in foods and medicines.

This is well understood in the Roscoff area of Brittany, where kelp harvesting from special boats with mechanical grabs is an important small-scale industry.

In New Zealand kelp is used even more directly, being fed directly to cattle on offshore islands where forage is in short supply.



Moisture



And in the Scottish islands there is a variety of sheep which readily feeds on seaweed on the foreshore.

On Island crops other features of vraic are of additional value. For example, it helps hold and even absorb moisture when worked into light sandy soils in which many potatoes and outdoor tomatoes were once grown.

However, vraic straight from the sea should not be used on heavier soils because it cools them and prevents early cropping.



Stacks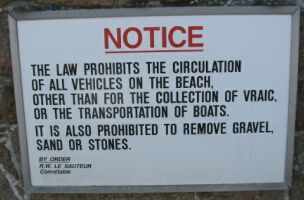 The best sort of vraic for use in these circumstances is the dried variety, which, not so many years ago, was prepared in stacks near the shoreline at La Rocque, La Pulente and L'Etacq.

Work by F Woodland Toms, Jersey's Official Analyst for over 40 years, shows that dried vraic is three to four times as effective as a fertiliser than the fresh weed.

His analysis also showed that collet (kelp) is richer in potash than other seaweeds and that cliaque (green weed, such as sea lettuce) is rich in nitrogen.

Perhaps surprisingly, vraic taken in the spring is richer than autumn weed collected after a summer's growth.

The rate of application for wet vraic is up to 20 tons per vergée and six tons per vergée for the dried version.

Mr Thomas says that a traditional vraitcheur would aim to collect about 16 loads or 50 tons a day during the height of the vraicing season.





Jersey Norman-French glossary of vraicing terms
In his inquiries into seaweed, Gerald Thomas has identified the useful species of algae which have Jersey Norman-French names.


| | |
| --- | --- |
| Collet: | The English name for these weeds is oarweed or kelp. Scientifically, they are known as Laminaria digitata and Laminaria saccharina. They are used for manure and are the main constituents of the masses of vraic thrown onto beaches by winter storms. |
| | |
| Cracot or bedaine: | This is bladder wrack (Fucus vesiculosis). |
| | |
| Pliat vrai : | Serrated wrack or twisted wrack (Fucus serratus and Fucus spiralis). |
| | |
| Cliaque or cliouque: | A mixture of fragile green and red seaweeds, including sea lettuce (Ulva lactuca). The name is meant to indicate the noise this soggy substance makes when a lump of it is dropped on the soil. |
| | |
| Plise: | Eel-grass (Zostera marina). This is not an alga but a flowering plant which lives in shallow water. Not highly rated as a fertiliser. |
| | |
| Crachet: | Chanelled wrack (Pelvetia caniculata). This is a very short weed which grows near the high tide mark. |
La Pitchelle à vrai
pouor ancrer lé vrai amouoch'lé sus l'hèrnais
The Vraic anchor
for anchoring seaweed piled un a cart


Mr Thomas's studies have also enabled him to catalogue the equipment and terms used in vraicing.


| | |
| --- | --- |
| Hernais: | A two-wheel cart with no springs. |
| | |
| Faucillon: | A sickle for cutting weed from a boat. |
| | |
| Forque: | A three-prong fork. |
| | |
| Taillais or taillaison: | The vraic-cutting season. |
| | |
| Tchethniethes: | Cart tracks, sometimes cut through solid rock, to access vraicing areas. |
| | |
| Grappin: | A fork with curved prongs for dragging vraic out of the water |
| | |
| Rate: | An all-iron rake six feet wide and a long handle used by two men to pull vraic out of the water. |
JEP 18/4/2003

"Vraicking in Jersey" (1906)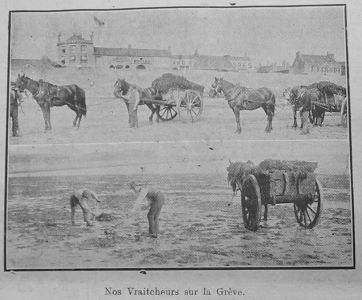 "Nos Vraitcheurs sur la Grève" (1913)
Viyiz étout: