D's articl'yes et des nouvelles entouor lé Jèrriais 2005

Press cuttings about Jèrriais 2005

A book at bedtime... in Jèrriais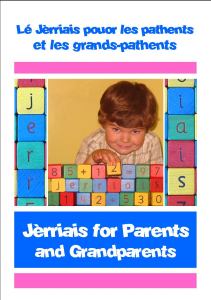 L'Office du Jèrriais encourage parents to hand down language
Parents and grand parents will be able to read bedtime stories to their children and grandchildren in Jersey French with a new book published by L'Office du Jèrriais.
'Le Jèrriais pouor les pathents at les grands pathents' has been created to encourage young Islanders to learn Jèrriais and encourage parents to use Jersey's historical language more in the home.
It is hoped that the increased use of Jèrriais as children are growing up, be it warnings or praise, nursery rhymes or bedtime stones, will motivate youngsters to have an interest in the language and help pass it on to the next generation.
Tony Scott Warren, of L'Office du Jèrriais, said parents in Ireland, Scotland, Wales and other countries had similar booklets for many years. Families in Jersey have been asking for something to help them use Jèrriais with those too young for classes and also to reinforce Jèrriais at home for those who do
Whether parents want to raise their children bilingually or simply want to use some of Jersey s traditional nursery rhymes, this book has something to offer anyone interested In the Island's culture he added
The book priced at £4 was published on 1 December by Le Don Balleine.
For more information contact L'Office du Jèrriais on 608609.
JEP 8/12/2005
Eisteddfod
Jersey Norman-French



The venue for this section, which took place on 18 and 19 November, was once again St Martin's Public Hall thanks to the generosity of Connétabl'ye John Germain. Sadly, the adults evenings were not as well supported as was hoped, with many of the familiar faces who regularly support other functions noticeable by their absence.
Joan Tapley, chairman of the Jersey Norman-French Eisteddfod Committee, opened the three sessions, introducing the adjudicatrice and adjoint, Madanme Enid de Gruchy and Moussieu Ken Syvret respectively, who carried out their tasks with diligence, warmth and encouragement. Certificates were presented to competitors having been inscribed by Daphne Macready, ably assisted by Maureen de Gruchy and Fleur Benest.
The Junior Section was held on a Saturday for only the second time and was warmly supported by many parents in a packed hall.
Apart from a very full morning session, the afternoon saw a much improved increase of ten, to 14 schools in Clâsse 623, 'Èrcitâtion en tchoeu' (choral speaking), with joint worthy winners JCG Preparatory and St John's Primary Schools. Special mention must be made of four-year-old Joshua Le Gallais who recited 'Les Mèrgots', par FMH, confidently and with such good enunciation for one so young!
Twenty nine schoolchildren, all newcomers to Jèrriais, entered Clâsse 600 compared to 15 last year. They will all have only had eight or nine lessons in school this term, most can have only half-hour lessons, so credit is also due to their teachers for this pleasing result. Nineteen entered classes as learners of more than one year, a similar figure to 2004; this hopefully shows evidence of sustained learning among older pupils. Among this group, Sophie Banks won both Classes 602 and 604, which also earned her the Best in Junior Section miniature trophy from the Jersey Eisteddfod.
The Adults/Students Sections were split between the Friday and Saturday evenings, with entries much as In previous years. Clâsse 617 attracted eleven good entries; the own-choice pieces were selected from well-known authors Elie and JP among others, to a translation by Joan Tapley of Corinthians I, Chapitre 13, given by Michael Lucas, which once again won him La Coupe F V Le Feuvre with 92 marks.
The highlight of Friday evening was undoubtedly Clâsse 615, Duologue impromptu, which once again allowed the stalwart partnerships of Eileen Le Sueur and Dulcie Jones, Jean La Maistre and Ken Vibert, Joyce and Brian Gilbert and newcomers Joan Tapley and Cohn Ireson, to battle it out with such tricky subjects as new supermarkets and a lady as First Minister!
A delighted Audrey Lucas was presented with the Jersey Eisteddfod engraved glass goblet as 'Best Adult' in recognition of her considerable contribution to the Eisteddfod competitions over the years.
Saturday evening, however, closed with a short but hilarious play, written by Joan Tapley and entitled Le Grand Jour (The Opening Day). As always, this reflected recent political 'events', in this case Le Café Toulouse in Broad Street and special thanks must go to proprietor Sean Murphy for the loan of the actual signboards from the café!
'Propriétaithe' Missis Murphy (Ann Lowry), superbly supported by femme dé service Bridget (Ann Herrod), were both trying to give their new customers full benefit of the generous donation to cover their opening costs from one Frank Walker! Unfortunately, Mess Ch'valyi (Oscar Chevalier) in dire need of 'relief', doesn't read his 'gâzette du sé' and is unaware that there has been a change of use for the former gents conveniences! The future is saved by the arrival of a 'millionaithe' (Colin Ireson) who wishes to donate funds for the building of two conveniences as the Constable can only offer two buckets! A magnificent effort with a splendid stage set, full to bursting, all of which earned 'Les Petits Crapaud Players' the Don Balleine Prize and closed the festival on a high note.
JEP 8/12/2005
Talking my language
Tony Scott Warren is passionate about Jersey Norman-French and, as Kate Cadigan discovered, thanks to his dedication, and that of his colleagues at the L'Office du Jèrriais at Highlands, there is every indication that a dialect once on the verge of extinction is now enjoying an encouraging revival
No longer verging on the edge of extinction, Jersey Norman-French, allying itself with other minority languages, is not only making a stand but a comeback.
Tony Scott Warren, Jersey language teaching co-ordinator, is excited about the future of Jèrriais in the Island and with good reason. If you call at the Highlands based L'Office du Jèrriais you will be greeted in the dialect. The small room crammed with books, traditional Jersey decorations, photographs of smiling students and hand-made thank-you cards leaves little doubt that a passion for the language is infectious.
With 200 school children enrolled for lessons in the language next term and a number of recent publications in Jèrriais, the work being done by Mr Scott Warren and his colleagues seems to be paying off. But it is the ongoing enthusiasm, for what was considered by many as a dying part of Jersey's heritage, that underlies its success.
Mr Scott Warren, who was recently elected vice-president of CAER a pan-European society working to promote minority languages, was born on 25 October 1949 in Gloucestershire. 'Which makes me a Bouistre d'Anglais,' said Mr Scott Warren. 'I think you can print that.'
He was two years old when, having bought a doctor's surgery in the Island, his father moved the family to Jersey He remembers an idyllic childhood.
'I grew up in St Brelade. I spent most of my time on the beach and Ouaisne common,' he said. 'I studied at Victoria College. It was when I was taking A-level French that I first took an interest in Jèrriais, but only because I thought it might help me. I used to read Jèrriais in the Jersey Evening Post when they were publishing articles by George Le Feuvre.'
George d'la Forge, the author's pen name, had been left with his Jersey grandparents in the 1890s when his family emigrated to America. 'It was quite common. The crossing was so dangerous that families would leave one member behind so there was someone to inherit should anything happen. George had an incredible memory and was able to record all his grandparents' stories many years later when he was living in America. There are over 900 articles,' said Mr Scott Warren 'They're one of the things that inspired my learning of the language. It was, however a while before he returned to the language. Mr Scott Warren joined the Royal Air Force then later returned to the island and worked for 17 years at Channel Television.
Mr Scott Warren recalled: 'The shifts meant I always had one evening off, so I enrolled in an evening class.
In 1980, following the death of his father in-law, Mr Scott Warren and his wife, Celia, went on a trip to Israel, where they met Dr Frank Le Maistre, author of the Jèrriais Dictionary.
'I remember listening to a group of people at the back of the coach,' said Mr Scott Warren. 'They were talking in Jèrriais. We stopped at Akko Castle, one of the Crusader's castles. Frank lent over and told me how it was built in the 1400s by people, Normans, who spoke the same language as we used to in Jersey. I asked him how long it would take me to properly learn the language. The answer was two life times. Everyone had told me how difficult it would be to learn. I've disproved that.
Mr Scott Warren believes that learning a language is simply a matter of motivation. Any language you want to learn you can,' he said. 'In the British Isles we are fed the idea that only speaking one language is nor mal, but evidence from other places suggests that the reverse is true. There is proof that receptors in the brain are triggered by the use of two languages. If parents use their native tongue when speaking to young children in the home, English will come automatically when they start to mix with others.' Contrary to causing confusion Mr Scott Warren believes that by learning more than one language you are gaining an understanding of language itself.
Emphasis
One of the things that teachers of minority languages are up against is the emphasis placed on economic gain. Jèrriais certainly makes no claim to generate global wealth but in terms of culture Mr Scott Warren sees it as invaluable 'it is as important as the preservation of cantles, road names, old buildings and other heritage sites,' he said. 'The history of the language itself is an interesting one. All European languages have descended from Latin. They developed and evolved in different ways as language always will. It is what will happen — is already happening - to English as it becomes an international language.'
It is the organic nature of language that interests Mr Scott Warren, that it is not linear or containable, that it grows and returns to its roots.
The history of Jèrriais tells of a constant struggle for survival. 'It was traditionally the language of homes, farms and fishing,' said Mr Scott Warren. 'The French language laid claim to the church and courts while English was reserved for trade, the language of money. The Jersey dialect began to decline some time around the end of the 17th century when upper class families sent their children away for schooling in France and England, depending on who was the enemy at the time. Later it was an influx of military settlers then, in the 1920s, the popularity of the radio that further compounded the fate of Jèrriais. The Second World War, however, was a double edged sword, though more people were evacuated the ones that stayed revived the language, recognising its benefit as a form of communication largely unintelligible to the Germans and their French interpreters.'
It had in effect become a secret language. Unfortunately this was to be its downfall later when teachers who could not understand it tried to stamp it out in the schools.
Today however, school children are again being encouraged to take up the language. Mr Scott Warren said: 'The classes are extra curricular at the moment but we hope one day to be able to offer a GCSE in the subject. It's hard because the examination boards presently used in the Island are based in the UK so can't help, it has to be done locally. We have already created work books for a range of abilities, and already have the framework for a GCSE. It will take a while to complete but hopefully in three years' time we should have it up and running'
The Office de Jèrriais was set up in 1999 by Mr Scott Warren and since then he has been joined by Geraint Jennings and Colin Ireson. Mr Scott Warren said: 'We seem to work very well as a team.'
Dictionary
The recent publications and ever-growing classes, both for adults and children, confirm this. There is now a concise Jèrriais to English dictionary and 2007 will see the publication of the English to Jèrriais version. "We've added and will continue to add new words. The original dictionary for example doesn't contain the Jèrriais for megabyte, ours does" said Mr Scott Warren. The language, which is evidently still very much alive, is also available for learning on CD Rom, making it widely accessible.
'We want to encourage everyone to learn the language,' said Mr Scott Warren. 'We cater for all ages and abilities, and currently run a free 12- week taster course for beginners. What we'd like to do is develop its use in a social context,
For example the Guernsey French Society travel around pubs speaking in the local patois, as the night goes on the group grows, people who understand or those who are curious pull up a chair its a great way to do it,' said Mr Scott Warren.
'It's a beautiful earthy language, full of interesting sounds and it opens all sorts of doors. Hopefully it will continue to grow from strength to strength.'
If you are interested in learning the language you are invited to contact Mr Scott Warren and his colleagues at L'Office de Jèrriais on 608609

JEP 3/12/2005


Jèrriais: nice idea, shame about the real world
I couldn't help wondering whether the idea had been unearthed at Education for a time of year when politically there wasn't very much going on
There are some ideas that are just destined to fail, and as such it is sometimes difficult to see why anyone would waste the time and money involved in producing reports investigating them.
While it is admirable and right to maintain Jersey's heritage and those things that make the Island unique, you can't force them on people.
Reading that a report urges that Jèrriais should be taught to Islanders from birth, I couldn't help wondering whether it had been unearthed at the bowels of Education for a time of year when politically there wasn't very much going on.
In this way it could be publicised once, therefore doing its duty as a public document and then forgotten about ... for ever.
Admittedly, the suggestion that Jèrriais be taught just as the cord is cut seems to be an off-shoot of the idea that the Island should have a Jèrriais centre. But, as always, even this will corne back down to who is going to pay for it.
Given that the report appears to have been commissioned (and so paid for) by Education, Sport and Culture, can we be expecting them to foot the bill?
It is this, more than anything, that makes me think that it is a 'wish list' kind of report - an 'if we still had loads of money we could afford to buy Guernsey' type of document.
It is a lovely idea that we can all nod at, but when it comes to doing something about it will come behind a long list of other non-essential projects which may rear their heads once every couple of years in a quiet week.
There is no argument with the argument of teaching Jèrriais to those young people who want to learn, but with resources in schools already stretched, can anyone really be serious that a grand scheme would be to divert funds to teaching what is essentially a language that can only be spoken for interest's sake?
It is a good, creative, cultural thing to learn, which is why the optional GCSE in the making is a great idea. It is something that, if it takes your fancy, would undoubtedly broaden your knowledge, both of Jersey and the structure of language. But given the workload and pressures on young people in school nowadays, there is no way it could be described as essential learning.
That said, given the inclusions in the new version of the Oxford English dictionary published this week, perhaps returning to Jèrriais is not such a bad idea.
At the very least it would give us all another language to swear in.
JEP 13/8/2005
Teach Jèrriais from birth, urges report
Jèrriais, which occupies an important place in the Island's heritage, should have its own teaching centre, according to the report
Children in Jersey should be taught Jèrriais from birth, according to a report out this week. The report by Education, Sport and Culture, suggests that a Jèrriais centre be set up in the Island which could eventually become a school for teaching the Norman-French dialect.
Attempts to establish a GCSE qualification in the subject are also going ahead.
A framework for the GCSE has been drawn up but work on the qualification was postponed as a result of UK Government talks on the future of the 14 to 19 curriculum.
The report says: 'GCSE progress has been delayed because of uncertainty about the future of GCSEs in the UK. Since the decision appeared to have been made that they are to continue in their present format, further detailed work will now be undertaken.'
At present Tony Scott Warren and Colin Ireson work full time to teach and promote Jèrriais in the Island, with the help of part-time employee Geraint Jennings. There are seven native-speaker teachers who provide lessons and two assistants. This summer term 178 children took part in lessons.
The report says: 'As well as a GCSE for more advanced learners, there is also a need to target younger learners - an aim should be to introduce Jèrriais from birth, with the long-term possibility of re-establishing intergenerational transfer, so work is under way on a Jèrriais for Parents and Grandparents book as well as material to encourage early years bilingualism.'
Senator Jean Le Maistre helped instigate the introduction of Jèrriais in schools when the Education Committee was headed by Senator Len Norman.
He said: 'Take up is extremely encouraging with about 160 plus students studying Jèrriais every year, bearing in mind it is totally voluntary .
'The other thing that is encouraging is that as well as those from Jersey families, quite a significant number of folk whose parents are not Jersey born are taking part. It is really quite heartening to find that there is no division about the interest..
'There is an increasing awareness of the threat to minority languages throughout Europe and we are now firmly positioned as part of a group
JEP 10/8/2005
Students take steps to the summit
Four Islanders who have gone to protest at the G8 summit in Edinburgh have urged Jersey people to get involved in the campaign to end poverty — however detached, as Islanders, they may feel from world events.
While Jersey marks the G8 summit with a day of action in the Royal Square, Islanders Esther Rose-Parkes, Camilla Wimberley and Chris Whitehouse - all students in the UK - along with Sarah Jarvis, a research and policy officer in Scotland, have made the trip from various parts of the country. They travelled to Gleneagles in Scotland next week to make their feelings known about world poverty...
...To add some distinctive Jersey flair to the action day, Sarah contacted the Office de Jèrriais at Highlands College to corne up with some Jersey-French slogans for her banners. The office came up with a number, including: 'Un pâsse-l'avant à la pouôrreté' — 'a kick up the rear to poverty' — and 'A bas la pouôrreté' — 'Down with poverty'....
JEP 6/7/2005
100 celebrate Island links with Normandy
Around 100 politicians and guests from Jersey, Guernsey and Normandy were in the Island today to celebrate the tenth anniversary of La Maison de la Normandie et de la Manche.
La Maison de la Normandie, in Halkett Place, was set up in 1995 following the closure of the French consulate in Jersey two years earlier.
Promoting
For the last ten years it has been promoting links with Normandy in a whole range of areas, from tourism and business to language and culture.
It was actively involved in the Fête de Nouormande last month and has over the years successfully attracted many Norman visitors to the Island and Islanders to Normandy. Staff work closely with the Société Jersiaise and l'Office de Jerriais in promoting Norman language and culture in Jersey....
JEP 23/6/2005
Jèrriais and its role in our heritage
One of the glories of Jersey is its ancient rich and expressive indigenous language. Jèrriais, or Jersey-Norman French as it is also known. may now be spoken by only a small proportion of Islanders, but it remains a vital and valuable part of our cultural heritage.
Considerable effort is currently being expended to keep Jèrriais alive through lessons in schools. And in the recent past the language's cause was advanced by Dr Frank Le Maistre, whose knowledge of his subject was nothing short of encyclopaedic.
It would, however, be true to say that a vital element had long been missing from the drive to ensure that Jèrriais lives on. Dr Le Maistre produced a monumental dictionary which will undoubtedly remain the standard work of reference, but for many of those interested in penetrating the mysteries of the Island's language it has a short coming — it translates terms into French rather than English.
Until recently the direct link between Jèrriais and English was provided largely through a number of concise glossaries. Now, to the great benefit of serious students and those with a casual interest in learning more about a unique tongue, there is a fully fledged Jèrriais-English dictionary
The new book was launched at the beginning of the week in the most appropriate of settings — the members' room of the Société Jersiaise. The Société, of course, had joined forces with the Don Balleine Trust to produce the dictionary but this important work would never have seen the light of day without the dedicated work of a team of volunteers.
Among the volunteers was Geraint Jennings, who deserves praise not only for the book's design but for the tremendous enthusiasm he brings to the self-imposed task of promoting Jèrriais in the island and beyond its shores.
The new book's launch coincided with the beginning of this week's Fête Nouormande, which not only features Jersey customs and traditions but sets them in the context of the culture of Normandy and the other Channel Is lands.
Together, the Jèrriais-English dictionary and the fete provide ample proof that the native language of Jersey and the lifestyle that once went with it have not been lost to history
JEP 25/5/2005
Lost for words?
Then the Société Jersiais may have the answer following the launch of the first Jèrriais-English dictionary
THE historic launch of the first Jèrriais-English dictionary took place last night at the Société Jersiaise.
Around 60 people gathered in the members' room for speeches in a mixture of Jèrriais and English and where the new books sold like hot bean-crock.
The dictionary has been produced by the Société Jersiaise, the Don Balleine Trust and a dedicated team that have spent years meticulously researching a language spoken by only a few thousand worldwide.
Its launch also marked the start of the Fête Nouormande, the annual festival in the Island this week that promotes and celebrates the Norman origins of the language as well as Guernsey Patois and Norman French.
The crowd were overwhelmingly positive about the launch of the new dictionary which is seen by many as the most significant step in the promotion of Jèrriais for many years.
Mr Francis Corbet, the current president of the Société Jersiaise introduced proceedings in Jèrriais but soon returned to English, joking that a short greeting was as much as he would want to attempt in front of so many scholars. He was keen to acknowledge the work done by so many behind the scenes to produce the book, saying: 'I hope that you will all use it yourselves, with your children and even with your grand children.'
Useful
He also stressed how important a specifically Jèrriais-English translation was saying: 'It is particularly useful in our day when so few people speak French let alone Jèrriais.'
Geraint Jennings, who designed the book, announced some of the events of the weekend and although it obviously pained him, he gave his talk in English for the benefit of those more linguistically challenged.
The crowd were positive about the importance of the launch for the promotion of Jèrriais. Collette Quinn, who was involved in researching the dictionary said: 'Many people are keen to get their hands on it. It has been overdue for many years and it's a very important evening the most important thing to happen for a long time.'
It was hoped by all involved that the production of the dictionary would encourage a new generation of Islanders to study and master the language that can teach them so much about the Island's history and culture.
'One always hopes that it will get more people into Jèrriais,' said Brian Vibert, president of the Don Balleine Trust. 'The moment we lose our language we lose our cultural identity
The Dictionnaithe Jèrriais-English is available from the Société book-shop, priced £14.95.
JEP 24/5/2005
Norman conquest
Speakers of Jèrriais will be delighted to learn that a new dictionary is about to be published
The first comprehensive Jèrriais English dictionary will be launched as part of La Fête Nouormande.
The week, which gets under way on Monday 23 May, will also involve a range of activities celebrating the traditional languages of Jersey, Guernsey and Normandy
The 324-page dictionary contains more than 27,000 entries and has been produced by the Société Jersiaise and the Don Balleine Trust. Even though 2,761 people in the Island use Jersey French 'sometimes' and 113 still speak it as their first language, there is no concise dictionary translating Jèrriais into English.
The launch of the book will coincide with the Fête Nouormande, which will feature a range of events aimed at drawing attention to the importance of local languages, including Jersey Norman-French.
In recent years, with the help of the Société Jersiaise, Jersey Norman- French has been added as an optional course in the primary curriculum, with more than 200 pupils studying it this year It also features in two of the Island's media outlets, and numerous issues of original Jèrriais literature have been relaunched by the Société Jersiaise and the Don Balleine Trust.
Although glossaries translating Jèrriais existed in the 19th century the first comprehensive dictionary of Jersey Norman-French was not published until 1966, and was based on an earlier dictionary published in 1924. Rut it was no good to those who did not speak French, as was increasingly the case in Jersey
Even when a dictionary translating English to Jèrriais was published in 1972, the Jèrriais words were outdated, still dating back to the 1924 dictionary and place names, proper names, biological and medical terms were left out.
For modern words or terms, a team from the Société Jersiaise asked native speakers how they would say things. They also listened to radio broadcasts, looked at old papers and read Jèrriais literature, trawling through masses of information for more than a year to put together the book.
Clashes
'Dictionaries don't tell you what you ought to say they tell you what people do say' said Geraint Jennings, who de signed the dictionary 'If there are clashes, or more than one way of saying something, we have included all of them.! would encourage anyone in the Island to buy it — we can learn so much about the Island by knowing a bit of Jèrriais.'
Dictionaries will be on sale at the Société Jersiaise Library priced £14.95, Alternatively they can be ordered from the Société Library and purchased for a special price of £12.50.
JEP 14/5/2005
Jèrriais service
THE annual service of L'Assembliée d'Jèrriais will be held at Bethlehem Chapel in St Mary tomorrow at 3pm.
This ecumenical service is open to all who are interested in taking part in worshipping in Jèrriais or who simply have an interest in the language.
For those who are not familiar with the local patois, a service booklet will be provided.
JEP 23/4/2005
(JEP = Jersey Evening Post)
Viyiz étout: