Learn Jèrriais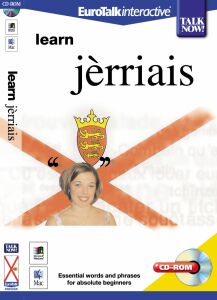 2002
Learn Jèrriais is an educational CD-ROM produced to help young and old learn some basic Jèrriais through games and interactive activities.
Produced by EuroTalk in the Talk Now series of language learning disks, this is used in schools and is available to the general public.
Press:
Covered on "You and Yours" BBC Radio 4 10/5/2002

Featured on "Working Lunch" BBC2 2002

EuroTalk's chairman, Dick Howeson, says: "When I was asked about producing the CD-Rom for Manx, my first question was, 'What is it?' When I was told I said, 'You must be joking!' I told them that we would need to shift 500 copies to make it worth our while, thinking that would be the last of it, but a month later an order for 500 came in."

Besides the success of Manx and the imminent launch of the Jerriais product, Mr Howeson says that Welsh, Irish and Scottish Gaelic are all strong sellers, and that a Cornish version is being planned.

"Having sat through more than 50 recordings I realise now how much of a depth of culture there is in those languages. And while we all say, quite rightly, how dreadful it is when a little plant in a rainforest dies out, there's even more wealth stored in a language."

The Jerriais CD-Rom will be in Jersey schools from 15 April

Independent 11/4/2002
Latest technology helps in the teaching of Jèrriais
An interactive CD-ROM to assist in the teaching of Jèrriais in schools was launched today.
The CD-ROM, designed by British-based company EuroTalk, will be used in classrooms and loaned to pupils for study at home. More than 150 children aged between nine and 13 study Jèrriais at school and it is hoped that the teaching scheme can be extended to 16-year olds over the next four years.
Jersey language teaching co-ordinator Tony Scott-Warren said that the CD-ROM would be a helpful tool. 'It is something the children can take home and study at their own speed, and it is a lot of fun,' he said. 'They will be used in the schools over the next three or four weeks.'
Jèrriais has been taught in primary schools since 1999 and the success of the subject led to suggestions that it could be introduced at secondary school level and that a GCSE course in the language could be established.
The CD-ROM produced by EuroTalk uses recordings of Jèrriais speakers Senator Jean Le Maistre and Audrey Lucas to help pupils to copy the correct pronunciations and inflections. A total of 500 copies have been ordered to help with teaching in the Island and they will be on sale through Le Don Balleine Trust.
EuroTalk were approached by the Trust to develop the CD-ROM after the success of a similar project for the Manx language in the Isle of Man. The company have developed computer software for 80 different languages at various levels.
JEP 17/4/2002
Viyiz étout:
D's aut's publyicâtions: