George F. Le Feuvre - George d'la Forge
(29/9/1891 - 27/10/1984)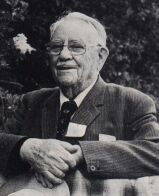 Read all about it - the life of a true Jèrriais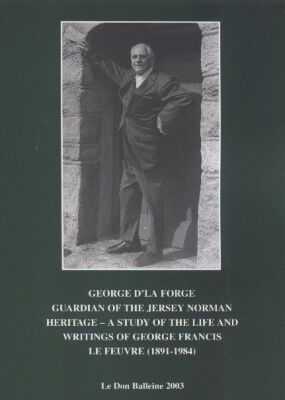 The Société Jersiaise have been presented with a doctoral thesis on the life of George d'la Forge, the American-based Jerseyman whose local tales penned in Jèrriais entertained Islanders for many years.
Annette Torode handed over the culmination of eight years' work entitled George d'la Forge, Guardian of the Jersey Norman Heritage, George Francis Le Feuvre, 1891 to 1984 - at a special reception in the Members' Room on Wednesday.
Mrs Torode does not speak Jèrriais, although as a graduate of French and being fluent in that language she does understand it. She has been fascinated by George Le Feuvre's writings since she paid her first visit to the Island in 1965, soon after marrying Jerseyman Ken Torode.
However, it was not until eight years ago that she began her research in earnest, with the help of the Jersey Evening Post.
'When I first came to Jersey in l965 I had just. graduated in French and several people produced George's articles which they thought would have been of interest to me,' Mrs Torode explained. 'I found I could read them and I became totally fascinated. 'I don't speak the language and I don't ever think I will, but I enjoy reading it and have discovered similarities and differences with French.'
Mr Le Feuvre's articles were published in the paper from 1965 until his death, and his tales of a bygone age in pre-First World War Jersey went worldwide through the pages of the Weekly Post. Prior to his association with the JEP, he wrote for the Chronique newspaper.
Mr Le Feuvre was born and grew up in St Ouen but when his parents emigrated to Canada, taking the family with them, he stayed behind, meeting up again with his brothers only on the battlefields of the First World War. After the war he joined his family and they eventually moved to America, where he rose to a high position with the Ford Motor Company.
He never forgot his home or his native language, however, and when he took early retirement in 1946 he returned for a holiday and in later life spent each year living partly in America, partly in the Island and the remainder travelling the world. In all he wrote about 900 articles for the paper and was a regular contributor to the Société Bulletin.
Mrs Torode researched her thesis on regular visits to Jersey and at home in Leeds, where she works as an administrator at the city's university - which houses a collection of books on the Channel Islands left to the university by a Jerseyman, Professor J Le Paturel.
She also met and became friends with people who had known Mr Le Feuvre, including Frank Le Maistre and Edna Clarke-Halifax.
Many hours were spent pouring over old copies of the JEP stored on microfiche in the Library, assisted by her husband, and eight years of effort resulted in the 125,000-word work which now rests with the Société.
Mrs Torode hopes she can obtain funding to publish it for general consumption, and she also intends to continue her studies. 'I'm going to keep the interest going and we're going to keep coming back,' she said.
JEP 28/7/2001
800, and still in business
The man known just as easily on this newspaper as George d'la Forge as by his real name, George Francis Le Feuvre, opened his article last week with the remark: "Well, Sir, the time has come for me to write you my 800th letter."
It's a memorable milestone which deserves recognition. Eight hundred articles, each of about 800 words and delivered regularly from wherever he happens to be (which is usually America, where he has lived for many years) is a remarkable achievement.
One would hardly think, reading his articles, that Mr. Le Feuvre celebrates his 90th birthday this year. The sadness is that few can now understand them. George d'la Forge must have the smallest readership of any writer whose work appears in the JEP, for he writes in his native tongue. Indeed, last week, he recorded that it was only when he went to school at the age of seven that he began to learn English, a state of affairs which was quite common in the country areas in those days.
It is a pity that so few are able to read George d'la Forge, not merely because that is evidence of the near death of Jersey's ancient tongue but also because the articles themselves are readable stuff whose magic is largely lost in the translation.
Time after time, Mr. Le Feuvre goes back to his childhood days, evoking a way of life now quite gone. One can sometimes almost hear him sigh a nostalgic sigh.
They say that as one grows older so the days of one's youth become clearer. If that is the case, Mr. Le Feuvre has a rich and continuing source from which to draw. Along with his other "fans" all of us at the Jersey Evening Post hope his weekly letters will continue for many years and we congratulate him on his eighth centenary.
JEP 13/1/1981
His 900th 'lettre'
THE Jersey heritage's most remarkable guardian, "George d'La Forge", reaches another landmark in his long career today.
The 900th "Lettre du Bouanhomme George", latest in the long-running series in which 91-year-old St Ouennais Mr George Le Feuvre recalls in his native Jersey Norman-French the sights, sounds and customs of the Island as it was at the turn of the century, appears on page 34.
His achievement is all the more notable because he plays his major rôle in preserving the Jersey language and culture from thousands of miles across the Atlantic in the USA, which has been his home since 1922, and from where he ends his latest letter with the traditional toast offered to him by his native lsland on his 90th birthday in 1981 and repeated today. "Bouan pid, bouan'yi, bouanne dent - et l'Paradis a la fin d'vouos jours!"
JEP August 1983
Death of George d'la Forge - the exiled Jerseyman who left his heart in St. Ouen
AN exiled Jerseyman who became one of the foremost guardians of his Island's native language, Mr George Francis Le Feuvre, died in America on Saturday at the age of 93.
Widely known as "George d'La Forge", the nom-de-plume under which he wrote over 900 Jersey Norman-French columns for this newspaper, Mr Le Feuvre was made a Membre d'Honneur of the Societe Jersiaise earlier this year.
His ashes are to be flown home to the Island he loved and interred in St Ouen, where he was born on September 29, 1891, at La Forge, Millais, the family home from which he was to draw many of the memories and anecdotes which later enriched his column, "Eune Lettre du Bouanhomme George", the last of which, by coincidence, was published only on Friday. Although he made several trips back to Jersey, the extent of Mr Le Feuvre's achievement in protecting and promoting the language was all the more remarkable in that his work was carried out thousands of miles away in the USA, where he first lived in 1919 and where he had been a naturalised citizen for over 50 years.
He returned to the Island in 1981, when the celebrations to mark his 90th birthday included being received by the Bailiff, who made a presentation on behalf of the States.
Such accolades were a far cry from the harsh realities of Jersey life at the turn of the century which prompted his blacksmith father, also George, to emigrate to Gaspe in 1901 with his wife, formerly Miss Florence Giffard, and their two younger sons.
The eldest son, George, stayed behind and, after being educated at St Ouen's Wesleyan School and La Moye School, went to work when barely 14 in the offices of Hill Street solicitor Mr William Binet, where he stayed until being appointed Commis Vicomte for the Police and Petty Debts Courts in 1914.
He also acted as secretary to the Constable of St Peter, and served in the West Battalion of the Royal Militia of the Island of Jersey from 1908 until 1915.
The future "George d'la Forge" enlisted in the Royal Field Artillery in 1916 and was posted to the Western Front, where he saw action in the battles of the Somme, Vimy Ridge, Messines Ridge and Cambrai and, in a happy moment among the horrors of the trenches, was reunited with his three brothers, one of whom had joined the British Army from Jersey and two of whom were with the Canadian forces.
He was recommended for a commission and sent back to England, but the Armistice was declared before he could complete his training and he was demobilised in 1919, joining his family in Canada later that year, when he entered the Civil Service in Ottawa.
Mr Le Feuvre was by then already a widower. His wife Marguerite, step-daughter of a French Army captain, had died in an influenza epidemic in 1918, two years after their marriage. Much later, the daughter of the marriage, Reine, joined her father in America.
After three years in the Canadian Civil Service, Mr Le Feuvre went to seek his fortune in the United States and, starting as a labourer, began a successful career with the Great Lakes Engineering Works which ended with his retirement as an executive in 1946. He became a naturalised American in 1933. Although he remained in the USA, and one period of 20 years passed between his visits to his native Island, his enthusiasm for its language, affairs and people remained undimmed and his main activities in retirement were writing in and about Jersey Norman-French and recording Jersey history and its way of life and his early days.
One of the most widely-travelled Jerseyman of his day, he also visited Jersey people in many parts of the world and later established a pattern by which he spent part of the year at his retirement home in Texas, and part at his family's St Ouen home, Le Menage ès Feuvres, Les Landes, which he restored to its original style.
He became probably the most prolific writer of his native, and first language, matched only by the output of its lexicographer, Dr Frank Le Maistre.
A remarkable memory and an intimate knowledge of the Island, coupled with an entertaining style, earned him a faithful readership for "Eune Lettre du Bouanhomme George" the 900th of which appeared in the JEP in August last year.
Some of the columns served as the basis for his two books, the first ever to be published wholly in the Jersey language.
(Note du maître-pêtre: Ches livres n'taient pon les preunmièrs publy'iés en Jèrriais, et i' n'sont pon entchiéthement en Jèrriais nitout! N'criyiz pon chein tch'ous liêsiz dans les gâzettes!)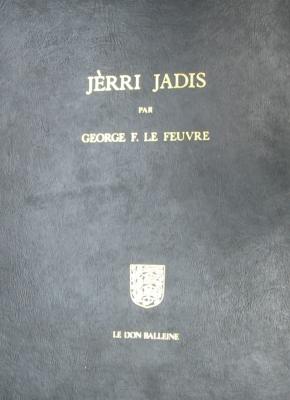 They were "Jèrri Jadis" (1973) and "Histouaithes et Gens d'Jèrri" (1976), published by Le Don Balleine and meticulously in keeping with the standard orthography laid down in Dr Le Maistre's monumental Dictionnaire Jersiais-Francais , in the preparation of which Mr Le Feuvre gave enthusiastic support and encouragement.
He also wrote Jersey language versions of many hymns and contributed often to the quarterly bulletin of L'Assembliée d'Jerriais, a society dedicated to the preservation of the language which he helped found as secretary in 1951.
The importance of Mr Le Feuvre's work was recognised outside Jersey by the award in 1974 of the Prix Litteraire du Cotentin.
A High Church Anglican who delighted in church ritual, he took part in a celebratory Mass in St Ouen's Chapel in 1981, when he returned home for his 90th birthday, an anniversary also marked by a dinner given in his honour by Le Don Balleine. That celebration of the life and work of "Maît' George" included a toast to a fit and active man who took up flying an aeroplane at the age of 45 and, at 89, took to the skies in his grandson's glider.
Some 2 ½ years after becoming a nonagenarian, he was one of the few Jerseymen ever to be made a Membre d'Honneur of La Société Jersiaise, which he joined in 1923.
In the course of his long life, he was also a member of the Jersey Green Room Club, the National Trust for Jersey. La Césarée Lodge of the Ancient, Free and Accepted Masons and several other Masonic lodges, chapters and rites in Jersey and the USA.
His love of the Church extended to the delight he took in taking part in a Gregorian Mass sung to the Coutances rite with his great friend, the Abbé Marcel-Lelégard as celebrant in the Abbaye de la Lucerne in Normandy whenever he visited that part of the world.
A memorial service will be held at St Ouen for Mr Le Feuvre, who died at San Antonio, Texas, leaving a daughter, Mrs Reine Voigt, and two grandchildren, Mr Kenneth Voigt and Mrs Carole Bonny who lives in St Lawrence. To them and other members of the family, the Jersey Evening Post, proud to have been so long associated with such a memorable Jerseyman, offers its sympathy .
JERSEY EVENING POST, Monday, October 29, 1984
Another world
He was just 14 months younger than the newspaper whose columns he illuminated for so long with a clear vernacular twinkle and, in more ways than one, George d'la Forge was from another world.
In the purely physical sense, his writing, crammed with childhood souvenirs and simple wisdom, came home to its Jersey roots from the vast, brash world of North America, which he made his home for 65 years.
More importantly by far, it also came from a long-gone, turn-of-the-century world whose values were framed by farm, Church and Militia, and where the good neighbours of a community half the size of today's almost all spoke Jersey's native tongue as fluently as George Le Feuvre, son of a St. Ouen blacksmith, was later to write for us in over 900 Norman-French articles.
The decline of that fully-formed, expressive and unique language in the face of rampant anglicisation is nothing short of a tragedy, but - thanks in large part to the dedication of men like George Le Feuvre and his fellow scholars from the western parishes - it is not yet a disaster. swept almost out of earshot for half a century, it survives against the odds, and there are signs of a revival of interest to encourage those who must now continue the work interrupted by his peaceful death at a venerable age.
It is vital work, for Bouanhomme George's world of hearth and harvest, and the words which he invoked it, are far more than quaintly bucolic irrelevances to anyone who genuinely cares about Jersey's claim to an independent identity.
It is not fanciful to suggest that George d'la Forge gave a voice to the spirit of the land and, in celebrating his fine achievements, it seems fitting to echo the old Jersey toast that wishes "...Et l'Paradis à la fîn d'vos jours."
JEP 30/10/1984
George d'la Forge lives his American dream
During the course of his long and productive life-time, the promise of the "American Dream" has been turned into a reality by Mr. George Le Feuvre, a man perhaps better known in Jersey as George d'la Forge...

Although the language in which he chooses to express himself, and the affection he feels for that language mark him as a true Jerseyman, Mr. Le Feuvre has been a naturalized citizen of the USA since 1933...

In fact, on his retirement in 1946 at the age of 55, he chose to divide his time between his birth-place and his adopted home...

His home in Fort Lauderdale, Florida, is only one of the interesting addresses which may appear at the head of his letters to the JEP. He often stays with his daughter, who lives in san Antonio, Texas, or one of his surviving brothers, whose homes are in Michigan.

Jeray and the Jersey language - which he insists is not a patois, having been a fully-formed language at the time of William the Conqueror - are central interests in George Le Feuvre's life.

Besides his contributions to the JEP, which have so far numbered well over 700 letters, he has written two books in the only tongue he knew until the age of seven...

Unfortunately, he feels that it is inevitable that both Jersey-Norman French, and the culture in which it is based, are doomed.

One is forced to agree. Fewer families are bothering to pass on the linguistic skills of previous generations to their offspring, and Jersey itself is rapidly gaining a bland identity scarcely distinguishable from any other part of Britain...

JWP 19/6/1980

La langue
It is strange how news travels to distant parts of the world through this newspaper and the Jersey Weekly Post. Reports of the unfortunate death of a member of the JEP tour party in Bangkok last October finally reached George d'la Forge in Trenton, Michigan, and from there he sent his weekly article in Jersey Norman-French that appeared recently.

He wrote: "J'ai r'gret d'vaie qu'eune pèrsonne en viage auve lé tou organîssé par vouot' gâzette eut l'malheu d'êt' prînse malade dans l'Hotel Siam Intercontinental à Bangkok en Thailand, et qu'ou trépâssit là-bas."

One marvels in a small way, South-East Asia, the United States and a sad incident, and all tied together in the JEP through the ancient language of our forefathers.

JWP 6/3/1980

There was another anniversary of a historic incident recently. George d'la Forge, in his column on Saturday, recalled that ten years ago, on July 20, two Americans were the first earthmen to set foot on the moon.
Reading his column, it seemed strange, to say the least, that the Jersey-Norman French of our joint ancestors should have been used to express the writer's ambition to do as Armstrong and Aldrin did in 1969. It was a delightful example of the ancient (and I do not refer to Sire Le Feuvre) and super-modern neatly mixed.
JEP 4/9/1979
Congratulations to 'George'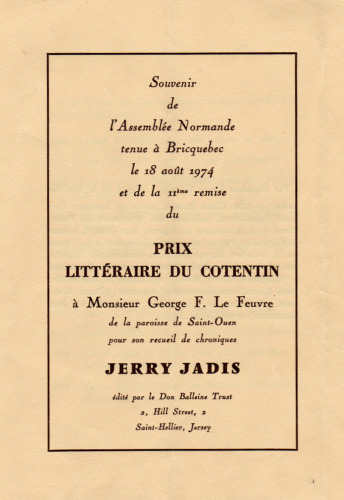 I wonder how many "Jersey Weekly Post" readers are able to read and understand the regular articles published by its vernacular columnist, Mr. George Francis Le Feuvre ("George d'La Forge"), who has just been honoured for the first full-length book in Jersey Norman-French? The number must be relatively small these days, but the articles are no less valued on this account, if they only serve to remind those numberless "foreigners" living and working in the Island of Jersey's treasured past and its unique possession of a unique language. I feel sure that those who glance at "George's" column - with no little envy, for the incomprehensible words might almost be Greek to their eyes - will join those with the ability to understand and enjoy his words in offering their congratulations on his recent award of Le Prix Littéraire du cotentin for his "Jèrri Jadis", and wish him many more years of successful and pleasurable writing for the columns of this newspaper.

Jersey Weekly Post 28/3/1974
French literary prize for 'George d'La Forge'
"Jersey weekly Post" vernacular columnist Mr. George Francis Le Feuvre ("George d'La Forge") has been awarded Le Prix Littéraire du Cotentin for his "Jèrri Jadis", the first full-length book in Jersey Norman-French.
The decision to award this annual literary prize to a second Jerseyman - Dr. Frank Le Maistre was the first in 1967 - was "à l'unanimité des voix" of the jury, in spite of other nominations.
Much of Mr. Le Feuvre's book, published by the Don Balleine Trust, is based on the weekly articles that he writes for the "Jersey Weekly Post"....
Jersey Weekly Post 21/3/1974
They're just crazy about George d'la Forge


...I noticed, too, there is no more "lettre du bouanhomme George". What happened to him? I used to take pleasure in making out his Jersey Norman-French. I even have office colleagues who are crazy about his column...

Leonard Turcotte, 885 Ontario Ave., Ste-Foy, Québec 10, Canada.
October 19, 1972

(George d'La Forge has resumed his regular contributions to both the "Jersey Evening Post" and the "Jersey Weekly Post". Editor.)

JWP 2/11/1972


George d'La Forge
Dear Sir, - Thank you for the interesting letters from George d'La Forge in the "Weekly Post." Besides helping me keep up my Jersey-French, they enable me to re-live the trip I made four years ago through "Jersey-French eyes."
"Une Jersiaise."
Auckland, N.Z.
Jersey Weekly Post 12/9/1964
A Bibliography of Articles by George Le Feuvre
in the Evening Post to December 1966
and the Jersey Evening Post from January 1967
compiled by Dr. Annette Torode
| | | | | | |
| --- | --- | --- | --- | --- | --- |
| Year | Date | Title | | | |
| 1964 | 22/4(17/4) | Hommage à la mémouaithe dé Ph'lippe dé Portînfé | | | |
| | 6/5(30/4) | Lé ma d'amour? | | | |
| | 14/5(8/5) | Lé temps passé | | | |
| | 20/5(15/5) | L'armée de salut | | | |
| | 27/5(22/5) | Lé Pallion | | | |
| | 2/6(29/5) | Quand j'allais à l'êcole! | | | |
| | 11/6(5/6) | La politique en Améthique | | | |
| | 18/6(12/6) | En c'mîn pour l'Australie! | | | |
| | 26/6(19/6) | En c'mîn pour l'Australie! | | | |
| | 2/7(26/6) | En c'mîn pour l'Australie! (Siète) | | | |
| | 11/7(3/7) | Félicitations! | | | |
| | 23/7(10/7) | L'Ecole du Dinmanche | | | |
| | 28/7(17/7) | En c'mîn pour l'Australie! (Siète) | | | |
| | 6/8(24/7) | En c'mîn pour l'Australie! (Siète) | | | |
| | 13/8(31/7) | À la P'tite Cour y'a 50 ans! | | | |
| | 14/8(7/8) | En c'mîn pour l'Australie (Siète) | | | |
| | 20/8(14/8) | En c'mîn pour l'Australie! (Siète) | | | |
| | 28/8(21/8) | En c'mîn pour l'Australie! (Siète) Au Ceylan | | | |
| | 2/9(28/8) | En c'mîn pour l'Australie! (Siète) | | | |
| | 9/9(4/9) | En Australie! (Siète) | | | |
| | 18/9(11/9) | En Australie! (Siète) | | | |
| | 30/9(25/9) | En Australie! (Siète) | | | |
| | 6/10(2/10) | La Nouvelle Zélande (Siète) | | | |
| | 14/10(9/10) | La Nouvelle Zélande (Siète) | | | |
| | 23/10(16/10) | La Nouvelle Zélande (Siète) | | | |
| | 28/10(23/10) | D'èrtou en Australie (Siète) | | | |
| | 3/11(30/10) | Singapour et la Malaisie (Siète) | | | |
| | 13/11(6/11) | Bangkok | | | |
| | 19/11(13/11) | Lé viage d'èrtou (Siète) | | | |
| | 27/11(20/11) | Lé viage d'èrtou (Conclusion) | | | |
| | 15/12(4/12) | L's Irlandais en Améthique | | | |
| | 24/12(11/12) | Lé Jour dé Noué | | | |
| | 29/12(18/12) | Lé Tchèrpentchi | | | |
| | 31/12(26/12) | Choses et autres | | | |
| 1965 | 15/1(2/1) | Les Jèrriais à La Côte | | | |
| | 20/1(8/1) | Les Jèrriais à La Côte (Siète) | | | |
| | 4/2(22/1) | Les Jèrriais à La Côte (Siète) Grande Grève | | | |
| | 11/2(n.d.) | Les Jèrriais à La Côte (Siète) Grande Grève | | | |
| | 16/2(5/2) | Les Jèrriais à La Côte (Siète) Rose Bridge | | | |
| | 19/2(12/2) | Les Jèrriais à La Côte (Siète) Gaspé | | | |
| | 26/2(19/2) | Les Jèrriais à La Côte (Siète) Sandy Beach | | | |
| | 3/3(26/2) | Les Jèrriais à La Côte (Siète) Malbaie et la Pointe St Pierre | | | |
| | 15/3(5/3) | Les Jèrriais à La Côte (Siète) L'églyise dé St Pierre à Malbaie | | | |
| | 18/3(12/3) | Les Jèrriais à La Côte (Siète) L'églyise dé St Pierre à Malbaie | | | |
| | 26/3(19/3) | Les Jèrriais à La Côte (Siète) Barachois | | | |
| | 7/4(2/4) | Les Jèrriais à La Côte (Siète) Percé | | | |
| | 17/4(9/4) | Les Jèrriais à La Côte (Siète) L'Églyise dé St Paul à Percé | | | |
| | 1/5(16/4) | Les Jèrriais à La Côte (Siète) L'Églyise dé St Paul à Percé | | | |
| | 5/5(23/4) | Les Jèrriais à La Côte (Siète) L'Anse du Cap | | | |
| | 10/530/4.) | Les Jèrriais à La Côte (Siète) Grande Rivière | | | |
| | 14/5(7/5) | Les Jèrriais à La Côte (Siète) Newport | | | |
| | 19/5(14/5) | Les Jèrriais à La Côte (Siète) L'Anse aux Gascons | | | |
| | 1/6(22/5) | Les Jèrriais à La Côte (Siète) L'Églyise Anglyicane dé St James à Port Daniel | | | |
| | 9/6(1/6) | Les Jèrriais à La Côte (Siète) Hope Town | | | |
| | 12/6(8/6) | D'èrtou en Jèrri! | | | |
| | 19/6(15/6) | Les Jèrriais à La Côte (Siète) Pasbébiac | | | |
| | 25/6(22/6) | Les Jèrriais à La Côte (Siète) Pasbébiac | | | |
| | 6/7(29/6) | Les Jèrriais à La Côte (Siète) Pasbébiac Ouest, New Carlisle | | | |
| | 15/7(6/7) | Les Jèrriais à La Côte (Siète) New Carlisle | | | |
| | 21/7(13/7) | Les Jèrriais à La Côte (Conclusion) Bonaventure | | | |
| | 3/8(22/7) | Lé Temps Passé | | | |
| | 10/8(29/7) | Un drôle dé Pèrrot! | | | |
| | 7/9(18/8) | Angoulême | | | |
| | 9/9(25/8) | Angoulême (Conclusion) | | | |
| | 20/9(8/9) | Cognac-Martell | | | |
| | 28/9(15/9) | `Guy Fawkes' lé temps passé | | | |
| | 30/9(23/9) | Les noms Jèrriais | | | |
| | 21/10(9/10) | En avion! | | | |
| | 28/10(16/10) | La Langue Jèrriaise | | | |
| | 4/11(23/10) | Paris | | | |
| | 10/11(30/10) | Paris | | | |
| | 18/11(6/11) | Au r'pos en France | | | |
| | 23/11(13/11) | Un fricot d'colinmachons | | | |
| | 7/12(20/11) | Lé fidèle anmin d'l'homme | | | |
| | 18/12(27/11) | Lé fidèle anmin d'l'homme | | | |
| | 22/12(18/12) | Complyiments d'la saison! | | | |
| | 29/12(n.d.) | La Floride | | | |
| 1966 | 5/1(n.d.) | Lé Texas | | | |
| | 12/1 | Rêsolutions d'Nouvel An | | | |
| | 18/1(1/1) | Les lettres sont les beinv'nues! | | | |
| | 20/1(8/1) | Les Jèrriais à La Côte | | | |
| | 27/1(15/1) | Les Jèrriais à La Côte (Siète) | | | |
| | 3/2(22/1) | Les Jèrriais à La Côte (Siète) | | | |
| | 8/2(29/1) | Les Jèrriais à La Côte (Siète) | | | |
| | 24/2(5/2) | Les Jèrriais à La Côte (Conclusion) | | | |
| | 27/2(12/2) | Eune langue d'aspi! | | | |
| | 2/3(19/2) | À châque jour suffit sa peine! | | | |
| | 14/3(26/2) | La Soudardéthie | | | |
| | 22/3(n.d.) | À tout seigneur tout honneur! | | | |
| | 25/3(n.d.) | La Soudardéthie (Siète) | | | |
| | 31/3(19/3) | La Soudardéthie (Siète) | | | |
| | 19/4(9/4) | La Soudardéthie (Conclusion) | | | |
| | 20/4(2/4) | La Soudardéthie | | | |
| | 26/4(16/4) | Eune séthée y'a chent ans | | | |
| | 5/5(23/4) | Bieauté sans bouonté n'est qu'vanité! | | | |
| | 18/5(30/4) | Autres temps - autres moeurs | | | |
| | 19/5(7/5) | I' y'en r'dote à tout âge! | | | |
| | 1/6(14/5) | Y'en a pus d'mathiés qué d'contents! | | | |
| | 7/6(21/5) | N'faut pon aver honte dé san mêtchi! | | | |
| | 11/6(28/5) | Mêprinse d'identité! | | | |
| | 15/6(4/6) | À l'entou d'l'âtre | | | |
| | 18/6(11/6) | L's habits du temps passé | | | |
| | 23/6(18/6) | L's assembliées d'prièthes | | | |
| | 1/7(25/6) | Chatcheun à san travas! | | | |
| | 6/7(2/7) | L'appétit veint en mangeant! | | | |
| | 13/7(9/7) | Crianches entouor un mitheux | | | |
| | 21/7(16/7) | I' n'y a pon d'roses sans pitchets! | | | |
| | 2/8(30/7) | R'mièdes du temps passé | | | |
| | 16/8(6/8) | Acouo des r'mièdes du temps passé | | | |
| | 18/8(13/8) | Lé thée d'l'Églyise | | | |
| | 23/8(20/8) | Un entèrrement l'temps passé | | | |
| | 3/9(27/8) | I' vaut mus donner que d'prandre! | | | |
| | 7/9(3/9) | Lé mènage | | | |
| | 14/9(10/9) | Robinson Crusoe | | | |
| | 29/9(17/9) | I' faut r'garder la brèque dévant la sauter! | | | |
| | 5/10(24/9) | Un paisson pondeux | | | |
| | 6/10(1/10) | Les mousses | | | |
| | 13/10(8/10) | Deux avis valent mus qu'iun! | | | |
| | 24/10(15/10) | Les p'tits Faîtchieaux! | | | |
| | 2/11(22/10) | Dans sept heuthes! | | | |
| | 9/11(29/10) | Ichîn et là! | | | |
| | 17/11(5/11) | En viage | | | |
| | 29/11(12/11) | En mé | | | |
| | 7/12(19/11) | En mé | | | |
| | 9/12(26/11) | En mé | | | |
| | 13/12(3/12) | D'èrtou à tèrre | | | |
| | 14/12(10/12) | Eune fanmeuse pétite âne | | | |
| | 21/12(17/12) | Eune fanmeuse pétite âne (Siète) | | | |
| | 31/12(31/12) | Souhaits d'Bouanne Année | | | |
| 1967 | 14/1(7/1) | Les bouannes précautions n'sont pon d'fendues! | | | |
| | 18/1(14/1) | Nou n'est janmais trop vièrs pour apprandre! | | | |
| | 6/2(28/1) | Félications! | | | |
| | 10/2(4/2) | I' n'plieut tch'i' n'vèrse! | | | |
| | 21/2(11/2) | Lé Dictionnaithe Jèrriais | | | |
| | 24/2(18/2) | Choses et autres | | | |
| | 3/3(25/2) | L'Enchorchel'lie | | | |
| | 13/3(4/3) | L'Enchorchel'lie (Conclusion) | | | |
| | 21/3(11/3) | Tchi temps! | | | |
| | 30/3(18/3) | À m'n idée . . . | | | |
| | 6/4(25/3) | Méli-mélange! | | | |
| | 11/4(1/4) | La gâzette apporte jouaie à l'exilé! | | | |
| | 19/4(8/4) | L'temps passé . . . | | | |
| | 25/4(15/4) | Dans m'n opinnion . . . | | | |
| | 2/5(22/4) | À bas, l'trafi des drogues! | | | |
| | 15/5(n.d.) | À m'n idée . . . | | | |
| | 17/5(6/5) | Choses et autres . . . | | | |
| | 24/5(13/5) | Les Pièrrots | | | |
| | 30/5(27/5) | La Forge | | | |
| | 10/6(3/6) | D'èrtou en Jèrri! | | | |
| | 14/6(10/6) | Rafales du temps passé | | | |
| | 23/6(17/6) | Eune pronm'nade dé tchians! | | | |
| | 6/7(1/7) | Lé Jèrriais èrrant! | | | |
| | 13/7(8/7) | Maladies des p'tchiots | | | |
| | 20/7(15/7) | Dans les cathédrales en Angliétèrre . . . | | | |
| | 28/7(22/7) | La cathédrale dé Peterborough | | | |
| | 10/8(29/7) | Couôteunmes du temps passé | | | |
| | 11/8(5/8) | Bertrand du Guesclin | | | |
| | 18/8(12/8) | Séthées du temps passé | | | |
| | 24/8(19/8) | Nou n'peut mannier marmite sans s'êmitter! | | | |
| | 31/8(26/8) | Nou n'est janmais trop vièrs pour apprendre! | | | |
| | 9/9(2/9) | Henri VIII et l'Églyise Anglyicanne | | | |
| | 14/9(9/9) | Mémouaithes d'aut'fais! | | | |
| | 20/9(16/9) | Les crapauds à quat' pattes! | | | |
| | 5/10(23/9) | Un jeu d'cartes! | | | |
| | 6/10(30/9) | Jeux du temps jadis | | | |
| | 12/10(7/10) | En France | | | |
| | 19/10(14/10) | En Nouormandie | | | |
| | 26/20(21/10) | D'la méd'cinne à bouan marchi! | | | |
| | 2/11(28/10) | Historique | | | |
| | 11/11(4/11) | D'èrtou en Améthique! | | | |
| | 17/11(11/11) | Les lépreux | | | |
| | 24/11(18/11) | Les lépreux | | | |
| | 4/12(25/11) | I' fait caud, ichîn! | | | |
| | 13/12(2/12) | Les changements sont en mode! | | | |
| | 18/12(9/12) | Tchiques vièrs mots Jèrriais | | | |
| | 23/12(23/12) | À forche d'truncer, Noué veint et s'en va! | | | |
| | 30/12(30/12) | La Nouvelle Année | | | |
| 1968 | 16/1(6/1) | Auprès chu temps-ichîn il en veindra d'autre! | | | |
| | 19/1(13/1) | Ch'est la fîn tchi couronne l'oeuvre! | | | |
| | 25/1(20/1) | I' n'y'a pon d'sots mêtchièrs! | | | |
| | 3/2(27/1) | Les Jèrriais à La Côte | | | |
| | 9/2(3/2) | Faut tréjous garder eune pomme pour la sé! | | | |
| | 20/2(10/2) | Au motcheux la moqu'sie! | | | |
| | 26/2(17/2) | Ès grands maux les grands r'mièdes! | | | |
| | 6/3(24/2) | Ch'est la fîn tchi couronne l'oeuvre | | | |
| | 12/3(2/3) | Nou n'peut pon enrichi un publyi! | | | |
| | 20/3(9/3) | Les nouvelles dé Jérri sont tréjous les beinv'nues! | | | |
| | 3/4(23/3) | I' s'en fait d'toutes les sortes, sinon la bouanne! | | | |
| | 6/4(30/3) | Des nouvelles dé Jèrri! | | | |
| | 18/4(6/4) | Y'a septante ans ... | | | |
| | 24/4(13/4) | Les sou sont mal sémés! | | | |
| | 30/4(20/4) | Au mais d'avri tout annima change d'habit! | | | |
| | 3/5(27/4) | Ch'est l'ventre tchi souôtcheint l'dos! | | | |
| | 13/5(4/5) | En mémouaithe des bouans vièrs temps! | | | |
| | 18/5(11/5) | L'autorité biblyique dé l'Églyise | | | |
| | 31/5(18/5) | I' faut consèrver la Langue Jérriaise! | | | |
| | 4/6(25/5) | Tchi vit et tchi vait, dans bein d's êtats s'trouve! | | | |
| | 10/6(1/6) | Les Jèrriais à La Côte | | | |
| | 17/6(8/6) | Les Jèrriais à La Côte | | | |
| | 22/6(15/6) | Les Jèrriais à La Côte | | | |
| | 28/6(22/6) | Les Jèrriais à La Côte | | | |
| | 9/7(n.d.) | Les Jèrriais à La Côte | | | |
| | 13/7(6/7) | Les Jèrriais à La Côte (Siète) | | | |
| | 18/7(13/7) | Les Jèrriais à La Côte | | | |
| | 29/7(20/7) | Les Jèrriais à La Côte | | | |
| | 3/8(27/7) | D'èrtou en Jèrri! | | | |
| | 10/8(3/8) | La Nouormandie | | | |
| | 16/8(10/8) | I' faut paître là ou'est qu'nou-s-est fitchis! | | | |
| | 28/8(17/8) | Lé chein tchi fait d'san mus n'peut pon faithe pus! | | | |
| | 6/9(24/8) | Les pids en haut, la tête en bas! | | | |
| | 10/9(31/8) | St Martin l'Vyi | | | |
| | 17/9(7/9) | Ch'est la mauvaitchi tchi sort! | | | |
| | 5/10(21/9) | À l'entou d'l'âtre .. | | | |
| | 11/10(28/9) | Eune corvée méthitouaithe! | | | |
| | 18/10(5/10) | En Afrique! | | | |
| | 24/10(12/10) | En Afrique (Siète) | | | |
| | 31/10(19/10) | En Afrique (Siète) | | | |
| | 13/11(2/11) | En Afrique (Conclusion) | | | |
| | 28/11(16/11) | D'èrtou en Jèrri | | | |
| | 10/12(23/11) | D'èrtou en Améthique | | | |
| | 13/12(30/11) | À forche d'chèrchi nou trouve! | | | |
| | 17/12(7/12) | À l'entou d'l'âtre | | | |
| | 24/12(14/12) | Mémouaithes du temps passé | | | |
| | 28/12(20/12) | Les complyîments d'la saison | | | |
| 1969 | 10/1(28/12) | Un viage à La Leune! | | | |
| | 15/1(4/1) | La Nouvelle Année | | | |
| | 21/1(11/1) | En reunminnant | | | |
| | 23/1(18/1) | En faîthant l'tou du monde . . . | | | |
| | 14/2(25/1) | En faîthant l'tou du monde . . . (Siète) | | | |
| | 22/2(8/2) | Mémouaithes du temps passé | | | |
| | 27/2(15/2) | Lé Texas - et la belle `Jersey Lily' | | | |
| | 5/3(22/2) | I'faut êt' pétits d'vant qu' êt' grands! | | | |
| | 11/3(1/3) | L'respé et la politesse né couôtent rein! | | | |
| | 9/4(29/3) | Villais v. Campagnard! (Conclusion) | | | |
| | 15/4(5/4) | En mémouaithe d'Eisenhower | | | |
| | 21/4(12/4) | La bouanne soupe dé Jèrri! | | | |
| | 28/4(19/4) | La multiplicâtion! | | | |
| | 5/5(26/4) | Choses et autres . . . | | | |
| | 13/5(3/5) | Changement d'pâtuthe! | | | |
| | 19/5(10/5) | Nièr et blianc | | | |
| | 30/5(17/5) | Ottawa - la belle capitale du Cannada! | | | |
| | 4/6(24/5) | D'èrtou en Jèrri | | | |
| | 10/6(31/5) | Les vièrs accoints | | | |
| | 21/6(7/6) | J'aime bein man siez-mé! | | | |
| | 25/6(14/6) | Acouo des mémouaithes du temps jadis! | | | |
| | 2/7(21/6) | Les Chapelles Wesleyennes | | | |
| | 7/7(28/6) | Choses et autres . . . | | | |
| | 18/7(5/7) | Tant pus l'temps va, tant pus il en couôte! | | | |
| | 22/7(12/7) | Du Jèrgon juridique! | | | |
| | 29/7(19/7) | Lé geon, ses flieurs et ses pitchets! | | | |
| | 4/8(26/7) | La vouaix des clioches | | | |
| | 15/8(2/8) | Sèr méthite sén indépendance | | | |
| | 19/8(9/8) | La Batâle dé Jèrri | | | |
| | 27/8(16/8) | Châque pays a san charme | | | |
| | 3/9(23/8) | À l'entou d'l'âtre | | | |
| | 17/9(30/8) | Lé Mont d'La Ville | | | |
| | 22/9(6/9) | All'ous au lanchon? | | | |
| | 30/9(13/9) | N'y'a rein d'nouvé souos l'touannement du solé! | | | |
| | 7/10(20/9) | La richesse dé nouot' vielle langue | | | |
| | 15/10(27/9) | Contes à l'entou d'l'âtre | | | |
| | 22/10(4/10) | Acouo des contes à l'entou d'l'âtre | | | |
| | 27/10(11/10) | Les pliantes méd'cinnales | | | |
| | 4/11(18/10) | Acouo des pliantes méd'cinnales | | | |
| | 8/11(25/10) | Tchiques crianches Jèrriaises | | | |
| | 11/11(1/11) | À beintôt! | | | |
| | 25/11(15/11) | Ottawa | | | |
| | 9/12(22/11) | Les distances raccourchent! | | | |
| | 17/12(29/11) | Un mêtchi pénibl'ye! | | | |
| | 20/12(6/12) | Nou r'tchil'ye chein qu'nou sème! | | | |
| | 29/12(13/12) | La couleu d'Jérri | | | |
| 1970 | 6/1(20/12) | Y'a tchiquesfais d'la minséthe dans la vie! | | | |
| | 12/1(n.d.) | La Nouvelle Année | | | |
| | 16/1(3/1) | La bouanne `Jersey Weekly Post'! | | | |
| | 22/1(10/1) | I' faut couoyer pour duther! | | | |
| | 26/1(17/1) | La trantchilité calme l'esprit | | | |
| | 5/2(24/1) | Tant pus d'prêsse, tant pus d'abus! | | | |
| | 11/2(31/1) | Tchi sèrt lé publyi sèrt un ingrat! | | | |
| | 25/2(7/2) | L'êlection pour Députés | | | |
| | 28/2(14/2) | Lé r'pos êtèrnel | | | |
| | 5/3(21/2) | Eune réchinne Wesleyenne! | | | |
| | 17/3(28/2) | Orthographique! | | | |
| | 21/3(7/3) | Quand j'allais à l'êcole . . . | | | |
| | 3/4(14/3) | Tout s'en va à la d'rivé! | | | |
| | 8/4(21/3) | Aux armes, St Ouennais! | | | |
| | 14/4(28/3) | Affaithes dé cartchul! | | | |
| | 22/4(4/4) | Lé Bulletin d'L'Assembliée | | | |
| | 27/4(11/4) | Mémouaithes dé janneche | | | |
| | 2/5(18/4) | Un trésor | | | |
| | 7/5(25/4) | La doctrin'nie du temps passé | | | |
| | 11/5(2/5) | Changement d'pâtuthe! | | | |
| | 19/5(9/5) | Faut aver l'nez dans l'mitan d'la fache! | | | |
| | 28/5(16/5) | Vaut mus couoyer qu' dêpenser! | | | |
| | 6/6(30/5) | D'èrtou en Jèrri! | | | |
| | 10/6(6/6) | Historique . . . | | | |
| | 16/6(13/6) | R'mièdes de nouos vielles gens | | | |
| | 24/6(20/6) | L'advèrsité fait prendre sus sé! | | | |
| | 3/7(27/6) | Fameuses êtampes de pids | | | |
| | 8/7(4/7) | Des mios d'Jèrri en Améthique | | | |
| | 18/7(11/7) | Noms et mênoms du temps jadis | | | |
| | 25/7(18/7) | Couôteunmes du temps passé | | | |
| | 3/8(25/7) | Rocque Bèr et la bague dé neuches | | | |
| | 8/8(1/8) | La vouaix des clioches | | | |
| | 17/8(8/8) | Crianches dé nouos vielles gens | | | |
| | 24/8(15/8) | Lé Creux du Vis | | | |
| | 29/8(22/8) | Acouo des mémouaithes du temps passé | | | |
| | 8/9(29/8) | Rocque Bèr | | | |
| | 21/9(5/9) | Les femmes! | | | |
| | 28/9(12/9) | Les femmes! (Siète) | | | |
| | 6/10(19/9) | Les femmes! (Siète) | | | |
| | 31/10(17/10) | Un bouan docteu | | | |
| | 6/11(24/10) | D'èrtou en Améthique | | | |
| | 12/11(31/10) | Lé Tchian du Bouôlay | | | |
| | 20/11(7/11) | Ottawa | | | |
| | 27/11(14/11) | Libèrté et responsabilité vont d'emsembl'ye! | | | |
| | 2/12(21/11) | Supèrstitions du temps jadis | | | |
| | 10/12(28/11) | Actions dé Grâces | | | |
| | 16/12(5/12) | Un mouoché d'mots | | | |
| | 19/12(12/12) | Les Franc-Machons | | | |
| | 24/12(19/12) | Noué | | | |
| 1971 | 7/1(26/12) | Contentement pâsse richesse! | | | |
| | 12/1(2/1) | Vouos en r'souv'n'ous? | | | |
| | 26/1(9/1) | `Buffalo Bill' | | | |
| | 3/2(16/1) | `Buffalo Bill' | | | |
| | 20/3(23/1) | En Mexique | | | |
| | 29/3(30/1) | En Mexique (Siète) | | | |
| | 7/4(6/2) | En Mexique (Conclusion) | | | |
| | 16/4(13/2) | Des nouvelles dé Jérri! | | | |
| | 20/4(20/2) | L'temps passé | | | |
| | 3/5(27/2) | D'èrtou en Floride | | | |
| | 10/5(13/3) | La Légende dé La Hougue Bie | | | |
| | 21/5(27/3) | À la chance! | | | |
| | 29/5(10/4) | Les runs des Robins | | | |
| | 11/6(5/6) | D'èrtou en Jèrri! | | | |
| | 17/6(12/6) | Les monuments d'Jèrri | | | |
| | 29/6(19/6) | Crianches et ditons | | | |
| | 6/7(26/6) | Bérisses, brébis et brébions! | | | |
| | 13/7(3/7) | L's êvénements du jour | | | |
| | 20/7(10/7) | Choses et autres . . . | | | |
| | 27/7(17/7) | Historique | | | |
| | 3/8(24/7) | Eune langue d'aspi! | | | |
| | 10/8(31/7) | Honmage au Duc dé Nouormandie | | | |
| | 4/9(28/8) | En Russie | | | |
| | 11/9(4/9) | En Russie (Siète) | | | |
| | 29/9(11/9) | En Russie (Siète) | | | |
| | 7/10(18/9) | En Russie (Siète) | | | |
| | 13/10(25/9) | En Russie (Conclusion) | | | |
| | 27/10(16/10) | En France | | | |
| | 18/11(6/11) | D'èrtou en Améthique | | | |
| | 29/11(20/11) | Tchi fait bein èrchait bein | | | |
| | 10/12(27/11) | Lé Cri des Tomb'laines | | | |
| | 16/12(4/12) | Lé fèrmage | | | |
| | 23/12(11/12) | Noué | | | |
| 1972 | 5/1(18/12) | Lé Jour d'la Fielle de Tchêne | | | |
| | 12/1(25/12) | Mémouaithes du temps pâssé | | | |
| | 17/1(1/1) | Souhaits d'nouvelle année | | | |
| | 25/1(8/1) | Choses et autres . . . | | | |
| | 26/1(15/1) | Vieillèche s'atchitte! | | | |
| | 2/2(22/1) | `Tut vait à fin | | | |
| | 4/2(29/1) | Y'a-t-i' rein d'nouvé? | | | |
| | 16/2(5/2) | Lé vèrre dévale! | | | |
| | 22/2(12/2) | En Améthique | | | |
| | 29/2(19/2) | 'Jersey Lily' | | | |
| | 6/3(26/2) | Un tas d'maladie! | | | |
| | 14/3(4/3) | En Floride | | | |
| | 20/3(11/3) | Les célèbres d'Cart'rêts | | | |
| | 4/4(18/3) | À l'âsile | | | |
| | 7/4(25/3) | Des nouvelles dé Jèrri | | | |
| | 14/4(1/4) | Eune modgie d'cidre! | | | |
| | 20/4(8/4) | `Jersey Lily' | | | |
| | 29/4(15/4) | L'temps jadis . . . | | | |
| | 10/5(22/4) | Faits-divèrs | | | |
| | 17/5(29/4) | Des rares mots | | | |
| | 23/5(6/5) | Banqueroutes! | | | |
| | 30/5(13/5) | Lé Pilote | | | |
| | 2/6(20/5) | Mauvaitchi sans profit | | | |
| | 7/6(27/5) | Nouot' vielle langue | | | |
| | 17/6(3/6) | D'èrtou en Jèrri! | | | |
| | 22/6(10/6) | L'Malin Esprit | | | |
| | 28/6(17/6) | L'pâssé et l'actualité | | | |
| | 5/7(24/6) | Dans la gâzette . . . | | | |
| | 12/7(1/7) | Geints, et l'temps pâssé | | | |
| | 21/7(8/7) | Historique | | | |
| | 26/7(15/7) | Un fricot d'pihangne | | | |
| | 4/8(22/7) | L'Églyise dé St Brélade | | | |
| | 12/8(29/7) | L'fèrmyi enhanne tréjous! | | | |
| | 18/8(5/8) | Lé Contchérant | | | |
| | 25/8(12/8) | L'troubl'ye en gângne! | | | |
| | 6/10(3/9) | L'Hôpita | | | |
| | 14/10(7/10) | Les Êlections | | | |
| | 1/11(14/10) | Des mèrvelles dé Jèrri | | | |
| | 3/11(21/10) | Acouo des rares mots | | | |
| | 14/11(28/10) | G'vêtres et licos | | | |
| | 20/11(4/11) | D'èrtou en Améthique | | | |
| | 29/11(11/11) | J'allons laver aniet! | | | |
| | 5/12(18/11) | Du bouan sens! | | | |
| | 12/12(25/11) | L'amour est aveugl'ye! | | | |
| | 16/12(2/12) | Historique | | | |
| | 19/12(9/12) | Pièrre, fiêset et tondre-bosc | | | |
| | 23/12(23/12) | Bouan Noué | | | |
| | 30/12(16/12) | Av'ous bouanne mémouaithe? | | | |
| 1973 | 5/1(30/12) | La nouvelle année | | | |
| | 17/1(6/1) | Aut' temps, aut' moeurs | | | |
| | 23/1(13/1) | Y'a du chouaix! | | | |
| | 31/1(20/1) | Vitesse postale? | | | |
| | 7/2(27/1) | L'Armistie! | | | |
| | 15/2(3/2) | L'amour est aveugl'ye! | | | |
| | 26/2(10/2) | Emancipâtion? | | | |
| | 2/3(17/2) | La vie paisibl'ye | | | |
| | 27/3(24/2) | En Floride | | | |
| | 2/4(3/3) | Gangnants et pèrdants | | | |
| | 6/4(10/3) | R'liques du temps jadis | | | |
| | 12/4(17/3) | Des godenivelles | | | |
| | 13/4(24/3) | I' faut molli d'vitesse! | | | |
| | 18/4(31/3) | Rencontre à mié-c'min! | | | |
| | 23/5(5/5) | Lé Malin Esprit | | | |
| | 31/5(12/5) | Affaithes ecclésiastiques | | | |
| | 2/6(19/5) | La gâzette èrveint! | | | |
| | 8/6(26/5) | Un doux souv'nin | | | |
| | 14/6(2/6) | Acouo des godenivelles | | | |
| | 16/6(9/6) | D'èrtou en Jèrri! | | | |
| | 22/6(16/6) | Choses et autres | | | |
| | 29/6(23/6) | En passant . . . | | | |
| | 10/7(30/6) | Touos l's ièrs né vaient pon d'eune sorte! | | | |
| | 23/7(14/7) | En Nouormandie | | | |
| | 30/7(21/7) | Choses et autres | | | |
| | 6/8(28/7) | Pliaques historiques | | | |
| | 13/8(4/8) | Tchestchion d'mathiage | | | |
| | 22/8(11/8) | À l'Êcole | | | |
| | 29/8(18/8) | Tchiques dévinnâles | | | |
| | 5/9(25/8) | D'èrtou d'France | | | |
| | 14/9(1/9) | La vie n'est pon tout roses! | | | |
| | 24/9(8/9) | Ch'est la mèrquéthie tchi sauve! | | | |
| | 1/10(15/9) | Tchi changements! | | | |
| | 8/10(22/9) | Les r'ligieux d'aut'fais | | | |
| | 15/10(29/9) | Comme tchi faithe lé beurre | | | |
| | 24/11(6/10) | La salle dé bain | | | |
| | 25/10(13/10) | Jèrri jadis | | | |
| | 31/10(20/10) | Les changements sont en ordre | | | |
| | 8/11(27/10) | Comme tchi faithe lé pain | | | |
| | 14/11(3/11) | À l'entou d'l'âtre . . . | | | |
| | 23/11(10/11) | D'èrtou en Améthique | | | |
| | 28/11(17/11) | Deux têtes valent mus qu' ieune! | | | |
| | 10/12(24/11) | Ottawa | | | |
| | 15/12(1/12) | La dgèrre des Boèrs | | | |
| | 27/12(8/12) | Au r'fliéchi . . . | | | |
| | 31/12(15/12) | Noué | | | |
| 1974 | 3/1(n.d.) | Lé Nouvel An | | | |
| | 10/1(29/12) | Grands anmins | | | |
| | 16/1(5/1) | Choses et autres | | | |
| | 23/1(12/1) | Dans la gâzette | | | |
| | 31/1(19/1) | Lé sage sé tait | | | |
| | 7/2(26/1) | À l'entou d'l'âtre | | | |
| | 13/2(2/2) | L'temps pâssé | | | |
| | 27/2(16/2) | Lord Coutanche | | | |
| | 6/3(23/2) | Au pid du feu | | | |
| | 11/3(2/3) | L'forgeux s'enrichit pon! | | | |
| | 22/3(9/3) | Des prix fos! | | | |
| | 28/3(16/3) | Lé fidèle anmin d'l'homme | | | |
| | 5/4(23/3) | Au temps à v'nin . . . | | | |
| | 11/4(30/3) | J'sis consèrvateur! | | | |
| | 18/4(6/4) | Au haut d'l'êtchelle | | | |
| | 25/4(13/4) | Aut' fais . . . | | | |
| | 2/5(20/4) | Actualités | | | |
| | 10/5(27/4) | La jouôte | | | |
| | 14/5(4/5) | Faut s'accorder à touos sons | | | |
| | 6/6(11/5) | En c'min pâssant . . . | | | |
| | 7/6(18/5) | Des vièrs mots Jèrriais | | | |
| | 13/6(25/5) | Tchi machinn'nie! | | | |
| | 17/6(1/6) | À côté d'l'âtre . . . | | | |
| | 18/6(8/6) | D'èrtou en Jèrri | | | |
| | 25/6(15/6) | Actualités | | | |
| | 1/7(22/6) | Châtchun connait siez sé | | | |
| | 9/7(29/6) | À tout seigneur tout honneur! | | | |
| | 17/7(6/7) | La vie n'est pon tout roses | | | |
| | 24/7(13/7) | L's assembliées d'priéthes | | | |
| | 1/8(20/7) | Les Russes en Jèrri | | | |
| | 6/8(27/7) | Historique | | | |
| | 10/8(3/8) | Quand l'cat dort, les souothis jouent | | | |
| | 23/8(10/8) | L'Assembliée d'Jérriais | | | |
| | 31/8(17/8) | Pus nou-s-a, pus nou veurt | | | |
| | 4/9(24/8) | En Nouormandie | | | |
| | 11/9(31/8) | Eune mêprinse à corrigi | | | |
| | 19/9(7/9) | Les ridgeaux sont bas . . . | | | |
| | 25/9(14/9) | Contentement pâsse richesse | | | |
| | 3/10(21/9) | Historique | | | |
| | 9/10(28/9) | Un sou êpaingni est un sou gângni | | | |
| | 12/10(5/10) | La vieillèche | | | |
| | 23/10(12/10) | Poule tchi caqu'te dêcouvre san nid | | | |
| | 31/10(19/10) | Historique | | | |
| | 11/11(26/10) | D'èrtou en Améthique | | | |
| | 20/11(2/11) | Pensées en l'air | | | |
| | 28/11(9/11) | L'homme propose, mais Dgieu dispose | | | |
| | 4/12(16/11) | L'homme propose, mais Dgieu dispose (Siète) | | | |
| | 7/12(23/11) | L'homme propose, mais Dgieu dispose (Siète) | | | |
| | 17/12(30/11) | L'homme propose, mais Dgieu dispose (Siète) | | | |
| | 24/12(14/12) | Bouan Noué! | | | |
| 1975 | 10/1(21/12) | Dans la gâzette | | | |
| | 17/1(28/12) | En Améthique . . . | | | |
| | 23/1(4/1) | L'`humour' irlandais | | | |
| | 30/1(11/1) | Au pid du feu | | | |
| | 6/2(18/1) | Choses et autres | | | |
| | 13/2(25/1) | Papa fut naufragi! | | | |
| | 21/2(1/2) | Lé chapé | | | |
| | 26/2(8/2) | Les sou ont d's ailes, et s'envolent! | | | |
| | 6/3(15/2) | À tout seigneur tout honneur | | | |
| | 11/3(22/2) | I' n'plieut tch'i' n'vèrse! | | | |
| | 21/3(1/3) | Les corvées | | | |
| | 2/4(8/3) | Dans la gâzette . . . | | | |
| | 5/4(15/3) | Changements sont en mode | | | |
| | 11/4(22/3) | Bouan mênage duthe! | | | |
| | 12/4(29/3) | Châtchun à tou monte en carrosse! | | | |
| | 23/4(5/4) | Chiétheté et disette vont d'ensembl'ye | | | |
| | 23/4(12/4) | Nouot' chièthe pétite vaque | | | |
| | 3/5(19/4) | Généalogique . . . | | | |
| | 15/5(26/4) | Choses et autres | | | |
| | 17/5(3/5) | Êlections et appointements | | | |
| | 28/5(10/5) | Progrès, pigeons et Avocats | | | |
| | 2/6(17/5) | Des farces bouannes | | | |
| | 6/6(24/5) | Choses et autres | | | |
| | 13/6(31/5) | Au cliai d'la leune! | | | |
| | 19/6(7/6) | D'èrtou en Jèrri! | | | |
| | 23/6(14/6) | Angélique | | | |
| | 5/7(21/6) | En reunminnant . . . | | | |
| | 12/7(5/7) | Les bouans s'en vont! | | | |
| | 18/7(28/6) | Lé solé lit! | | | |
| | 25/7(n.d.) | Chatchun bat d'san marté! | | | |
| | 7/8(26/7) | Tant pus d'prêsse tant pus d'abus! | | | |
| | 16/8(2/8) | Iliets, iliettes et iliéthes | | | |
| | 22/8(9/8) | En Nouormandie | | | |
| | 28/8(10/8) | D'èrtou en Jèrri | | | |
| | 11/9(23/8) | Choses et autres | | | |
| | 25/9(6/9) | Chorchièrs et tchéthauds | | | |
| | 8/10(13/9) | La richesse dé nouot' langue | | | |
| | 10/10(20/9) | En pâssant . . . | | | |
| | 17/10(4/10) | Nou s'accouôteunme â tout | | | |
| | 24/10(11/10) | Man Papa Giffard | | | |
| | 31/10(18/10) | À la préchaine! | | | |
| | 15/11(25/10) | Dans l'Nouvieau Monde | | | |
| | 22/11(1/11) | Ottawa | | | |
| | 29/11(8/11) | L's êlections | | | |
| | 3/12(15/11) | Dans la gâzette . . . | | | |
| | 10/12(22/11) | Affaithes ecclésiastiques | | | |
| | 13/12(29/11) | En Floride | | | |
| | 19/12(6/12) | Tchi nez! | | | |
| | 23/12(13/12) | Noué | | | |
| 1976 | 7/1(20/12) | Dans la gâzette . . . | | | |
| | 16/1(27/12) | Tchi pays! | | | |
| | 26/1(3/1) | Lé Nouvel An | | | |
| | 30/1(10/1) | Un sanm'di l'arlévée | | | |
| | 17/2(17/1) | Lé temps s'pâsse! | | | |
| | 20/2(24/1) | Changement d'pâtuthe . . . | | | |
| | 21/2(31/1) | Mailles et mailloch'chie! | | | |
| | 1/3(7/2) | Des nouvelles dé Jèrri! | | | |
| | 13/3(21/2) | En Califournie | | | |
| | 23/3(28/2) | Choses et autres . . | | | |
| | 2/4(6/3) | Des vièrs mots Jèrriais | | | |
| | 6/4(13/3) | Dans la gâzette . . . | | | |
| | 13/4(20/3) | Le Français-Cannadgien | | | |
| | 24/4(27/3) | À m'n idée . . . | | | |
| | 29/4(3/4) | La né, boutiques et Avocats! | | | |
| | 7/5(10/4) | D'la bourdonn'nie! | | | |
| | 12/5(17/4) | Tchi feunmée! | | | |
| | 15/5(24/4) | Un êléphant | | | |
| | 26/5(1/5) | Changement d'pâtuthe | | | |
| | 3/6(8/5) | Deux têtes valent mus qu' ieune! | | | |
| | 7/6(15/5) | J'appréche dé Jèrri! | | | |
| | 18/6(22/5) | Faits-divèrs | | | |
| | 21/6(29/5) | À La Côte | | | |
| | 7/7(5/6) | D'èrtou en Jèrri! | | | |
| | 8/7(12/6) | Choses et autres . . | | | |
| | 19/7(19/6) | À tout seigneur tout honneur | | | |
| | 22/7(26/6) | Les vielles fanmil'yes Jèrriaises | | | |
| | 27/7(3/7) | Lé temps pâssé | | | |
| | 30/7(10/7) | Lé r'miède | | | |
| | 7/8(17/7) | Tchi changements! | | | |
| | 14/8(24/7) | Filliéthes et crianches | | | |
| | 24/8(31/7) | La pêque | | | |
| | 1/9(7/8) | Sav'ous l'Jèrriais? | | | |
| | 3/9(14/8) | L'ieau du ciel | | | |
| | 14/9(21/8) | La nouôrrituthe dé l'âme | | | |
| | 18/9(28/8) | Lé j'va | | | |
| | 23/9(4/9) | Contentement pâsse richesse | | | |
| | 29/9(11/9) | Les motos | | | |
| | 1/10(18/9) | Tchi vent! | | | |
| | 19/10(25/9) | Historique | | | |
| | 20/10(2/10) | Lé trop et l'trop p'tit! | | | |
| | 25/10(9/10) | Tchi dêpenses! | | | |
| | 29/11(6/11) | En Isreal | | | |
| | 3/12(13/11) | D'èrtou en Améthique | | | |
| | 15/12(20/11) | Au Cannada | | | |
| | 18/12(27/11) | Ottawa | | | |
| | 21/12(4/12) | Pouv'-ous ouvrer? | | | |
| | 22/12(18/12) | Noué | | | |
| | 31/12(11/12) | Répétition | | | |
| 1977 | 19/1(21/12) | Au pid des montagnes | | | |
| | 25/1(1/1) | 1977 | | | |
| | 2/2(8/1) | Êtes-ous à la mode? | | | |
| | 82(15/1) | Aim'ous l'bran? | | | |
| | 16/2(22/1) | Tchi beaux portraits! | | | |
| | 24/2(29/1) | À m'n idée . . . | | | |
| | 28/2(5/2) | Ichîn et là | | | |
| | 2/3(12/2) | Cocolîncheux! | | | |
| | 8/3(19/2) | Changement d'pâtuthe | | | |
| | 11/3(26/2) | Dans la gâzette | | | |
| | 23/3(5/3) | Choses et autres . . . | | | |
| | 25/3(12/3) | En r'vénant d'l'êcole | | | |
| | 4/4(19/3) | Chambres et châtchieux | | | |
| | 9/4(25/3) | Dans la gâzette . . . | | | |
| | 25/4(2/4) | En garde, Jèrriais! | | | |
| | 4/5(9/4) | Corps et beins | | | |
| | 6/5(16/4) | Dans la gâzette | | | |
| | 12/5(23/4) | Changement de pâtuthe | | | |
| | 17/5(30/4) | Vaques et vachièrs | | | |
| | 26/5(7/5) | Av'-ous bouanne veue? | | | |
| | 2/6(21/5) | L'êducâtion | | | |
| | 10/6(14/5) | La couleu d'Jèrri | | | |
| | 16/6(28/5) | D'èrtou en Jèrri | | | |
| | 24/6(n.d.) | Les Mielles | | | |
| | 2/7(11/6) | Haut et bas (Les Mielles) | | | |
| | 5/7(25/6) | La fin couronne l'oeuvre | | | |
| | 2/7(11/6) | Haut et bas | | | |
| | 16/7(18/6) | Haut et bas | | | |
| | 23/7(n.d.) | Bouan mênage duthe | | | |
| | 26/7(9/7) | La Crouaix | | | |
| | 30/7(16/7) | Les Caves dé Champion | | | |
| | 4/8(23/7) | Tout bas | | | |
| | 10/8(30/7) | Y'a huiptante ans | | | |
| | 31/8(13/8) | Jèrri, point d'veue d'Normandie | | | |
| | 9/9(20/8) | Les brébis | | | |
| | 13/9(27/8) | En reunminnant . . | | | |
| | 8/10(24/9) | Les changements sont en mode | | | |
| | 12/10(1/10) | Voul'-ous l'êchange? | | | |
| | 20/10(8/10) | Les Landes et Les Mintchiers | | | |
| | 28/10(15/10) | À bétôt! | | | |
| | 11/11(22/10) | D'èrtou en Améthique | | | |
| | 19/11(29/10) | Bouan jour, bouanne oeuvre! | | | |
| | 26/11(5/11) | Au Cannada | | | |
| | 1/12(12/11) | Tchi pataflias! | | | |
| | 12/12(19/11) | La démocratie | | | |
| | 16/12(26/11) | Du bouan sang! | | | |
| | 28/12(n.d.) | I' fait fraid! | | | |
| 1978 | 3/1(n.d.) | Aim'-ous les pais au fou? | | | |
| | 14/1(24/12) | Souv'nins du temps pâssé | | | |
| | 20/1(31/12) | Rêsolutions | | | |
| | 25/1(7/1) | Tchi tatonn'nie | | | |
| | 8/2(14/1) | Vielles nouvelles | | | |
| | 11/2(21/1) | Voul'-ous freunmer l's églyises? | | | |
| | 23/2(28/1) | Changement d'pâtuthe | | | |
| | 3/3(4/2) | La bouaisson tue | | | |
| | 18/3(11/2) | Tempêtes, dêpens, consèrvâtion | | | |
| | 23/3(18/2) | Nouvelles d'întéthêt | | | |
| | 30/3(25/2) | Les soudards | | | |
| | 11/4(n.d.) | D'la plyie avèrse | | | |
| | 14/4(18/3) | Lé solé r' lît! | | | |
| | 22/4(4/3) | Le d'luge | | | |
| | 29/4(25/3) | Choses et autres | | | |
| | 8/5(8/4) | Vielles nouvelles | | | |
| | 13/5(1/4) | Mexico | | | |
| | 13/5(8/4) | Vielles nouvelles | | | |
| | 20/5(15/4) | Mêprinse d'èrsembliance? | | | |
| | 31/5(22/4) | Affaithes ecclésiastiques | | | |
| | 1/6(29/4) | Un sou êpaîgni est un sou gâgni | | | |
| | 8/6(6/5) | Ermèrques et félicitâtions | | | |
| | 12/6(13/5) | Les louanges dé sé-même né valent rein! | | | |
| | 24/6(27/5) | J'vouos vèrrai beintôt! | | | |
| | 24/6(3/6) | D'èrtou en Jèrri | | | |
| | 30/6(10/6) | Tchi changements! | | | |
| | 13/7(17/6) | Av'-ous bouan appétit? | | | |
| | 15/7(24/6) | Les Jèrrais à La Côte | | | |
| | 28/7(15/7) | Affaithes dé fanmil'ye | | | |
| | 5/8(22/7) | Un tas d'mêprînses! | | | |
| | 12/8(29/7) | À l'entou d'l'âtre | | | |
| | 24/8(5/8) | Taupes et crapauds | | | |
| | 2/9(12/8) | Choses et autres | | | |
| | 7/9(19/8) | Les grèves | | | |
| | 8/9(26/8) | Si l's anciens r'vénaient! | | | |
| | 15/9(2/9) | La couleu d'Jèrri | | | |
| | 22/9(9/9) | La chance | | | |
| | 6/10(16/9) | Des d'vinnâles | | | |
| | 19/10(n.d.) | Des d'vinnâles | | | |
| | 28/10(30/9) | Tchiques vièrs mots | | | |
| | 24/11(4/11) | D'èrtou en Améthique | | | |
| | 7/12(18/11) | La Milice Rouoyale dé Jèrri | | | |
| | 18/12(25/11) | À St Ouen l'temps pâssé | | | |
| | 27/12(2/12) | Av'-ous bouan' yi? | | | |
| | 29/12(9/12) | Changement d'pâtuthe | | | |
| 1979 | 10/1(16/12) | Lé Pallion | | | |
| | 20/1(30/12) | La Bouanne gâzette dé Jèrri | | | |
| | 2/2(6/1) | Rêsolutions d'Nouvel An | | | |
| | 9/2(13/1) | Jé m'rapelle . . . | | | |
| | 16/2(20/1) | Ch'est la vie! | | | |
| | 21/2(27/1) | Les Jèrriais à La Côte | | | |
| | 3/3(3/2) | L'êducâtion | | | |
| | 10/3(10/2) | Changement d'pâtuthe | | | |
| | 16/3(17/2) | Mêfaits et finnances | | | |
| | 22/3(24/2) | Choses et autres | | | |
| | 3/4(3/3) | Un tas d'corps | | | |
| | 10/4(10/3) | Lé gros tambour | | | |
| | 20/4(17/3) | Ch'est l'progrès | | | |
| | 2/5(24/3) | L'èrnouvé | | | |
| | 10/5(31/3) | Heûtheuse rencontre | | | |
| | 17/5(7/4) | Les Bulletîns de L'Assembliée | | | |
| | 25/5(14/5) | Rêponses ès tchestchions | | | |
| | 25/5(21/4) | Tch'est tchi s'pâsse en Jèrri? | | | |
| | 7/6(24/4) | Dans la gâzette . . . | | | |
| | 7/6(2/6) | La couleu d'Jèrri | | | |
| | 13/6(5/5) | La beusse battit l'pouf-pouf | | | |
| | 29/6(12/5) | Lé temps | | | |
| | 29/6(19/5) | D'èrtou en Jèrri | | | |
| | 20/7(23/6) | L'temps jadis | | | |
| | 7/7(9/6) | Aut' fais | | | |
| | 20/7(16/6) | L'temps pâssé | | | |
| | 20/7(23/6) | En reunminnant | | | |
| | 26/7(30/6) | Y'a huiptante ans | | | |
| | 26/7(7/7) | Av'-ous connu l'crâsset? | | | |
| | 9/8(14/7) | Les Bulletîns | | | |
| | 9/8(21/7) | La r'ligion | | | |
| | 29/8(28/7) | És grands maux les grands r'mièdes | | | |
| | 6/9(11/8) | Nouot' langue Jérriaise | | | |
| | 22/9(18/8) | L'Bouan vièr temps | | | |
| | 28/9(25/8) | Av'-ous d's ahans? | | | |
| | 12/10(1/9) | D'èrtou en Améthique | | | |
| | 25/10(8/9) | La télévision | | | |
| | 27/10(15/9) | Châtchun à san goût | | | |
| | 9/11(22/9) | Les naviguants | | | |
| | 16/11(29/9) | Lé bien d'autrui | | | |
| | 29/11(6/10) | Un bieau pèrrot | | | |
| | 30/11(13/10) | Nostalgie | | | |
| | 6/12(20/10) | Un tas d'feu | | | |
| | 1/12(27/10) | Mémouaithes du temps jadis | | | |
| | 14/12(27/10) | Des nouvelles dé Jèrri | | | |
| 1980 | 10/1(10/11) | Couôteunmes du temps jadis | | | |
| | 18/1(17/11) | Lé bouan vièr temps | | | |
| | 18/1(24/11) | Lé pâssage du temps | | | |
| | 1/2(1/12) | Abus d'privilège | | | |
| | 15/2(15/12) | Choses et autres | | | |
| | 22/2(22/12) | Dans les chaleurs | | | |
| | 22/2(29/12) | En Améthique | | | |
| | 20/3(12/1) | Des mémouaithes | | | |
| | 2/4(19/1) | Des nouvelles dé Jèrri | | | |
| | 8/4(26/1) | Les bottes à cliou | | | |
| | 16/4(2/2) | Nouos v'là en Févri | | | |
| | 16/4(9/2) | Av'-ous l'esprit présent? | | | |
| | 2/5(16/2) | Au Paradis | | | |
| | 2/5(23/2) | Lé chent'naithe dé la Batâle | | | |
| | 17/5(5/4) | La tâche continnue | | | |
| | 17/5(12/4) | Les temps ont changi | | | |
| | 11/6(19/4) | Les barbus et l'mathiage | | | |
| | 20/6(26/4) | Dans la gâzette . . . . | | | |
| | 20/6(3/5) | Lé routchi | | | |
| | 26/6(31/5) | Crianches et couôteunmes | | | |
| | 3/7(7/6) | D'l'èrtûnfîn | | | |
| | 10/7(14/6) | D'èrtou en Jèrri | | | |
| | 19/7(21/6) | La machinn'nie en gângne! | | | |
| | 24/7(28/6) | J'sis bouan dormeux! | | | |
| | 16/8(5/7) | Les femmes | | | |
| | 6/9(12/7) | L'bouan vièr temps | | | |
| | 12/9(19/7) | L'églyise dé St Georges | | | |
| | 24/9(26/7) | Pauvrété n'est pas vice | | | |
| | 2/10(2/8) | Y'a bête - et bêtes! | | | |
| | 16/10(9/8) | Viy'-ous cliai? | | | |
| | 15/11(25/10) | Dans l'Nouvieau Monde | | | |
| | 3/12(1/11) | L'bouan vièr temps | | | |
| | 16/12(n.d.) | À l'êcole | | | |
| | 19/12(15/11) | Êtes-ous orateur? | | | |
| 1981 | 2/1(22/11) | L'us est clios | | | |
| | 9/1(29/11) | Ma jannèche mémorabl'ye | | | |
| | 13/1(13/12) | All'-ous crier Noué? | | | |
| | 30/1(20/12) | Quand j'y pense . . . | | | |
| | 6/2(27/12) | `En reunminnant' | | | |
| | 10/2(10/1) | Des nouvelles dé Jèrri | | | |
| | 27/2(17/1) | Un vrai trésor | | | |
| | 5/3(24/1) | Lé nouvieau docteu | | | |
| | 14/3(31/1) | Lé jour d'èrpos | | | |
| | 20/3(7/2) | Trais vouaix tragiques! | | | |
| | 28/3(14/2) | D'bouâns anmîs sont des trésors | | | |
| | 2/4(28/2) | Pouv'-ous aîdgi? | | | |
| | 15/4(4/4) | Rêv'-ous la niet? | | | |
| | 22/4(18/4) | L'progrès à la lente? | | | |
| | 4/6(25/4) | j'allons-t-i' à r'tchulons? | | | |
| | 24/6(2/5) | L's Êtats, les routes et Les Mielles | | | |
| | 3/7(9/5) | Dans la gàzette | | | |
| | 16/7(16/5) | Mémouaithes | | | |
| | 5/8(n.d.) | Lé pâssage du temps | | | |
| | 12/8(23/5) | Un pas dans la vie | | | |
| | 12/8(30/5) | Les crapauds | | | |
| | 21/8(6/6) | Avârie et d'l'histouaithe | | | |
| | 28/8(13/6) | La violence en gângne! | | | |
| | 28/8(20/6) | Dans la Gâzette . . . | | | |
| | 1/9(27/6) | Les Jèrriais à La Côte | | | |
| | 18/9(4/7) | Êvaluâtion d'êpoques | | | |
| | 23/9(11/7) | Êtes'-ous supèrstitieux? | | | |
| | 25/9(18/7) | Des Quoac Quocas | | | |
| | 9/10(31/7) | Nou n'peut contenter tout l'monde | | | |
| | 16/10(8/8) | L'appathence trompe tchequefais! | | | |
| | 30/10(15/8) | Vive l'amour! | | | |
| | 5/11(29/8) | Mes p'tits jours | | | |
| | 18/11(31/10) | J'sis r'connaîssant | | | |
| | 10/12(14/11) | Tchiques vielles couôteunmes | | | |
| | 21/12(n.d.) | Bouan Noué | | | |
| 1982 | 22/1(28/11) | Av'-ous des véthues? | | | |
| | 29/1(26/12) | L'homme propose, mais Dgieu dispose | | | |
| | 29/1(5/12) | Noblièche oblyige | | | |
| | 26/2(9/1) | Les rêponses | | | |
| | 4/3(16/1) | Eune bouanne êlection! | | | |
| | 10/3(23/1) | Lé progrés | | | |
| | 3/4(30/1) | L's êlections | | | |
| | 14/4(6/2) | Tête-à-tête/1st translation into English (no title) | | | |
| | 16/4(13/2) | Hélas!/(no title) | | | |
| | 12/5(10/4) | Choses et autres/One thing and another) | | | |
| | 22/5(17/4) | À l'înjuthe du temps/At the mercy of the weather | | | |
| | 5/6(24/4) | Aux armes, Jèrriais d'race/Jerseymen, to arms! | | | |
| | 11/6(1/5) | Obsèrvâtions/Observations | | | |
| | 17/6(8/5) | Ch'est aîsi d'crititchi/It's easy to criticize | | | |
| | 22/6(15/5) | Dans man temps . . ./In my day | | | |
| | 26/6(22/5) | Hièr et aniet/Then and now | | | |
| | 3/7(29/5) | Tch'est-che qu' ou-s-en criyiz?/What do you think? | | | |
| | 7/7(5/6) | Cantorbéry et Rome/Canterbury and Rome | | | |
| | 10/7(19/6) | Le Souper des Vikings/(no title) | | | |
| | 19/7(12/6) | Av'-ous l'esprit présent?/Are you paying attention? | | | |
| | 27/7(3/7) | Av'-ous 'té milicien?/Were you in the Militia? | | | |
| | 4/8(10/7) | All'-ous ès baînis?/Going limpeting? | | | |
| | 11/8(24/7) | La fanmeuse Rouayale/The famous Royal | | | |
| | 21/8(31/7) | Lé r'vénant/Back from the dead | | | |
| | 8/9(4/9) | Les Berrèxes dé la Grève dé Lé/Greve de Lec Barracks | | | |
| | 15/9(n.d.) | Des r'mièdes du temps pâssé/Old remedies | | | |
| | 20/9(n.d.) | L'ouvrage et l'scandale/Knitting and scandal | | | |
| | 15/10(11/9) | Lé crapaud/The crapaud | | | |
| | 12/11(23/10) | D'èrtou en Améthique/Back in America | | | |
| | 2/12(30/10) | La Blianche Femme/The Woman in White | | | |
| | 10/12(6/11) | Au soudard la victouaithe!/To the soldier the victory! | | | |
| | 14/12(13/11) | Tchi changements!/What changes! | | | |
| | 17/12(20/11) | L'Armée du Salut/The Salvation Army | | | |
| | 20/12(27/11) | La vie n'est pon tout roses!/Life is not all roses! | | | |
| | 23/12(4/12) | Noué/Christmas | | | |
| 1983 | 13/1(18/12) | Mémouaithes nostalgique/Nostalgic memories | | | |
| | 21/2(25/12) | A Noué l'temps pâssé/Christmas in the past | | | |
| | 4/2(11/12) | Des rares mots/Uncommon words | | | |
| | 11/2(1/1) | Crianches du temps jadis/Bygone beliefs | | | |
| | 15/2(15/1) | Henri VIII et l'Églyise d'Angliétèrre/Henry VIII and the Church of England | | | |
| | 25/2(22/1) | J'avais l'ouïe finne!/I had sharp ears! | | | |
| | 4/3(29/1) | Crianches et couôteunmes/Beliefs and customs | | | |
| | 12/3(5/2) | L'împrévu en gângne!/The unexpected gains ground! | | | |
| | 18/3(n.d.) | Des vielles couôteunmes et l'Tchithême/Old customs and Lent | | | |
| | 22/3(12/2) | Noblièche oblyige/Noblesse oblige | | | |
| | 25/3(19/2) | Autres temps - autres moeurs/Other days - other ways | | | |
| | 29/3(5/3) | Eune êpoque mémorabl'ye/Memorable days | | | |
| | 14/4(12/3) | Affaithes ecclésiastiques/Church affairs | | | |
| | 21/4(19/3) | Av'-ous consulté l'touauthé?/Have you consulted the bull? | | | |
| | 24/4(26/3) | À tout seigneur, tout honneur/Honour each man according to his station | | | |
| | 5/5(2/4) | Examens et sèrmons/Chapel anniversary services and sermons | | | |
| | 13/5(9/4) | Un r'cord du temps jadis/A record of the past | | | |
| | 19/5(16/4) | Êtes-ous dé m'n avis?/Do you agree with me | | | |
| | 27/5(23/4) | À l'entou d'l'âtre/Around the fire | | | |
| | 3/6(30/4) | Des rares mots/Rarely-heard words | | | |
| | 10/6(7/5) | Changement d'pâtuthe/Change of scenery | | | |
| | 17/6(14/5) | Les Giffards/the Giffards | | | |
| | 24/6(21/5) | Adgi, p'tite boutique!/Farewell, little shop! | | | |
| | 30/6(28/5) | Les Français changîdrent d'idée!/The French changed their mind! | | | |
| | 7/7(4/6) | À tous ceux qui . . ./To all those who . . . | | | |
| | 15/7(11/6) | Lé régiment appelé `Les Russes'!/The regiment known as `The Russians'! | | | |
| | 23/7(18/6) | Vielles crianches/Old beliefs | | | |
| | 29/7(25/6) | Acouo des crianches/More beliefs | | | |
| | 5/8(2/7) | Bouâan pid!/Good health! | | | |
| | 10/8(9/7) | La fache et l'vîsage/The face and the visage | | | |
| | 20/8(30/7) | D'èrtou en Jèrri/Back again in Jersey | | | |
| | 31/8(13/8) | La vie d'aut' fais en mé/One-time life at sea | | | |
| | 21/9(27/8) | La Visite Rouoyale/The Visite Royale | | | |
| | 5/10(3/9) | Lé cat/The cat | | | |
| | 21/10(17/9) | La femme/Woman | | | |
| | 9/11(8/10) | En Nouormandie/In Normandy | | | |
| | 12/12(26/11) | D'èrtou en Améthique/Back again in America | | | |
| 1984 | 10/1(24/12) | La Sèrvelle dé Noué/Christmas Eve | | | |
| | 14/1(n.d.) | La chorchell'lie/Sorcery | | | |
| | 20/1(31/12) | L's années et les crianches sé pâssent/The years and beliefs pass by | | | |
| | 24/1(7/1) | Dans la gâzette . . ./In the paper . . . | | | |
| | 3/2(n.d.) | L's aubes et moulîns/Sails and mills | | | |
| | 7/2(14/1) | Les missions/The missions | | | |
| | 17/2(21/1) | Av'-ous du fraid?/Have you got a cold? | | | |
| | 24/2(28/1) | La femme en gângne!/Women are winning! | | | |
| | 1/3(4/2) | Acouo des crianches/More beliefs | | | |
| | 7/3(11/2) | Quand eune vielle fil'ye vait eune chance . . . /When a spinster sees a chance . . . | | | |
| | 22/3(18/2) | La biche à bord/The goat afloat | | | |
| | 4/4(25/2) | Lé travas n'tue pon!/Work doesn't kill! | | | |
| | 13/4(3/3) | Deux bieux pèrrots/Two fine parrots | | | |
| | 27/4(31/3) | Les Jèrriais à La Côte/Jerseymen at `The Coast' | | | |
| | 4/5(7/4) | Des réflexions/Reflections | | | |
| | 18/5(14/4) | Tchi nouvelles, aniet?/What news today? | | | |
| | 25/5(21/4) | La tchéthue à tchians/The squabblers | | | |
| | 3/7(5/5) | Mémouaithes nostalgiques/Nostalgic memories | | | |
| | 17/7(n.d.) | Tchi vivra vèrra/Time will tell | | | |
| | 31/8(n.d.) | Eune leçon biblyique/A Bible lesson | | | |
| | 26/10(n.d.) | Les farceurs/The pranksters | | | |
Bibliography of articles by George Le Feuvre in
Lé Bulletîn d'Quart d'An dé L'Assembliée d'Jèrriais
compiled by Dr. Annette Torode
| | | | |
| --- | --- | --- | --- |
| Vol | No | Page | Title |
| I | | | |
| (1953-1958) | 2 | 12 | L'y-a des jannes hommes pouor touos les goûts |
| | 6 | 79 | Lé Duc de Nouormandie en Jèrri |
| | 8 | 122 | La soupe de Jèrri |
| | 11 | 163 | Lé Rouai Jean d'Angliétèrre |
| | 13 | 196 | En Jèrri y'a 50 ans |
| | 16 | 257 | Edwin John Luce - en mémouaithe |
| | 17 | 264 | Histouaithe dé Sèrvelle de Noué |
| | 17 | 277 | Francis Vibert Le Feuvre - en mémouaithe |
| II | | | |
| (1959-1965) | 28/9 | 451 | Lé jeu du tireli |
| | 30 | 471 | Un Jèrriais à La Côte |
| | 31/2 | 487 | Lé jeu des barres |
| | 33 | 502 | Lé jeu dé saute-mouton |
| | 34 | 523 | Lé Coronel William Frederick l'Escaudé |
| | 35/6 | 543 | "Oyez! Oyez! La vouaix des anges dans les cieux" |
| | 37 | 560 | En Jèrri y'a Souoxante Ans |
| | 38 | 577 | Les Êmigrés d'Jèrri, La Mouothue, et La Côte dé Gaspé |
| | 39/40 | 601 | 1961 - L'Année Cosmique |
| | 39/40 | 607 | "La Seule Fondation d'l'Église" |
| | 45 | 665 | Y'a Bein des Temps dans La Vie |
| | 45 | 675 | "Ta Majesté, O Seigneur Dgieu" |
| | 46/7 | 681 | Un Viage en Tèrre Sainte |
| | 48/9 | 703 | Un Viage en Tèrre Sainte |
| | 50 | 730 | Un Viage en Tèrre Sainte |
| III | | | |
| (1965-1971) | 4/5 | 788 | "Bénis sont les Chrêtchiens" |
| | 6/7 | 807 | "Marchons, Soudards Chrêtchiens!" |
| | 9/10/11 | 841 | L'êrach'chie d'dents y'a septante ans |
| | 9/10/11 | 853 | "Sèrviteurs du Bouân Dgieu" |
| | 12/3 | 862 | La biche est dans les chours |
| | 14/5 | 890 | "Chîn-bas, La tèrre" |
| | 16/7 | 911 | "En garde! - En garde pour Jésus!" |
| | 18/9 | 916 | Ambassadeur en Nouormandie |
| | 18/9 | 929 | "Reste auprès de nous" |
| | 22/3 | 969 | "Quand j'èrgarde La Crouaix" |
| | 24/5 | 978 | Un viage à la Leune |
| IV | | | |
| (1971-1977) | 1/2 | 11 | En Jèrri y'a 25 ans |
| | 1/2 | 19 | "Lé chein tchi plieuthe tout seu" |
| | 5/6 | 49 | "Alléluia! Seigneur Jésu" |
| | 9/10 | 78 | Ch'est la mèrquéthie tchi sauve! |
| | 9/10 | 83 | "Seigneur, nouot' aîgue dés l'temps jadis" |
| | 11/2 | 91 | Aut'fais . . . |
| | 13/4 | 103/7 | Lé `Prix Littéraire Normand' (1974) donné à Moussieu George F. Le Feuvre |
| | 13/4 | 110 | "O glorieux Anges du Ciel" |
| | 17/8 | 133 | John James Le Marquand, Avocat et Sénateu - San décès |
| | 19/20 | 171 | Au cliai d'la leune |
| | 19/20 | 178 | "Atout jouaie, dans l'temps jadis" |
| | 21/2 | 188 | `Histouaithes et Gens d'Jèrri' - par George F. Le Feuvre |
| | 21/2 | 197 | Lé Très Révérend Canon Matthew Le Marinel, M.A., 1883-1963 |
| | 21/2 | 200 | "Tan nom, Jésu, est doux à l'ouie" |
| | 23/4 | 211 | D'èrtou en Jèrri |
| | 23/4 | 222 | "Èrmèrcions tous l'Bouân Dgieu" |
| | 25 | 232 | Quand j'tais janne |
| | 25 | 241 | "Oh! Qué ches bieaux Esprits - là r'lisent!" |
Viyiz étout: