Lé Preinseu
et l'tou d'preinseu en Jèrri
The cider press
and the apple crusher in Jersey

Dans bein des gardîns d'fèrmes et d'grandes maîsons en Jèrri, nou vait achteu des tours dé preinseu pliantés auves des flieurs - car nou n'les fait pus sèrvi pouor êtamper viyant qué j'n'avons pus l'îndustrie d'cidre tchi soulait exister y'a d's années.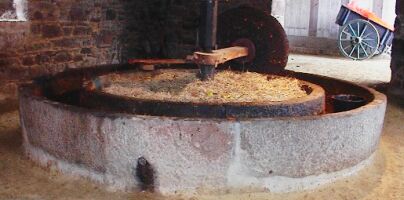 Lé tou d'preinseu à Hamptonne

Au mains deux fais par an nou peut s'rêjoui d'la veue d'un vièr tou d'preinseu en allant duthant la fais'sie d'cidre au Mangni d'Sanmathès et à Hamptonne.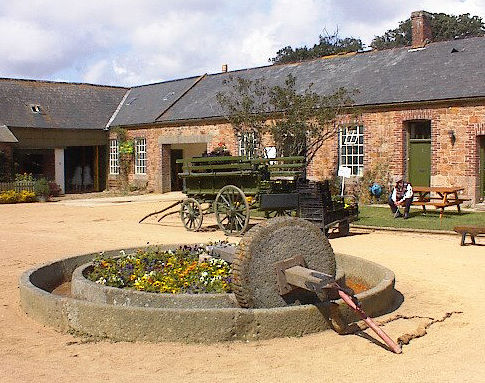 au Mangni d'Sanmathès - at Samarès Manor
In Jèrriais the word preinseu means the cider press or the press house (a room or outbuilding in which the press was housed).
The apple crusher - or cider crusher - so often used as a garden ornament or planter nowadays is lé tou d'preinseu - (an alternative name is lé tou à cidre)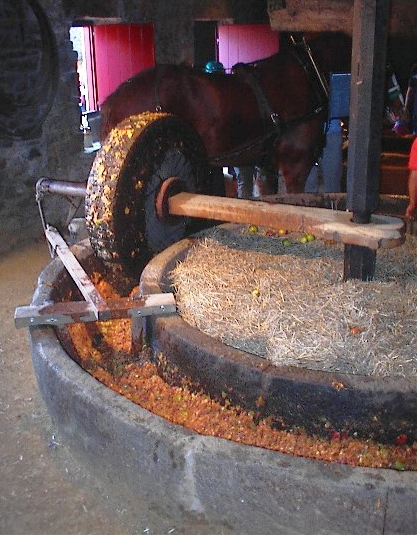 Lé tou d'preinseu à Hamptonne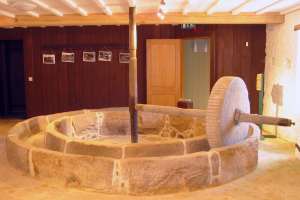 siez The Elms - at The Elms (National Trust for Jersey)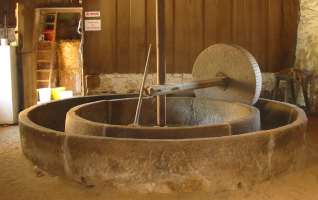 à la fèrme Mouothé - at Morel Farm (National Trust for Jersey)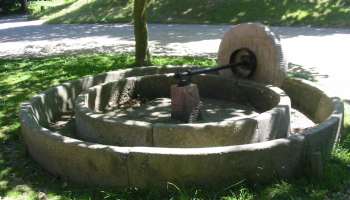 à La Hougue Bie - at La Hougue Bie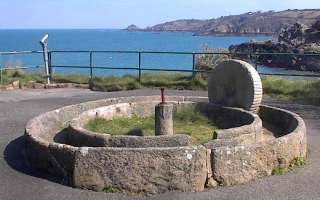 à Bouôlé - at Bouley Bay
The round crushing stone is la meule - the same word as for a millstone. The stone was drawn round by a horse - one might be surprised that a horse could fit given the confined nature of the preinseu, but watching cidermaking being done at Hamptonne proves that it is just as practical nowadays as in the past.
Once the apples are crushed to a pulp, they are transferred to the preinseu (the press) itself with des pelles (shovels) and des boutchets (buckets), and spread in layers.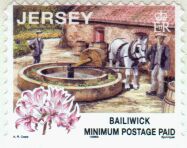 The inner ring containing the pillar or post at the centre of the tou d'preinseu is variously known as lé nouai, lé moueu, lé changlyi or l'auge

The pillar or post around which la haie (the beam) pivots is lé capeste, l'êtampêtre or lé pivot.

The granite sections the trough is made of are called les gattes.

The wooden rake-like device attached behind the stone which scrapes and turns the crushed apples as the stone is pulled round the tou, is called lé traîné (the sledge). It may also be known as lé rabot, although this is more commonly applied to the long-handled stirrer used for making lé nièr beurre (black butter).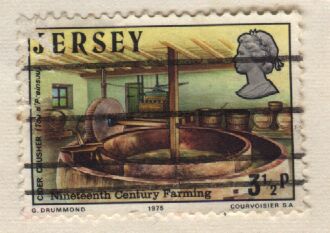 Êtamper is the verb "to crush (apples)", and the process of crushing apples for cider is l'êtamp'sie - which may be used as a synonym for cidermaking.
The crushed apple pulp is lé mar. The process of spreading a layer of apple pulp on the cider press is couochi l'mar.
The unfermented apple juice - lé pur jus - runs into a vat or tub called lé tchué.
Lé couté à mar is the knife used to cut up the pressed mar.
La Faîs'sie d'cidre au Mangni d'Sanmathès en 2003
Cidermaking at Samarès Manor
Viyiz étout: