Des CDs
Nou trouv'tha des chansons sus des textes Jèrriais sus les CDs par l'groupe Nouormand Magène.
I' prennent des poésies en Nouormand, en Jèrriais et en Dgèrnésiais et les chantent en concèrt et sus disque. I' chantent en vèrsion Nouormande - mais né v'là la preuve qu'les Nouormands dé toutes les régions du Duché peuvent pâler et s'faithe comprendre.
Coumme tchi trouver ches chansons Jèrriaises?
| | |
| --- | --- |
| | Calitchumbelet contcheint "Rigodoun de Chorchellerie" par l'Docteur Fraînque Lé Maistre. |
| | |
| | La Louerie contcheint "La Petite Hérounde" par AA Le Gros. |
| | |
| | |
| | Rouogie du Sei contcheint "Les Vraicqueux" par AA Le Gros. |
| | |
| | |
| | Dauns men préchi contcheint "La Bouais'sie" par l'Docteur Fraînque Lé Maistre. |
| | |
| | |
| | Magène en concert contcheint "Ma Chifournie", "Le Marignier" par AA Le Gros, et "Margot" par AA Le Gros. |
Les cheins tchi veulent acater des CDs peuvent les c'mander siez Magène.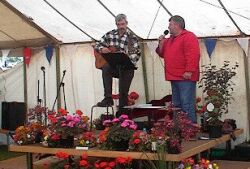 Magène
The Norman group Magène - stalwarts of La Fête des Rouaisouns - include some songs based on texts by Jersey and Guernsey authors in their concerts and on their CDs. The poems are slightly adapted to be able to be sung in Norman, and of course one has to get used to the different accent, but the songs are excellent additions to the repertoire of Jersey songs.
The bookshop of La Société Jersiaise holds stock of Magène CDs for those who would like to purchase any. And why not visit Magène on the Web?
Folktrax
Folktrax produced CDs of archive recordings of songs, stories and interviews from the Channel Islands which contained plenty of Jèrriais. The company, as of 2008, is no longer trading.
Cassettes
Y'a tréjous les cassettes en Jèrriais:
D's aut's publyicâtions: