Jersey English
Jèrriais has influenced the variety of English used in Jersey. Besides certain Jèrriais words used in some contexts, some calqued forms may be noted - although Jersey English is disappearing under the influence of television, radio and other media. The most easily remarked feature is the Jersey "eh" at the end of utterances.
Jersey people usually say "in Jersey" and "in the Island" - saying "on Jersey" or "on the Island" is considered the mark of an outsider. The use of in may be influenced by the Jèrriais "en Jèrri". For comparison, correct usage in French is "à Jersey".
For a scholarly examination of Jersey English, see Jèrriais - Jersey's Native Tongue by Mari Jones.
On this page, we will place a small amount of material relevant to Jersey English: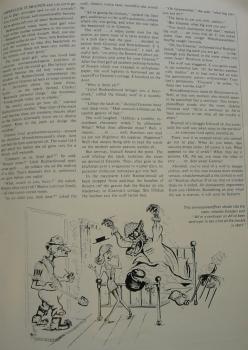 While these matters were being discussed my hostess's little son came rushing in, and disappointed not to find his father, "Where's he to?" he exclaimed, Jersey fashion. I am not sure that the form is such a solecism as it sounds to an English ear. At any rate we say "I have been to London," or "he has been to Oxford" Is this use of the form "been to" any more correct. It is obviously impossible to "be to" a place. However I was put down by clamour, though I got a grateful glance from Johnny who says they are always worrying him about "silly old Syntax, double negatives, and all that sort of rot."
Morning News 20/11/1912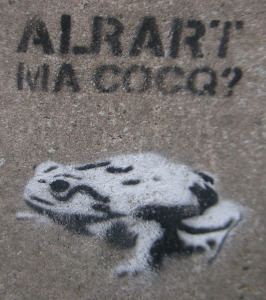 "Alrart ma cocq?" - graffiti at Plémont 2010
Talking about this subject reminds me that a learned Jurat recently spoke of some of the little colloquialisms that are heard in Jersey. He, however, might have given us a few more, such as "Where are you to?" or "Ple-e-ea s-e!" when one does not hear a question or an expression clearly. Further, as the way in which French is spoken is certainly no better than the way in which English is used, we might say Jersey has no real language at all.
Jersey Times and British Press 29/11/1893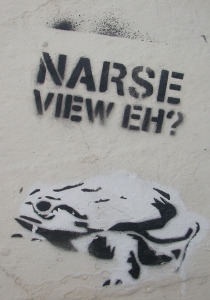 "Narse view eh?" - graffiti at Plémont 2010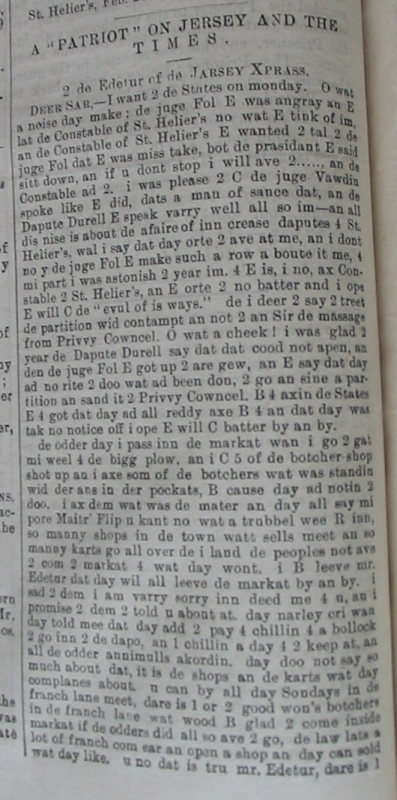 Click on the image for a scan of part of a humorous report published in 1887 in the Jersey Express using a "phonetic" representation of Jersey English (note the early "textspeak")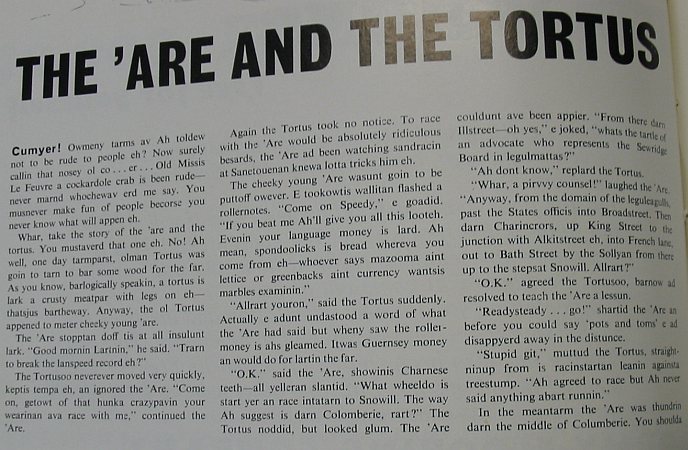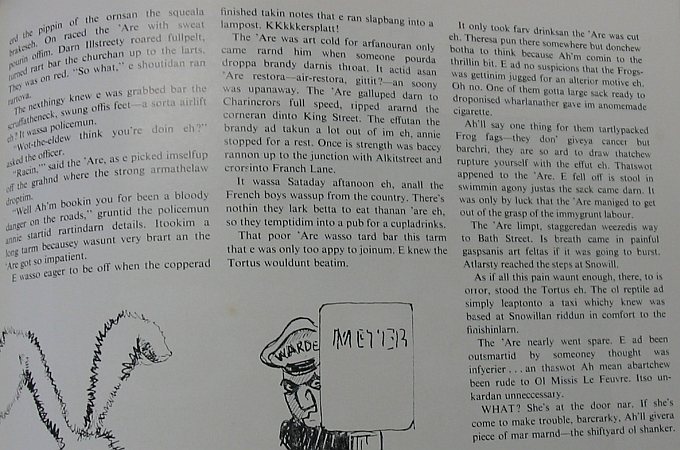 Click on the images for scans of a humorous story of the Hare and the Tortoise written in 1967 using a "phonetic" representation of Jersey English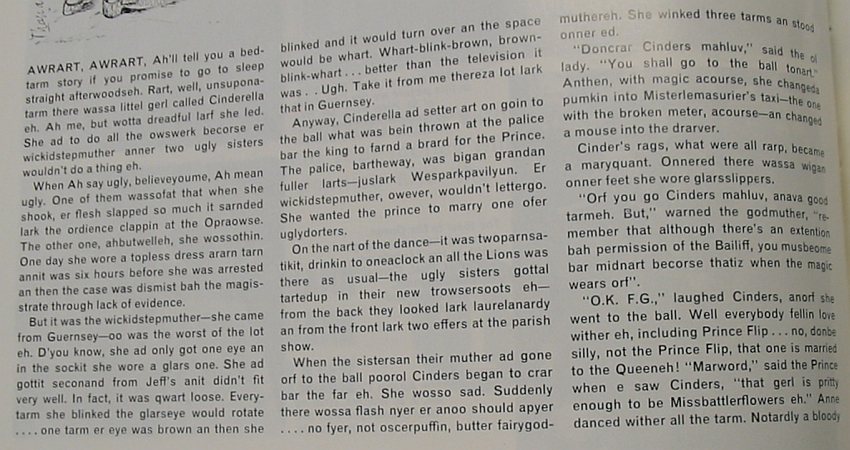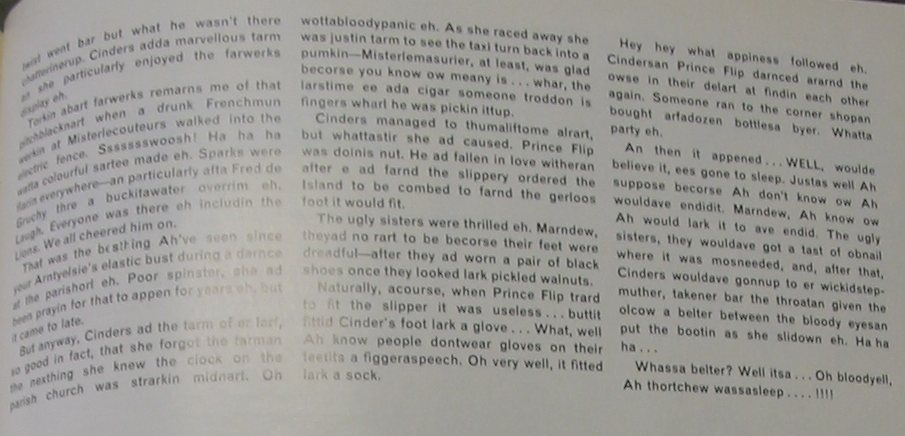 Click on the images for scans of a humorous story of Cinderella written in 1967 using a "phonetic" representation of Jersey English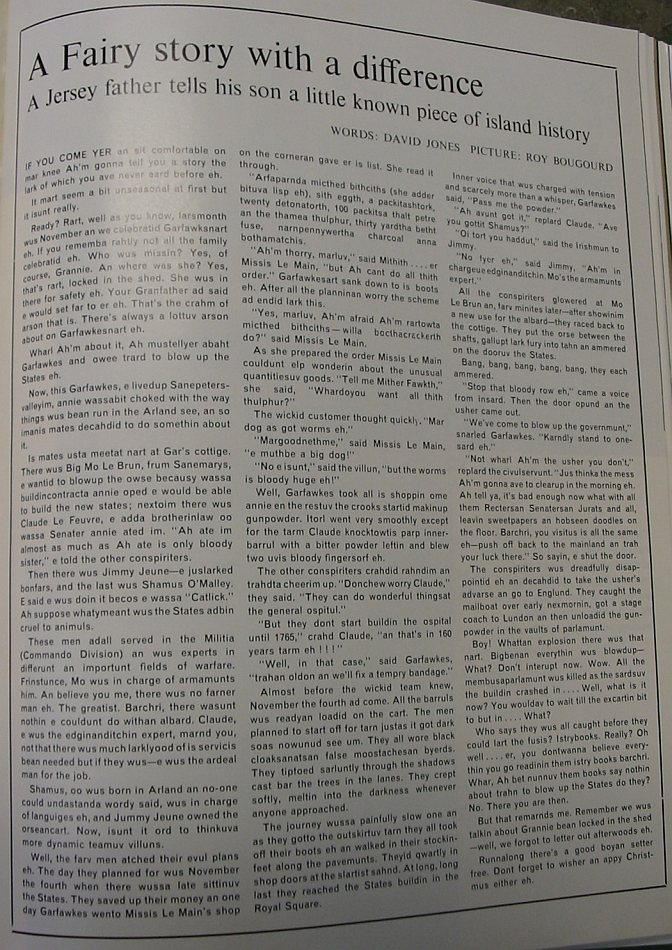 Viyiz étout: