Jèrriais
Jersey's Native Tongue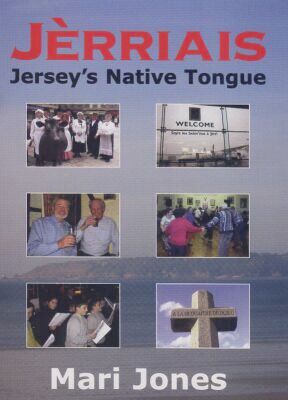 2003

Pâl'-ous l'Jèrriais?
Do you speak Jèrriais?

Jersey people have preserved their traditions for hundreds of years, and today still continue to speak their native tongue and to pass it on to new generations.

In this book, Dr. Mari Jones of Cambridge University explains the history of Jèrriais from Wace to Web pages, from farmers to festivals, from Latin to Lillie Langtry, and from Grouville to the Gaspé.
Where did it come from?

Who speaks it and where?

What sort of literature has been written?

What does the future hold for Jersey's native tongue?
INTRODUCTION
Did you know that Jersey has its own tongue? Have you ever heard Jersey people speaking an unfamiliar tongue in the market, in the street or in the pub and wondered what it was? Have you ever been puzzled by Jersey's place names, that look a bit like French but are somehow also different?
If you have ever thought about any of these questions then read on because the answers are all here!
The aim of this book is to provide a general description of Jèrriais, the Norman French tongue spoken in the Island of Jersey in the Channel Islands. It is a completely non-technical account and is intended to be of interest to speakers of Jèrriais themselves, children learning the tongue at school and visitors to Jersey who might not have realised that the Island has its own distinctive form of speech and who want to find out more.
The book contains five chapters, each examining a different aspect of Jèrriais: its history, its linguistic characteristics, its contemporary situation, including moves in place for its revitalisation, its cultural heritage and place within the broader Norman context and the influence it has had on the English spoken in Jersey.
Les publyicâtions du Don Balleine peuvent êt' acatéees en lîngne siez la Société Jersiaise.

Buy Don Balleine publications on-line from the Société Jersiaise shop.

Achetez les éditions du Don Balleine en ligne à la Société Jersiaise.
Viyiz étout: