Dictionnaithe Jèrriais-Angliais
Jèrriais-English Dictionary
Produced under the leadership of La Section de la langue Jèrriaise, the first Jèrriais-English Dictionary was first published in 2005. The book was launched on Monday 23rd May at the start of La Fête Nouormande which was hosted in Jersey. A revised and expanded second edition is to be published in 2008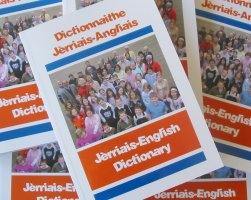 2nd edition published: 5th December 2008

2005 saw the appearance in print of the first comprehensive Jèrriais-English Dictionary. Based on the long tradition of Jèrriais lexicography, this 324 page handy-sized dictionary contained over 27,000 entries, including: the entire 1972 English-Jersey Language Vocabulary (revised and expanded); thousands of extra items checked against the authoritative 1966 Dictionnaire Jèrriais-Français; modern vocabulary, scientific terms and new words; place names; personal names; plants, birds, fish and animals; plus many rare words from old Jèrriais literature unrecorded in previous dictionaries.

The Jèrriais-English Dictionary published in 2005 was an immediate success and copies quickly became hard to come by. Now that the first edition is out of print, the opportunity has been taken to publish a second edition in 2008. Expanded by over 10% to 360 pages, this handy A5-sized dictionary contains the entire contents of the first edition, plus new items added to the 2008 English-Jèrriais Dictionary, even more additional words collected from published and attested sources new and old, and supplementary entries and definitions from the 1966 Dictionnaire Jersiais-Français. More idioms have been included; cross-referencing makes phrases easier to find; definitions have been revised and improved.

The Dictionnaithe will be launched on 5th December 2008. The volume will retail from that date at £14.95, but by reserving a copy before 4th December 2008, you can benefit from the special pre-publication bargain price of only £12.50. The companion English-Jèrriais Dictionary is still available at a retail price of £14.95. Pre-order the Jèrriais-English Dictionary for £12.50 by 4th December and take advantage of our special offer price of only £13.45 for the English-Jèrriais Dictionary (i.e. both volumes together for only £25.95)

Date de publication de la 2e édition : 5 décembre 2008

L'année 2005 a vu la publication du tout premier dictionnaire détaillé Jèrriais–Anglais. 2008 voit la ré-édition du dictionnaire. Cet ouvrage de 360 pages, de format poche se veut utile et pratique. Fondé sur la lexicographie Jèrriaise traditionnelle, il présente plus de 27000 données, incluant notamment : la totalité des termes mentionnés dans le « English-Jersey Language Vocabulary » (1972), revus et complétés; de nombreuses données et définitions issues du « Dictionnaire Jersiais-Français » (1966); mais aussi du vocabulaire actuel, des termes scientifiques… Le dictionnaire compile ainsi un grand nombre de thématiques telles que le vocabulaire animalier, la botanique, mais aussi des noms de places, des termes littéraires, des néologismes ou encore les formes grammaticales des verbes, noms et adverbes. Son utilisation s'adresse à tous !

Le Dictionnaithe Jèrriais–Angliais a été officiellement lancé pendant la Fête Nouormande 2005, le rendez-vous annuel de la culture et du langage Normand, organisé à Jersey en 2005.
Introduction
This handy compact dictionary is the first comprehensive dictionary of Jersey's own language to be produced for English-speakers. It is primarily intended to be useful, rather than over-scholarly, and to help as many people as possible use Jèrriais in the future as well as understand the wealth of literature written in the past.
This dictionary has not been recently created – it has been built on the long tradition of lexicography that has gone before. The bulk of the current dictionary is a revised version of the English-Jersey Language Vocabulary (Carré, 1972, in collaboration with Frank Le Maistre and Philip de Veulle). This in turn was based on the extensive research by Frank Le Maistre which culminated in the monumental Dictionnaire Jersiais-Français (Le Maistre, 1966), which included consultation of the Glossaire du Patois Jersiais, based on manuscript glossaries dating from the 19th century, and the work of Philippe Langlois, Augustus Le Gros and Thomas Gaudin and published in 1924; and the Glossary of Jersey French ( Spence, 1960). Other works consulted during our research were A Brief History of Jèrriais (Spence, 1993), Les Preunmié Mille Mots (Soc. Jers., 2000), Jersey Norman French (Jones, 2001), and Jèrriais: Jersey's Native Tongue (Jones, 2003).
In order to supplement the basic material imported from the English-Jersey Language Vocabulary and make it as useful as possible for Jèrriais-speakers and others in the 21st century, many of the English definitions have been revised and modernised and variant spellings have been listed separately for ease of use, and the following additional materials have been incorporated:
Items and definitions from the Dictionnaire Jersiais-Français that do not appear in the English-Jersey Language Vocabulary.
Words attested in literary texts, other written texts such as newspapers, and oral and broadcast sources that do not appear in either the Dictionnaire Jersiais-Français or English-Jersey Language Vocabulary.
Neologisms, new words developed after research and scrutiny and used in modern situations.
Place names, personal names, chemical, ornithological, botanical and ichthyological vocabulary.
Additional grammatical forms of verbs, nouns, adverbs conjugated regularly from lexis referenced in existing lexicographical sources.
Presentation
The alphabetical listing is organised as follows:
Headwords are listed in alphabetical order without regard to apostrophes, accents, initial articles or prepositions. Parts of speech are ranked by alphabetical order. The feminine gender comes before masculine alphabetically.
The headword is given in bold with the gender (and number where necessary) given following the relevant word.
The part of speech is given in italics, followed by the definition or definitions in English.
Many definitions are followed by annotations, indicating either source of item or lexical category. Lexical categories indicated by annotations in the English-Jersey Language Vocabulary are retained here and have been supplemented by additional categories and annotations.
Unless otherwise annotated, all items are from English-Jersey Language Vocabulary. Items from other sources are marked as DJF: if they are taken from the Dictionnaire Jersiais-Français; as GJF: if taken from the Glossary of Jersey-French, and as Lit: if attested in a literary source (generally, an older text by a recognised author).
Items which are considered conscious neologisms are marked New: but this category is subjective and many of these words could be included within the category Add:.
Category Add: covers items attested in oral and broadcast sources, items attested in written sources not classified as literary, items from vocabulary lists and educational resources, and items that are derived according to standard grammatical rules from material already included in the word-base of the Dictionnaire Jersiais-Français.
Attested items are modernised and listed in the standard orthography in accordance with the principles of the Dictionnaire Jersiais-Français rather than the spelling of the original attestations.
Omissions
In order to keep this volume to convenient size, it has not been practical to include everything that might be desirable. Although the complete English-Jersey Language Vocabulary (Carré, 1972) is included, not all items contained in Dictionnaire Jersiais-Français (Le Maistre, 1966) have been incorporated.
There is no pronunciation guide: users are advised to consult Lé Jèrriais Pour Tous (Birt, 1985) for pronunciation, as well as for conjugations of verbs and other grammar information.
No dialectological information is given: users requiring information on how words are spelt and used in different parts of Jersey are advised to refer to the Dictionnaire Jersiais-Français.
Simple definitions are given but are not exhaustive. No examples of usage in context are given, but again, readers are advised to consult the wealth of this information in the Dictionnaire Jersiais-Français.
No explanations are given except in cases where an item is so specialised that no simple equivalent can be found in English.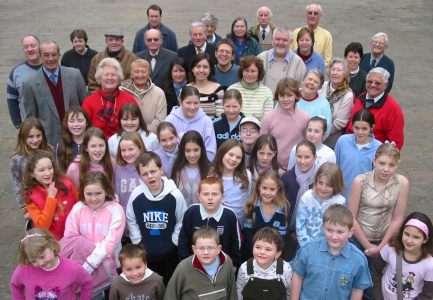 Cover photo taken 16/1/2005
Press
Jèrriais and its role in our heritage
One of the glories of Jersey is its ancient rich and expressive indigenous language. Jèrriais, or Jersey-Norman French as it is also known. may now be spoken by only a small proportion of Islanders, but it remains a vital and valuable part of our cultural heritage.
Considerable effort is currently being expended to keep Jèrriais alive through lessons in schools. And in the recent past the language's cause was advanced by Dr Frank Le Maistre, whose knowledge of his subject was nothing short of encyclopaedic.
It would, however, be true to say that a vital element had long been missing from the drive to ensure that Jèrriais lives on. Dr Le Maistre produced a monumental dictionary which will undoubtedly remain the standard work of reference, but for many of those interested in penetrating the mysteries of the Island's language it has a short coming — it translates terms into French rather than English.
Until recently the direct link between Jèrriais and English was provided largely through a number of concise glossaries. Now, to the great benefit of serious students and those with a casual interest in learning more about a unique tongue, there is a fully fledged Jèrriais-English dictionary
The new book was launched at the beginning of the week in the most appropriate of settings — the members' room of the Société Jersiaise. The Société, of course, had joined forces with the Don Balleine Trust to produce the dictionary but this important work would never have seen the light of day without the dedicated work of a team of volunteers.
Among the volunteers was Geraint Jennings, who deserves praise not only for the book's design but for the tremendous enthusiasm he brings to the self-imposed task of promoting Jèrriais in the island and beyond its shores.
The new book's launch coincided with the beginning of this week's Fête Nouormande, which not only features Jersey customs and traditions but sets them in the context of the culture of Normandy and the other Channel Is lands.
Together, the Jèrriais-English dictionary and the fete provide ample proof that the native language of Jersey and the lifestyle that once went with it have not been lost to history
JEP 25/5/2005
Lost for words?
Then the Société Jersiais may have the answer following the launch of the first Jèrriais-English dictionary
THE historic launch of the first Jèrriais-English dictionary took place last night at the Société Jersiaise.
Around 60 people gathered in the members' room for speeches in a mixture of Jèrriais and English and where the new books sold like hot bean-crock.
The dictionary has been produced by the Société Jersiaise, the Don Balleine Trust and a dedicated team that have spent years meticulously researching a language spoken by only a few thousand worldwide.
Its launch also marked the start of the Fête Nouormande, the annual festival in the Island this week that promotes and celebrates the Norman origins of the language as well as Guernsey Patois and Norman French.
The crowd were overwhelmingly positive about the launch of the new dictionary which is seen by many as the most significant step in the promotion of Jèrriais for many years.
Mr Francis Corbet, the current president of the Société Jersiaise introduced proceedings in Jèrriais but soon returned to English, joking that a short greeting was as much as he would want to attempt in front of so many scholars. He was keen to acknowledge the work done by so many behind the scenes to produce the book, saying: 'I hope that you will all use it yourselves, with your children and even with your grand children.'
Useful
He also stressed how important a specifically Jèrriais-English translation was saying: 'It is particularly useful in our day when so few people speak French let alone Jèrriais.'
Geraint Jennings, who designed the book, announced some of the events of the weekend and although it obviously pained him, he gave his talk in English for the benefit of those more linguistically challenged.
The crowd were positive about the importance of the launch for the promotion of Jèrriais. Collette Quinn, who was involved in researching the dictionary said: 'Many people are keen to get their hands on it. It has been overdue for many years and it's a very important evening the most important thing to happen for a long time.'
It was hoped by all involved that the production of the dictionary would encourage a new generation of Islanders to study and master the language that can teach them so much about the Island's history and culture.
'One always hopes that it will get more people into Jèrriais,' said Brian Vibert, president of the Don Balleine Trust. 'The moment we lose our language we lose our cultural identity
The Dictionnaithe Jèrriais-English is available from the Société book-shop, priced £14.95.
JEP 24/5/2005
Norman conquest
Speakers of Jèrriais will be delighted to learn that a new dictionary is about to be published
The first comprehensive Jèrriais English dictionary will be launched as part of La Fête Nouormande.
The week, which gets under way on Monday 23 May, will also involve a range of activities celebrating the traditional languages of Jersey, Guernsey and Normandy
The 324-page dictionary contains more than 27,000 entries and has been produced by the Société Jersiaise and the Don Balleine Trust. Even though 2,761 people in the Island use Jersey French 'sometimes' and 113 still speak it as their first language, there is no concise dictionary translating Jèrriais into English.
The launch of the book will coincide with the Fête Nouormande, which will feature a range of events aimed at drawing attention to the importance of local languages, including Jersey Norman-French.
In recent years, with the help of the Société Jersiaise, Jersey Norman- French has been added as an optional course in the primary curriculum, with more than 200 pupils studying it this year It also features in two of the Island's media outlets, and numerous issues of original Jèrriais literature have been relaunched by the Société Jersiaise and the Don Balleine Trust.
Although glossaries translating Jèrriais existed in the 19th century the first comprehensive dictionary of Jersey Norman-French was not published until 1966, and was based on an earlier dictionary published in 1924. Rut it was no good to those who did not speak French, as was increasingly the case in Jersey
Even when a dictionary translating English to Jèrriais was published in 1972, the Jèrriais words were outdated, still dating back to the 1924 dictionary and place names, proper names, biological and medical terms were left out.
For modern words or terms, a team from the Société Jersiaise asked native speakers how they would say things. They also listened to radio broadcasts, looked at old papers and read Jèrriais literature, trawling through masses of information for more than a year to put together the book.
Clashes
'Dictionaries don't tell you what you ought to say they tell you what people do say' said Geraint Jennings, who designed the dictionary 'If there are clashes, or more than one way of saying something, we have included all of them. I would encourage anyone in the Island to buy it — we can learn so much about the Island by knowing a bit of Jèrriais.'
Dictionaries will be on sale at the Société Jersiaise Library priced £14.95, Alternatively they can be ordered from the Société Library and purchased for a special price of £12.50.
JEP 14/5/2005
Viyiz étout: