Preserving an old tradition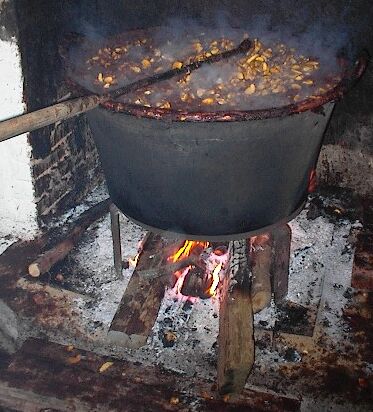 Although black butter making is one of Jersey's long-standing traditions, only one or two séthées dé nièr beurre now take place each year.
The Trinity Battle of Flowers Association have been making the preserve for the past four years and last weekend were gathered at Le Carrefour, Trinity, the home of Richard and Jennie Le Sueur.
Bringing together young and old members of the parish's community, the first task was peeling the 31 barrels of apples. Then twenty gallons of cider were poured into a giant bâchin and heated over the fire in the granite hearth.
The apples were added at intervals along with the other ingredients - 28lbs of sugar, 11 liquidised lemons, a variety of spices and liquorice crushed with a pestle and mortar. As it was vital that the butter didn't stick to the bottom of the bâchin and burn, turns were taken at stirring it continuously for a total of 30 hours, with a long handled rabot.
It was tested to see whether it was ready by dropping a dollop on to a saucer and then attempting to lift it with the back of a wooden spoon. When this was successful, it was all hands on deck for potting up. And this year the end result was a record number of 461 jars which will be sold to raise funds for next year's entry in the Battle of Flowers.
JEP 16/11/2000
As can be seen, this article contains some words and expressions in Jèrriais:
| | |
| --- | --- |
| Jèrriais | English |
| | |
| nièr beurre | black butter |
| séthées dé nièr beurre | black butter evenings |
| rabot | stirrer |
| bâchin | pan |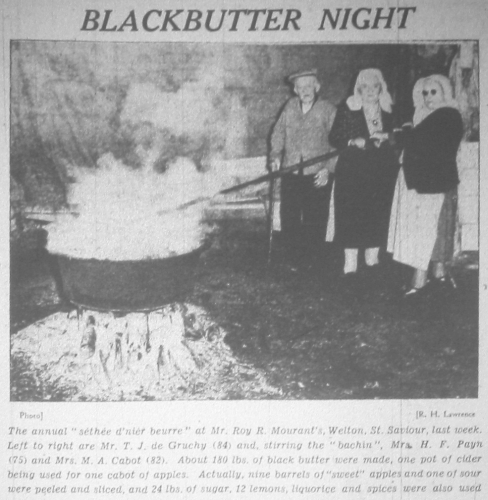 1958
Viyiz étout: