Return to my Societe Pages index
Return to the School Master Index: VCIndex1.htm
---
Read personal reminiscences by Old Victorians here
An early report of the school from 1895
For a short history by E.C. Cooper from 1852-1928, click here.
For a short history by J.S. Rowley from 1929-1956, click here
---
Some Information on the Old Victorians after whom the Houses were renamed in 1919: William Bruce Major R.W. Sartorius Captain E.H. Sartorius
---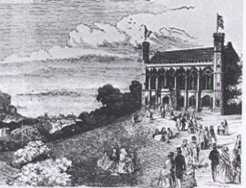 Victoria College School - General Information
It was opened in 1852 to commemorate Queen Victoria's visit to Jersey. Queen Victoria and Prince Albert were the first signatures entered into the visitors' book and the current monarch is still 'visitor' today. The college, through the Head Master, is a member of the Headmasters Conference and caters for 650 boys in the senior school and 260 in Prep. The College is in three 'schools': Junior, Middle and Senior. The Junior School consists of two years - Years 7 and 8. The Middle School consists of years 9, 10, and 11. The Senior School is made up of the Lower and Upper Sixth forms. When boys enter the Middle School they are put into a House. Boys stay in their house until they leave the school. The College is divided into four Houses (named after four former pupils, and created in their present format in 1919) - Braithwaite (green), Bruce (blue), Dunlop (yellow) and Sartorius (red) . In 2002, they are joined by a fifth house, Diarmid.
---
The College has a Latin hymn or "carmen":
---
Translation: Long ago an ancient King Endowed this College Many years afterwards The kindness of a Queen Placed it where it stands May the College of Queen Victoria flourish In letters it educates us Who lack learning It instructs us as we languish With innate habits And strength of body May the College of Queen Victoria flourish Never may there be lacking A supply from this seat of learning Who will serve God And their country diligently With Godís help May the College of Queen Victoria flourish
---
---