For the School Site, http://www.vcj.jersey.sch.uk/
Return to my Societe Pages index
Return to the School Main Index: VCIndex1.htm
---
VICTORIA CROSS:

The Victorial Cross is made of bronze and cast from metal melted down from the cannons captured at Sevastopol in the Crimean War.
The following Victoria Cross is owned by Victoria College, on loan to the Jersey Museum, St Helier:
William Arthur McRae BRUCE
59th Scinde Rifles, Indian Army
---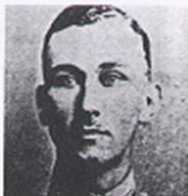 ---
Former teacher Dixie Landick mounted a campaign to raise funds from Old Victorians when the medal came up for auction in England. The campaign was successful, and the College regained the medal of this brave Jerseyman.
---
From the Victoria College Registers:
BRUCE
William Arthur McCrae
Son of Col. A McC. Bruce
Left 1908
Entered Sandhurst (King's Indian Cadet) and the Army (Northumberland Fus.)
Transferred to 59th Scinde Rifles
He was home on leave when the war broke out, and joined his regiment at Cairo.
He landed in France with the I.E.F. in September, and was killed near Givenchy on Dec. 19th, 1914. He was awarded the V.C. for his defense of a captured trench throughout the day.
---
More detailed information:
Lieutenant, 59th Scinde Rifles, Indian Army
Campaign: First World War
Age: 24
Nationality: Scottish
Date of birth: 15 June 1890 (Edinburgh)
Memorials: Neuve Chapelle Memorial, France; St. Clement's Church, Jersey Channel Islands.
Deed: On 19 December 1914 near Givenchy, France, during a night attack, Lieutenant Bruce was in command of a small party which captured one of the enemy trenches. In spite of being wounded in the neck he walked up and down the trench encouraging his men to hold out against several counter-attacks until he was killed. The fire from rifles and bombs was very heavy all day and it was due to his example and encouragement that the men were able to hold out until dusk when the trench was finally captured by the enemy.
Killed: In the above action.