Return to my Societe Pages index
Return to the Victoria College Master Index: VCIndex1.htm
---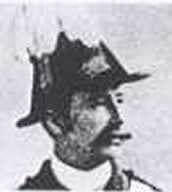 SARTORIUS, Euston Henry
Captain, 59th Regiment (later The East Lancashire Regiment), British Army

Campaign: Second Afghan War

Age: 35

Deed:

On 24 October 1879 at Shahjui, Afghanistan, Captain Sartorius led a party of four or five men against a number of the enemy who were occupying an almost inaccessible position on the top of a precipitous hill. The nature of the ground made any regular formation impossible, and Captain Sartorius and his men were fired on by the enemy as they reached the top of the steep pathway. The action was, however, a complete success owing to the gallant and cool bearing of the captain, although one of his men was killed and he himself was wounded by sword cuts in both hands.

Other Decorations: CB

VC Publicly Displayed: National Army Museum (Chelsea, England)

Remarks: Brother of Major R.W. Sartorius, VC.

Later achieved rank of Major General.