Arranged by Stone | 1-100 | 101-200 | 201-300 | 301-400 | 401-500 | 501-600 | 601-700 | 701-800 | 801-903 | 904-949 | 950-999 | 1000-1050 | 1051-1100 | 1101-1150 | 1151-1200 | 1201-1250 | 1251-1300 | 1301-1350 | 1351-1400 | 1401-1450 | 1451-1500 | 1501-1550 | 1551-1600 | 1601-1650 | 1651-1700 | 1701-1750
---
Parish Abbreviations:

St Helier (St H) Trinity (T) Grouville (G) St Martin (St Mt) St Mary (St My) St Brelade (St B) St John (St J) St Ouen (St O) St Saviour (St S) St Clement (St C) St Lawrence (St L) St Peter (St P).
---

1701. RD - on two sides (no date). Some kind of marker stone in the garden wall of Butt and Ben, La Rue des Platons (T).

1702. IPC (single heart) MLP 1767. The Perchards were living here on the Godfray Map of 1849; Valley Farm, La Vallée de Rozel (St Mt).

1703. LGB 1971; on the south side of Les Dirouilles, a bungalow on La Rue des Boullions(T).

1704. J.BP (entwined hearts) A.J. 1835; Jean Blampied of Trinity and Anne Jeune of St Martin m. (T) 30.1.1834; under the porch at Becquet House, La Rue du Becquet (T).

1705. TM. IG 1721. Thomas Machon (a mason) of St Martin and Jeanne Gallichan of Trinity m. (T) 24.2.1709; on the stables behind Les Pieces, La Rue du Huriaux (St Mt).

1706. MRF JECK 1985. Plaque by the (new) front door of La Hannière, La Rue du Huriaux (St Mt).

1707. ILG.SLB 1716. Josué Le Gresley & Susanne Le Brocq fille Jacques veuve Samuel du Heaume t.d. St Ouen m. (St O) 4.10.1693; Lintel at Maison Entre Deux, formerly the middle barn at Uplands Farm, La Profonde Rue (St O).

1708. PG SN1715. Pierre Gruchy and Susanne Noel had children baptised in the Parish between 1705 and 1717 but no marriage found so far. Lintel at La Palloterie, La Grande Route de Rozel (St Mt).

1709. ID 1679. There is a diamond carved between the letters. East gable end corbel on a deserted and overgrown building next to Brook Cottage, Vallée des Vaux (T).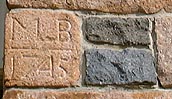 1710. MLB 1745. M and L combined. Old Mill Farm, Vallée des Vaux (T).

1711. PDLL ALB 1841. Philippe de la Lande of Trinity and Anne Le Bas of St Peter m. (T) 24.6.1815. Lintel on dower wing of La Menagé (T) - heads up from the Jersey Evening Post of Saturday October 28th 2000.

1712. RGD RBS 1827. Raulin Gaudin and Rachel Bisson t.d. St Lawrence m. (St L) 26.1.1805. First storey window lintel at Reservoir House, Ruelle St Clair (St L).

1713. JOR 1852. John Orange, who was Constable of St Brelade and for whom the ROUTE ORANGE is named. High in the garden wall at Westlands, Route de Franc Fief (St B) - courtesy of Roland de Caen.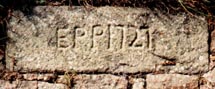 1714. EPP 1727. Edward Pipon, whose daughter Marie married Jean Orange in 1724. In the wall opposite the side entrance to the main residence at Westlands, Route de Franc Fief (St B) - courtesy of Roland de Caen. Other stones from this property are at 1480-1481.
1715. FMT 1683. François Martel fils Philippe Martel and Catherine Balleine, who was an uncle of Jean Martell of Brandy fame. The only problem is that some enterprising renovator has for some reason INVERTED the stone so that the inscription today is upside down! Lintel over the door on the south side (away from the road) at La Sergente, La Pulente (St B) - identification from Roland de Caen.

1716. (above) PPD (rest, if there is any, buried - will dig when the weather improves) carved downwards in the middle of the stone, probably for a Poingdestre. Gatepost at La Hambie, Rue de La Commune (St S). Courtesy of Frank Falle.

1717. EMR MLC1834. Edouard Marett and Marguerite Le Cornu m. (St B) 30.11.1805. Displaced lintel on the pavement outside The Anchorage, St Brelade's Bay (St B).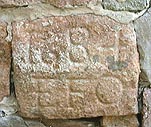 1718. JE LB 1888. Carved on the inside of the gateposts at La Sergente, La Pulente (St B) - see also 1715.

1719. GB:RS: 1700. Guillaume Bechervaise m. (St P) 19.1.1694 "la fille Philippe Simon". Burial Register: Rachel Simon femme Guillaume Bechervaise bur. (St P) 20.1.1727. Lintel, now used as a step at the side of Chant du Pré, La Rue de Craslin (St P) - thanks to Sally Knight for the tip.

1720. EFO 1684. Orange ? Displaced corbel stone in the garden wall along the footpath behind No. 12, Clos des Sables (St B). Thanks to Frank Le Blancq.

1721. CHB . MGL 1727. Clement Hubert and Marguerite Gallichan t.d. Trinity m. (T) 11.12.1723. On the side entrance to Mayfield, Rue de la Petite Fallaise (T) - see also 978.

1722. EVS 1918. Arch keystones in two bridges over a stream that runs through the garden at The Grove (St L).

1723. PHB (single heart) JDC 1837. Philippe Hubert and Jeanne De Caen t.d. St Ouen m. (St H) 26.3.1836. Barn lintel at East Lynne, La Rue Freule (St O).

1724. EAM1819. Elie Amy; arch capstone on the reverse of 585 at Maison de Bas, Ville au Bas (St L).

1725. ICB:MLG 1773 (DDD above). Jean Cabot of St Peter and Marie Le Gros of St Lawrence m. (St Mt) 28.2.1761. Old farm building behind Hotel L'Hermitage, Beaumont (St P) now demolished.

1726. E.LB:1839. Lintel over back door at Hotel L'Hermitage, Beaumont (St P), not in original position. Now demolished.

1727. DSB 1753. Daniel Sebire who married Marthe Matthew (St H) 3.8.1755. Above Parade Arcade, The Parade (St H).

1728. GRR IVP 1815. George Romeril and Jeanne Valpy t.d. Grouville m. (St C) 15.9.1808. Recently uncovered lintel on an unnamed house undergoing restoration on the corner of La Rue du Moulin and La Rue du Champ (G).

1729. SL AV 1986. Stuart Luce at Les Buissonnets, La Rue de La Houguette (St C).

1730. HLB MMG 1731. Plaque on outbuildings at Brook Farm, Mont Nicolle (St B) - see also 255.

1731. CHM EGC 1815. Charles Hamon & Elizabeth Gruchy t.d. Trinity m. (T) 5.9.1812. Lintel at Les Prairies (T).

1732. E.V. Le C. 1984 (either side of entwined hearts) PEARL H.M.D. E.V. Le Cornu and his wife. Plaque at High View Farm, La Rue de la Hauteur (T).

1733. PPD.ILS.1806. Philippe Poingdestre (of St Saviour) and Jeanne Le Sueur (of St Martin) m. (G) 30.3.1802; Barns at Champ Collin (St S) see also 779.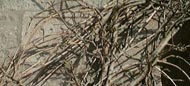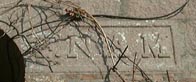 1734. J.N. : S.P. F.N.:A.M. 1884. James Norman and Susanne Payn m. (St S) 29.5.1835 with their son François Norman and his wife Ann Messervy m. (St C) 13.4.1874. Three stones (each set of initials and the date are separate) in the entrance arch to Le Vielle Davisonniere, La Route de La Hougue Bie (St S) usually obscured by wysteria - see also 1157-1159.

1735. IRCS (entwined hearts) ALBL: 1790. Jean Richardson of St Helier & Anne Le Bailly of St Brelade m. (St My) 23.3.1776. Well hidden window lintel in the closed off alley between Vine Street and King St (St H).

1736. CLCM 1740. Charles fils Jean Le Caumais bap. (St S) 21.02.1702 g/p Charles Le Hardy & Judith Le Hardy s.f. A late starter, he married Anne Labey (St Mt)13.6.1750 and had three daughters Anne (22.10.1752 g/p Phle Labey & Marie Mallet s.f.), Jeanne (27.07.1755 g/p Pierre Labey & Jeanne Le Riche s.f. and Elizabeth (30.09.1757 g/p Thomas Labey & Eliz. Bertrain s.f.) Le Caumais, Rue de Beauvoir (St.S) from Sheila Mallet.

1737. PLG 1716. Philippe Langlois, fils Mattieu, born in 1686. On the central chimney stack at Morel Farm, La Rue de la Fontaine St Martin (St L) listed at the The National Trust Jersey Website. See also 571 and 830.

1738. EQR (entwined hearts) ALS 1834. The marriage of Edouard Querée & Anne Le Sueur has not been found in Jersey but they had a son; Charles Edouard Querée bap. (T) 3.5.1828 g/p Edouard & Marguerite Le Vavasueur dit Durel & Elizabeth Cabot. Plaque on south side of Les Brulées, Rue des Brulées (T). Courtesy of June Vibert

1739. ILR (heart) MMG 1739. Jean Le Rossignol of St Brelade and Marie Mauger of St Lawrence m. (St L) 3.12.1732. Discovered during the demolition of the Magnolia Hotel (St L). The next generation are at 416. Thanks to Georgia Le Maistre for spotting it in a builder's yard!


1740.P.E.LBLT 1951 . Philip E. Larbalestier (last private owner of Sous les Bois, who donanted it to the National Trust for Jersey in 2004). Lintel on an outbuilding at the rear of Sous les Bois, La Rue des Bouillons (T). Other stones on this property at 857 and 1644 are from the de Gruchy family that previously owned the property from 1683-1815, when it was sold to the Larbalestiers.



1741. ACB on shield background and MP added below plus ICB on shield background. Aaron Cabot and Marie Poingdestre (based on her burial (T) 11.8.1710 as 'femme Aaron' - no marriage found.) Aaron bur. (T) 10.3.1715/6 and Jean Cabot fils Aaron bap. (T) 20.8.1660 godparents: Michel Poingdestre & sa mere; pillars at front door of Augrès Farm, La Rue du Moulin de Bas (T) - see also 5.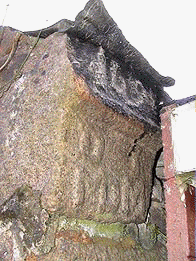 1742. DI MDM 1691. David Jacob and Marie Dumaresq m. (St S) 2.12.1684. Corbel at Springbank House, Rue a la Dame (St S) - see website at http://www.springbankhouse.org/


1743. IV (upside down heart) MS 1719. Jean Villeneuve (1669-1750) fils Gédeon of Orleans, Huguenot refugee naturalised Royal Court 4.3.1698/9 m. (St B) 21.1.1692/3 Marie Saint (?-1746) fille Pierre of St Lô; see also 938. Lintel at La Glinette, La Rue de Haut (St B).

1744.

ALHQ (entwined hearts) EPL 1827. Abraham Le Hucquet and Elizabeth Pallot of St Martin m. (St H) 21.8.1825. Roadside Lintel at Bel Air, La Rue de la Chapelle(St Mn).

1745.

FL 1765. François Luce. Lintel on La Jehannerie, down the track adjacent to the Railway Walk opposite Brook Farm, Mont Nicolle (St B).

1746.

DSP RMC 1960. David Sydney Perrée and Ruth Mary Cabot m. (T) 12.9.1960. Stone on garage at Les Cornieres, La Rue de L'Etocquet (St J).

1747.

J LE B. B (entwined hearts) C.J. GD 1922. John Le Breton Buesnel (a farmer) son of John Buesnel of St Saviour (a farmer) and Clara Jane Godel daughter of Jean David Godel of St Lawrence (also a farmer) m. (St L) 6.1.1900.Initially lived at Augres (T) 1901 Census. Lintel at Willcox Court, Pimley Close, Queen's Road (St H).
---
Next | Previous | New | Home | Alex Glendinning's Pages at The Société Jersiaise e-mail glen@itl.net
---
Notes: As these entries have come in after the completion of the original index, so the pages are out of alphabetical order. Please use solely for private research. Links to this site should lead to Jersey Datestones: Introduction page only. © Alex Glendinning.
---