Return to my Societe Pages index
GROUVILLE CHURCH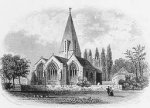 All the items on this page relate to Grouville Church.

This section last updated 05.10.2001
---
The Name of the Church
The proper name Grouville Church is St Martin de Grouville, distinguishing it from St Martin's Church, of whom the proper name is St Martin le Vieux; this indicated that Grouville is a younger Church that that of St Martin.
To find out more about St Martin of Tours, after whom the Church is named:
Click here for a popular Mediaeval account of the Saint.
Grouville Church by G.R. Bailleine and P. Harrison
---
A Brief History of Grouville Church

This is an adaptation of narrative written by myself for a slide-show shown at the Pageant of Grouville Church produced by myself and Rosemary Hampton in 1987.
---

Useful documents
Lists of the Rectors of the Island of Jersey; Rectors of Grouville (1342-1733)

Answer of the Rev. Abraham Le Sueur to certain charges brought against him by Peter Briard, esq., (1881)

Article on Daniel Brevint by G.R. Balleine

This is an adaptation of the script written by myself for the Pageant of Grouville Church produced by myself and Rosemary Hampton in 1987. The action pieces are introduced by two narrators, often in conflict, one concerned with the "worldy" aspects of the history, and one with the "spiritual". The pageant was produced at Grouville Church in October, 1987, during the days of the Great Storm! We were fortunate to have a wonderful cast, including the former Rector of Grouville, Laurence Hibbs, the Catholic Priest for the district, the Methodist minister for La Rocque, the Connetable of Grouville, and both William Bailhache (later Attorney-General) and Philip Bailhache (now Sir Philip, Bailiff). All the historical details of various conflicts, while cast in dramatic form for the pageant, were accurately researched by myself and Rosemary Hampton; they are not made up! Source documents included the Balleine's Biographical Dictionary of Jersey, Balleine's History of Jersey, The Cartulaire of Jersey, copies and transcriptions of original documents by Thomas de Soulemont, Daniel Brevint and Abraham Le Sueur, the Bulletin of the Societe Jersaise, Jersey Churches by Paul Harrison, and McCormack's Channel Island Churches. Only the miracle play is undocumented, but it is based upon the English cycles of plays, and whilst in French, such plays would have been performed in Jersey. A "congregation" of eight (including the Connetable and most of his family) was present entering and leaving most Acts, and these were costumed appropriately for each period. Songs and hymns of each period came between each Act and allowed for rapid costume changes.
---
Contents:

Cast List and Programme Acknowledgements

William the Conqueror and the Church Tithes

Pierre Falaise against the Bailiff.

Thomas de Soulemont: Our Man in Whitehall

Daniel Brevint: A Great Huguenot Preacher

Francois Le Couteur: A Mighty Fighter for God

Abraham Le Sueur: God's Builder
---
St Francis of Assisi: A Celebration
This is an adaptation of a script written by myself and produced by myself and Rosemary Hampton at Grouville Church in 1985. The success of this led Rosemary to twist my arm into writing the pageant about the history of Grouville Church. Brother Sean, who played Francis, was in fact the head of De La Salle School at the time, and a monk himself.
---