Lé Brancage - Branchage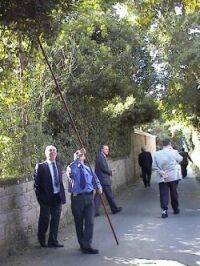 Tchi drôle dé pathole! (What an odd word!) People say the Jèrriais word brancage, but write the French word branchage, and use it when speaking in English.

In any case, it's an important custom which keeps les c'mîns (lanes, or roads in general), les rues (roads or streets) and les grandes routes (main roads) clear so there's enough laîze (width) for les boulants (vehicles) and les piêtons (pedestrians).

Lé brancage logically enough comes from la branque (the branch). Other overhanging vèrduthe (greenery) may be les fielles (leaves), les brantchettes (twigs or small branches) or les bouais (trees). Tch'est qu'i' faut faithe? (what do you have to do?) I' faut trînmer les bantchies (one must trim the hedges). I' faut coper les branques étout (one must cut the branches too) and you might monter amont eune êtchelle (climb up a ladder).

Among les ôtis (the tools) you might want to faithe sèrvi (use) are eune becque-dé-corbîn (secateurs), les chîsieaux d'gardîn (garden shears) or perhaps even eune faûcil'ye (sickle).

Mêfi'-ous! (watch out) N'laîssiz pon d'branques copées dans la rue (don't leave cut branches in the road). Lé Conmité des C'mîns (the Roads Committee) will be par les c'mîns (out and about) and you may have to payi eune amende (pay a fine). So make sure to brîngi (sweep) and clièrgi (clear up).

Mais tout est êlectrique au jour d'aniet (but everything is electric nowadays) so you'll probably want to dêhaler lé strînmeux (get out the strimmer) or lé trînmeux êlectrique (electric hedge trimmer). After all, the only person using eune faux (a scythe) these days is lé Faûcheux - the (grim) Reaper!

Viyiz étout: