George II
erected July 9th 1751

Sculptor - John Cheere d. 1787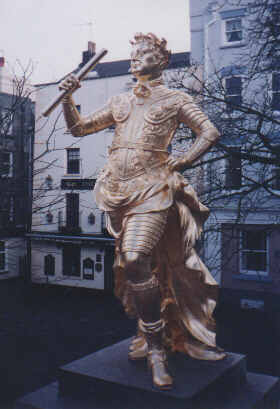 George II has presided over the Royal Square in St. Helier since 1751. Although he was Jersey's first piece of public statuary, he has endured almost two hundred and fifty years of scorn and ridicule, plus several attempts to replace him with something different.
After so much neglect he has finally been revealed to be one of Jersey's finest artistic assets.
These pages document some of the twists, turns and arguments of his monumental reign.
I' n'y'a qu'un bouan houmme en Jèrri: il est dans l'Vièr Marchi
vièr diton Jèrriais
R'tou ès Statues | Back to Statues