Datestones at La Maison Marett TRINITY
---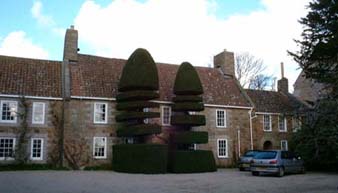 78. CMR.1702.Charles Maret; corbel on roof at the rear.

79. CMR.AM.1755. Charles Maret (fils Charles of Trinity) m. Anne Messervy (fille Daniel fils

Daniel of St Helier) (T) 7.6.1742; cistern head at rear - contributed by Pam Hislop.

125. EC. I.Maret.1646. inscription at ground level to right of the front door. Joan Stevens, in Old

Jersey Houses Vol. 1 (p.174), puts forward the theory that this was carved by Josué Marett fils

Jean, who was a 10 year old child at the time, based on the roughness and location of the carving. The EC has not been identified.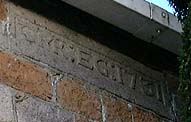 676. PDR.EGD.1862. Philip Dorey and Elizabeth Gaudin (1871 Census has her maiden

name noted) living Ivy Farm (T) in 1881 census; on outbuildings - contributed by Pam Hislop.

1249. CMR:EG:1731; Charles Marett (Constable of Trinity 1725-31) and Elizabeth Guille of Castel, Guernsey m. (T) 21.1.1710/11,

on the front of the house, below the roof line. They were the parents of the Charles Marett at 79 - contributed by Pam Hislop.