Lé Jèrriais
The Jersey language - La langue jersiaise
Tch'est qu'est l'Jèrriais? Ch'est la vielle langue d'Jèrri. L'Jèrriais est d'la même fanmil'ye qué l'Français, et s'lon lé récensement d'2001 y'avait 2,674 pèrsonnes tchi pâlaient l'Jèrriais (3.2% d'la populâtion). Achteu, j'quémenchons à ensîngni not' langue dans nos êcoles, et vous étout, ou pouvez dêcouvri tchiquechose entouor lé Jèrriais dans chu fieillet.
What is Jèrriais? It is the old language of Jersey which is closely related to French. According to the 2001 census there were 2,674 people who spoke Jèrriais (3.2% of the population). We are starting to teach Jèrriais in our schools and you too can find out a little about our language in this leaflet.
Qu'est-ce que c'est que le Jèrriais? C'est la vieille langue de Jersey. C'est une langue d'oïl, et selon le recensement de 2001 il y avait 2.674 personnes qui parlaient alors le Jèrriais (3.2% de la population). On a lancé l'enseignement du Jèrriais dans les écoles, et vous aussi, vous découvrirez quelques renseignements au sujet de notre langue dans ce dépliant.
Nou peut ouï l'Jèrriais pâlé pustôt à la campangne ou bein tchiquefais en Ville dans l'marchi. I' y'a lé programme Eune Lettre Jèrriaise sus l'radio - BBC Radio Jèrri 88.8FM/1026AM - d'vièrs eune heuthe chîn lé Sanm'di l'arlévée. Nou peut liéthe eune articl'ye en Jèrriais dans la gâzette du sé touos les huit jours.
One is most likely to hear Jèrriais spoken in the countryside or perhaps occasionally in town in the market. There is a weekly programme on BBC Radio Jersey 88.8FM/1026AM on Saturday afternoons at around 1.05. Weekly articles with English translation appear in the Jersey Evening Post.
Afin d'entendre parler le Jèrriais il faut aller à la campagne, mais on aurait peut-être la chance de l'entendre au marché de Saint-Hélier. À la radio, il y a une émission Eune Lettre Jèrriaise le samedi après-midi vers 1h05. Un article en Jèrriais paraît dans le journal Jersey Evening Post en principe toutes les semaines.
Pouor les tchestions entouor lé Jèrriais, i'y a tchiques groupes tchi s'otchupent d'la langue....
To find out more about Jèrriais, here are some groups involved in promoting the language....
Pour savoir davantage en ce qui concerne le Jèrriais, ces groupes s'en occupent....
Voul'ous pâler l'Jèrriais étout? Né v'chîn tchiques phrases....
Do you want to speak Jèrriais as well? Here are some phrases....
Voulez-vous aussi parler le Jèrriais? Voici quelques phrases....
Lé Jèrriais est brantchi! Nou trouv'thait pus dé mille trais chents pages dé poèmes, articl'yes, gammes et histouaithes sus l'Ithangnie:
Jèrriais is on-line! Over one thousand three hundred pages of poems, articles, games and stories can be found on the Web:
Le Jèrriais est branché! Plus de mille trois cents pages de poèmes, articles, jeux et histoires sont disponibles sur Internet: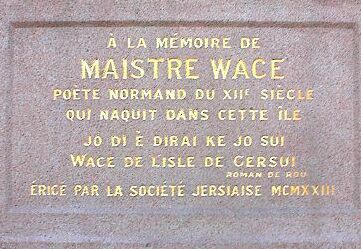 Dans l'Vièr Marchi nou vait la pièrre à la mémouaithe d'Wace, poète Nouormand du XIIe siècl'ye tchi fut né en Jèrri. Les cheins tchi pâlent lé Jèrriais aniet sont l's héthitchièrs d'chutte tradition littéthaithe.
The commemorative stone to Wace, the C12th Jersey-born poet, which can be seen in the Royal Square in St. Helier reminds us that today's Jèrriais speakers are heirs to a long literary tradition.
La pierre commémorative dans la Place Royale de Saint-Hélier dédiée à Wace, poète normand né à Jersey au XIIe siècle, nous rappelle que ceux qui parlent le Jèrriais aujourd'hui sont doués d'un très riche héritage linguistique et littéraire.
À bi! 'Bye! Salut!