Jèrriais House Names
(and what they mean)
Des Noms d'Maîsons en Jèrriais
2003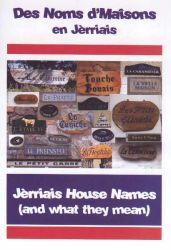 Have you ever wondered what your house name means? Or your neighbours'? Or perhaps you would like to give your property a Jèrriais name?
Now a new book from La Société Jersiaise has been produced to help everyone looking for house name information. This affordable and easy-to-use 40-page booklet provides hundreds of suggestions for house names in Jèrriais as well as translations for many of the existing house names that can be seen around the Island.
"It's the number one query we deal with," said Ralph Nichols of La Section de la langue Jèrriaise, the section of La Société Jersiaise that has compiled the book. "So we thought it would be useful and interesting to very many people."
The book is arranged alphabetically in two sections: Jèrriais to English, and English to Jèrriais – with a special appendix for house names from surnames of Jersey families.
"We want to encourage developers and individuals to think of names for properties that reflect Jersey's own culture and traditions," commented Ralph Nichols "And to make it easier for people to spell addresses correctly!"
This book serves as a series companion to the phrasebook.
Price £4
Les publyicâtions d'la Section peuvent êt' acatées siez la Société Jersiaise.

Buy Section publications on-line from the Société Jersiaise shop.

Achetez les éditions de la Section en ligne à la Société Jersiaise.
Viyiz étout: