Les Jongleurs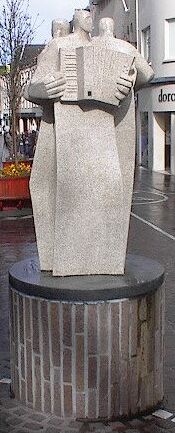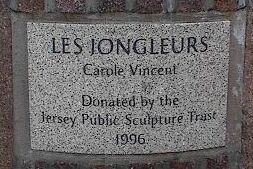 Les Jongleurs
Carole Vincent
Donated by the
Jersey Public Sculpture Trust
1996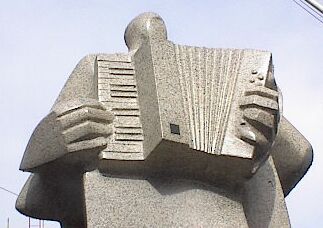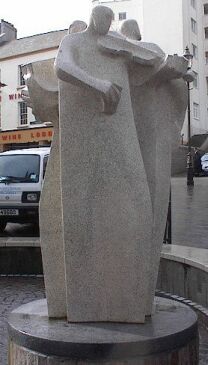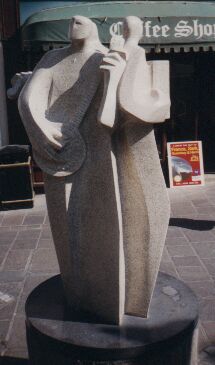 Second sculpture unveiled
A second sculpture by Carole Vincent was unveiled outside new offices in St Helier yesterday.
The sculpture, entitled 'Working in Concert', is situated outside Abacus' new building, La Motte Chambers on the site of the former Colomberie House.
It was unveiled by Geoffrey Grime, Abacus chairman, and Jurat Peter Blampied, former senior partner of Coopers and Lybrand.
The sculpture features a collection of musicians sculpted in turquoise-coloured concrete and is similar in design and finish to Ms Vincent's other piece of work in Jersey, Les Jongleurs at Snow Hill.
The close proximity of the existing sculpture influenced Jurat Blampied's and Mr Grimes choice of work to donate. 'We looked at a lot of different sculptures and we thought this would complement the one in Snow Hill, and two close together from one sculptor is rather a nice thing,' said Jurat Blampied.
Working in Concert was selected from a number of pieces put forward by the Jersey Public Sculpture Trust and chairman Pat Carter said she hoped it would be the first of many sculptures put up by private companies in the public's view.
Next Tuesday Ms Vincent will be in Scotland's capital to see another of her works the Red Carpet, which takes up an area 30 ft by 15 ft leading from the pavement to the new Edinburgh Festival Centre, unveiled by the Queen.
JEP 29/6/1999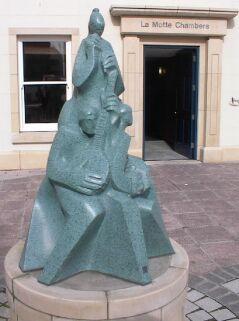 A second sculpture by Carole Vincent
R'tou ès Statues | Back to Statues