Return to my Societe Pages index
Return to the School Main Index: VCIndex1.htm
Return to the reminiscences page here.
---

Diary Extracts from Kurt Ludwigs
Mr Ludwigs writes " I spent one year (1977 -78) there as German assistant with Dixie Landick being the Head of German Department at that time. Of course, during that year I met all those unique characters: Colonel Finch, Joe Holmes, Ronald Youngs to mention but a few. I kept a diary then, which apart from private observations contains many an anecdote relating to Victoria College and its staff." I am delighted to have Mr Ludwigs permission to publish these remniscences based upon his diary of his time at Victoria College. If you remember Mr Ludwigs and wish to contact him, his e-mail address is webmaster@linguakonzept.de
---

German Assistant at Victoria College, Jersey by Kurt Ludwigs
(translated by Mr Ludwigs from the German)
L.A. ("Dixie") Landick was Head of German at that time. When I asked him about his nickname, he told me that he had already been called Dixie as a boy because his idol had been former English international William "Dixie" Dean. Dixie was an Old Victorian which meant that his devotion to the college was true and deep.
When he picked me up from the harbour on this sunny late summer day in 1977, he looked me up and down, and, taking in the self-made T-shirt, the battered-looking jeans and jeans-jacket that I was wearing, asked me whether I had any white shirts, ties and jackets with me. I must have looked rather puzzled, because he repeated the question more slowly, thinking I hadnít understood. Of course, as a twenty-two-year-old student, my head filled with a lot of crazy ideas, I didnít have any of these articles of clothing, and so one of the first activities after my arrival was to go to Burtonsí and to buy a three-piece suit and two shirts and ties plus a pair of shoes to go with all this. For a couple of weeks I was among the ten best-dressed teachers at Victoria College.
M.H. Devenport was Headmaster of Victoria College then. He fitted perfectly into the German concept of a real English gentleman. His manners and the English he spoke were immaculate. I remember that he took the new members of staff to Highlands College in his station wagon to meet the members of the Jersey Education Committee. This car had been stripped of all its seats except for the front seats and so we sat down wherever there was a place to sit and enjoyed the short drive.
At the beginning of September Mr. Devenport and his wife Mary invited all the members of staff to a cocktail party which took place in the study of College House and this gave me the first opportunity to wear my new outfit. The cocktail was a very strong mixture of gin and martini, but apparently this was not strong enough for two members of staff who, after a very short time took over the bar and mixed the Ďrealí drinks: Colonel Finch and Group Captain Joe Holmes.
Group Captain Holmes was an incredibly friendly and modest man, and I remember that on the evening on the "Battle of Britain Day" after a parade had been held in his honour in Howard Davis Park, Joe Holmes slapped me on my shoulder, saying how happy he was that a "bloody German" had attended the ceremony.
Colonel Finch taught German and it was easy to see that his teaching habits had been influenced by his many years in the army. I assisted him with teaching German to a Year 1. He seemed to be very fond of words that contained "r"s and "b"s. One day, when one of the pupils made an attempt to talk to his classmate, Colonel Finch shouted at him:
"You rrrrrabbbit, donít you dare!"
When he wanted to express to the whole class that he was not quite happy with their work and above all with their discipline, he would tell them that what they were doing was "rrrrubbbbish" and so, in conclusion, that they were "rrrrubbbbish" themselves!
But, despite all this, he was a very warm-hearted man and a real character.
Dixieís command of German was incredible, to this day I have never come across a non-native speaker of German who could be a match for him. He taught me some qualities that proved invaluable to my own teaching career: reliability, calculability and the value of hard work.
At that time Dixie was in charge of the microphone equipment of Assembly Hall which meant that he had to set and check them before Assembly. At the end of October Dixie fell ill for one week. I took over his work Ė including this microphone business. On the first morning of that week I did my very best about the mikes and made sure that everything was in its place. I sat down on my chair in front of the controls and, like everybody else, waited for Mr. Devenport to give his speech. There was nothing but silence, the mikes didnít work. So, presumably for the only time during his headship, Mr. Devenport made his announcements Ė unplugged - without the support of the microphone equipment. He didnít exactly yell at the top of his voice, but it was very close to it.
When Dixie introduced me to Frank Lewis, he told me that Frank was an extremely important man at the college and that some said that he was more important than the headmaster! Whenever I met Frank he used to welcome me saying "Guten Morgen, mein Herr" in good German. I really liked him and, when I said farewell to him in July 1978 and gave him a small parcel containing the odd packet of cigarettes and a packet of tea, Frank patted me on my shoulder and turned round very quickly.
I used to have lunch at College House. The food was nourishing and quite reasonable (40p a day) and I shared a table with four teachers: Peter Shaw, Stephen Lucas, Peter Gem and Ronald Youngs.
Ronald Youngs was Head of English and what struck me most about him, was his frequent use of the "emphatic do" in commands. He would say: "Do tell meÖ" I often heard this phrase, because he took an enormous pleasure in me telling him what the German word for expressions like "the assistant manager of the lost property office of the central station" was. He had observed that Germans have a tendency to chain nouns, so that it is not impossible to have a German word that consists of four or five nouns. Nevertheless, this is not as common as Ronald Youngs thought it to be, but just to please him, I started making up such nouns. To be very honest, I also did this because I enjoyed seeing Ronald Youngs chuckling.
He reminded me a little of a somewhat distraught professor and, in a very good-natured way,
Peter Gem in particular used to tease him. One day, when Ronald Youngs remarked that his pullover always looked a mess after he had had lunch, Peter Gem replied that this was because he was getting shaky and senile. (I may add that it was also because Ronald had overdone chuckling at my "chain nouns" while eating his lunch). "What can I do about this", Ronald Youngs asked next. "Get me a gun, Iíll shoot you", was Peter Gemís dry reply.
Stephen Lucas was a friend of Dixieís and he was a brilliant piano player and I remember his great version of "Stormy Weather".
At times Reg Nicholle joined us. He was treated with utmost respect by the others and I got to know what a brave man he had been in times of war and times of peace.
During that year I played some football. Richard Collinson was the coach of the Old Victorians then and he was kind enough to let me practice with them. Richard knew a lot about football and I enjoyed our conversations. He had been a professional in England and I remember him always wearing a training sweater with "Huddersfield Town" printed on its back.
I played some matches for the Jersey Academicals. Robin Stockton was the goalkeeper of the team (and a very good one, too) and he used to give me a lift when there was a match outside St. Helier. I remember a match against St. Brelade Reserves which had been reported on by the Jersey Evening Post. We drew 3-all and I will never forget the headline of the article. It read: "Basic Skills at Short Supply". They spelt my name wrong, too.
At the end of October the members of staff played a match against the school first eleven on College Field.. I had to play against the left-winger, a boy whose nickname was "Speedy". He gave me a hard time, we lost 5:3 and my only consolation was that I scored a goal.
I also played Rugby, for the first and only time in my life! One day I was told by Les Inness that the staff team was in need of a "big bloke" for the annual Rugby match against the school first eleven. It was no use telling him that I had never played Rugby before and that in fact I didnít have the faintest idea of what the game was about. I made another attempt pointing out to him that German Rugby had the same standard cross-country skiing had in East Africa. It was pointless. I was in the team.
Fortunately there was a Rugby player in my German Class in Year 7, Tim Wijsmuller. He told me to accompany him to his match the following Sunday. As I didnít have a car then, Tim gave me a lift. I am not faint-hearted, but Timís style of speed driving was hair-raising.
I watched the match, there were some bad fouls and bad bruises, but I still did not know what Rugby was about. Tim advised me to buy some protections for the various parts of my body which I did. He also told me to stay away from the ball if I wanted to keep out of trouble, which I also did. The school first eleven really "dished it out" and Bob Tilling, Les Inness, Robin Stockton and the other members of staff were at the receiving end of some wild tackles.
We lost the match against the school first eleven, but, walking off the pitch, I observed that as I hadnít touched the ball once, my shirt was the only one still white.
I also remember the first PTA evening. Dixie introduced me to a father of one of the pupils of the German classes. It was Jack Higgins, and I am still a fan of his thrillers.
At the end of June Queen Elizabeth visited Jersey. All the pupils and their teachers gathered on a big field outside St. Helier to meet the Queen and her husband, Prince Phillip. Everybody was very excited and I must admit this excitement was a little contagious.
On my last day at Victoria College I was presented a copper engraving of St. Aubinís Bay and a sweatshirt with "Old Victorians" printed on its back. The ceremony took place in Assembly Hall, and of course all the teachers who were leaving were expected to say some words. I remember what I said:
"Itís a well-known fact that your first girl-friend will always remain someone very special to you and this is also true for the first school that you taught at. It is particularly true for Victoria College and the year that I spent here. I can say that I thoroughly enjoyed working here and I will always remember the school and the people that I had the privilege to work with."
As a farewell present Dixie gave me Derect Cottrillís book about the history of Victoria College. On p. 97 I found an expression which Ė back in 1978 Ė I was not familiar with: corporate identity. This expression has become a household word in Germany today, as it is used in order to express how a successful company should be run. Looking back I can say that I noticed a lot of this spirit of corporate identity at Victoria College and I wish the German school system would adopt some of this.
---
Kurt Ludwigs today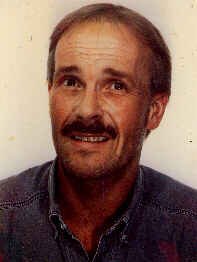 ---
This is the Victoria College Staff Rugby team after the match against the school first eleven. Kurt is in the back row, first from right.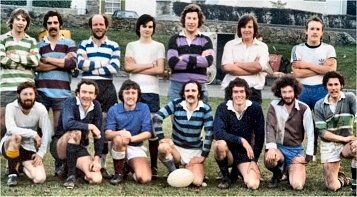 ---
Note: the copyright for this page resides with the person named at the top of the page.
---