Return to the School Master Index: VCIndex1.htm
---

MECHAM FAMILY
Interesting Information on an early Old Victorian family group
Apart from the register information, I would like to thank the Mecham family, Australia, and in particular Mick Mecham, for the extra details of the Mecham family after College days. Photographs by kind permission of the Mecham family, Australia, additional information by e-mail from Mr Mecham.
The Mechams were an interesting family, with a military background (as a number of early Old Victorians had), and they give an insight into a family group with Old Victorian connections, and how even in the days before flights, families moved (even by today's standards) considerable distances.
---
Note. This family illustrates the variance in age at College entry in the early years.
| | | | | | | | |
| --- | --- | --- | --- | --- | --- | --- | --- |
| Name | Index Ref | Year of Entrance | Approx Year of Birth based on entrance age 7-11 | | Date of Birth | Age at Entrance | In Range |
| | | | From | To | | | |
| Mecham, G | 169 | 1853 | 1842 | 1846 | 1841 | 12 | NEARLY |
| Mecham, A | 170 | 1853 | 1842 | 1846 | 1842 | 11 | YES |
| Mecham, JR | 193 | 1854 | 1843 | 1847 | 1845 | 9 | YES |
| Mecham, W | 262 | 1855 | 1844 | 1848 | 1840 | 15 | NO |
---
MECHAM FAMILY
---
From the Victoria College Index, 1852-1929

MECHAM G 169(Index No) 1853(Entrance Yr) George. Son of Capt. G. Mecham, Bagot House. Brother of 170 and 193. MECHAM A 170 1853 (my ggrandfather) Augustus. Brother of 169 and 193. Went to Australia and was living in Syndey, N.S.W. MECHAM JR 193 1854 John Russell. Brother of 169 and 170. Entered the Army (27th Foot). Capt.26th Cameronians 1878. Lt-Col Cmdg 2nd Scottish Rifles 1890. Col Cmdg 26th Regimental District. Died at Hamilton NB 1898. MECHAM W 262 1855 Walter (no other info).
---
Mick MECHAM, Canberra, Australia adds:

Our ancestors George and Harriet MECHAM settled in Jersey about 1835 and the family, 14 children (about 7 of these born in St Helier) were thereabouts until about 1877.

They lived at Bagot House (from an 1842 baptism cert); was Bagot House also called Bagot Manor? Although they were wealthy with property in Ireland, they may have been renting at Bagot. The 1842 cert shows a sponsor named Edward Bloxsom.

George had served as Captain in 3rd Dragoon Guards earlier, but we don't know his position when at Jersey.

George died in 1866 and Harriet in 1877 (we have a photo of her grave monument, but have been unable to determine which cemetery; they were Anglican). A couple of the daughters may have married local men.

JR (John Russell) was a Colonel in the Cameronians and had a distinguished career; the other 3 all came to Australia in the 1860s and established families. All 4 of Walter's surviving sons were at the Boer War.

What was surprising was that W.MECHAM (262)didn't enter the college until he was about 15. He was actually older than the other 3. Their ages at entry were (for your info):

MECHAM G age 12 b.1841 (estimate was 1842-46) almost agrees MECHAM A age 11 b.1842 (estimate was 1842-46) agrees MECHAM JR age 15 b.1845 (estimate was 1843-47) agrees MECHAM W age 15 b.1840 (estimate was 1844-48) ***
---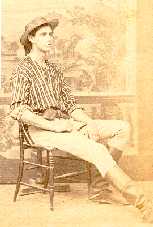 This is George Bridgham Septimus MECHAM (No.169) photographed in Rockhampton, about 1875. He was a pioneer cattleman in Queensland and northern NSW. Note the gun holster and spurs. I guess with a name like that, you'd have to be able to stand up for yourself in the saloons. He died 1922 aged about 82.
George Bridgham Septimus MECHAM: b.St Helier 1841 d.Rockhampton Qld 1922. Arrived Australia 1860; pioneer pastoralist NSW and Queensland. By 1873 was manager of "Gournama" station 25,000 acres near Warialda, NSW. Wife Alice died young and George moved to Queensland. Two sons; one died at 7.
Source: Mick Mecham, e-mail.
---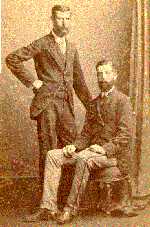 Two of the other ex-students, Walter (standing) and Augustus (sitting) - photo taken about 1880 in Sydney.
Walter Alexander MECHAM: b.St Helier 1840 d.Sydney 1927.Arrived Australia 1860. Farmer and cattleman NSW and Queensland. Married 1874 (wife Emily Martyr was sister of George's wife, Alice); 7 children - 4 sons, served in the Boer War.
Augustus MECHAM: b.St Helier 1842 d.Sydney 1930. Arrived Aust 1868. NSW Education Dept administrator. Married 1873 Emma Walsh; 5 children.
Source: Mick Mecham, e-mail.
---

Who were the Mechams and why did they go to Australia?
Why did they leave Jersey? The males in this and earlier generation of the family were fairly footloose and many had military service. There were 14 children in their family-
The eldest son was Richard Mecham, Capt Bengal Army, murdered on NW Frontier in 1859.
Second son was Commander Geroge Frederick Mecham RN, HMS Resolute in Arctic explorations 1853-4 and earlier; discovered Prince Patrick and Eglington Islands and set records for sledge journeys.
Third son was Capt Clifford Mecham, Madras Army, survivor of Lucknow, Bengal Lancers, Hodson's Horse, several Indian - Frontier campaigns. Died India 1869.
A couple of the others we know little about; one was a London policeman.
Maybe it was the exploits of the older brothers which stimulated their need for a broader horizon.
Walter went to Australia first, at age 20, in 1860 (to Melbourne): George about the same year (probably to Brisbane) and Augustus in 1868 (also probably to Brisbane initially). Their father seems to have been well heeled (the 1854 Irish Valuations show 34 properties in Athlone, Ireland in his name).
There is reference to the father, George, in the Societe Jersaise web site -Hundred Years of the Royal Jersey Agricultural and Horticultural Society - in 1841, Capt Meecham (often Mecham is spelt this way), then living at Bagot Manor, provided a recipe for peach and nectarine spraying, a large proportion of which was stale urine (after a night on the port?).
George died in London in 1866 (maybe went there for treatment). Harriet (his wife) moved to Grouville shortly after. She died St Helier 1877. She was buried, possibly in St Saviour or Grouville.
Source: Mick Mecham, e-mail.
---