Return to my Societe Pages index
---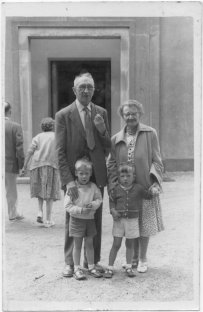 JEP 12th August 1968
DEATH OF MR H.G. SHEPARD
WITH R.J.A. AND H.S. FOR OVER 60 YEARS
Mr Harold George Shepard, associated with the Royal Jersey Agricultural and Horticultural Society for more than 60 years - he was secretary of the agricultural department from 1916 until his retirement in 1960 - and one of the doyens of local Churchwardens, died suddenly on Saturday evening at his home, 50 St. Mark's Road. He was 75 and today was to have been at a sitting of the Ecclesiastical Court to be sworn for a further term as senior Churchwarden at St. Brelade's Parish Church.
Although he had for some time suffered from a heart complaint, Mr Shepard visited his elder daughter, Elizabeth, and her husband, Mr Leslie Jepson, and three of his grandchildren, two boys and a girl, at their home in Adelaide, Australia, from February to June of this year. On Thursday he took part in judging the gardens competitions organised by the horticultural department of the R.J.A. and H.S. - he was still honorary secretary of the department - and, as usual, was at the society's office in Mulcaster Street on Saturday morning.
On Saturday evening, Mrs Elizabeth Le Marquand, who occupies part of the house at 50 St. Mark's Road, took him a cup of tea in his sitting room. Later, at about 8.30, she and her husband, Mr J. Le Marquand, went in to see Mr Shepard. They found him sitting in his chair collapsed. His doctor was called but could only confirm that he was dead.
Mr Shepard, who was Jersey-born, was educated at the old National School in Don Street under the late Mr. Thos. Adderson. At 14, he entered the offices of the R.J.A. and H.S. as a junior clerk. The late Mr John Perree, of Oaklands, St. Saviour, then one of the senior officers of the society and sometime president, took an immediate interest in him. In fact, Mr Shepard was only 23 when he was appointed secretary of the agricultural department and of the Jersey Herd Book in December, 1916. The First World War was then at its height but, always near-sighted, Mr Shepard was unable to take part in military service.
During his 44 years as secretary of the department, he acquired a vast knowledge of the famous Island breed of cattle, on which he was an acknowledged authority. In fact, after his retirement in 1960, he continued for several years more as editor of "The Jersey at Home" - the breed journal - and prepared a paper on behalf of the society for the 1961 World Conference on Jerseys.
Throughout his long services with the society he was never away from work because of illness for as long as a week and could only remember staying away for two consecutive days. He worked under many differing presidents and regularly organised the society's shows and other events at Springfield, being there on the occasion of the Royal Visit of 1921 when the society presented a Jersey cow to their late majesties King George V and Queen Mary.
In January 1930, he became honorary secretary of the horticultural society and was assiduously preparing for the annual summer show of flowers and produce at Springfield next week.
In a tribute to him yesterday, Mr A. Robert, senior vice-president of the society and chairman of the horticultural department, said: "We always admired Mr. Shepard for his invaluable knowledge. The society always valued his advice in coming to certain committee decisions". Mr Roberts went on to say that because of Mr Shepard's long association with the horticultural department and the work he had done, they were assured of its continuity.
For many years Mr Shepard lived at Maderia, St. Brelade's Bay, where his wife, formerly Miss Ivy E. Le Marquand, conducted a small business. They afterwards went to live at their property in St. Mark's Road, where Mrs Shepard died some years ago.
He was elected as Churchwarden of St. Brelade's Parish Church in July 1936, succeeding the late Mr T.C. Pullinger. Of him yesterday, the Rector, the Rev. W.G. Tabb, said: "He was my senior warden. He was a most faithful servant of the church. Nothing was too much for him to do. Come fair weather or foul, he was always there every Sunday. Except when he was away from the Island, he never missed morning service on Sundays. He looked after the poor of the parish and was in charge of La Charite and will be greatly missed."
Mr Shepard was honorary treasurer of St. Brelade's Hospital from 1939 to 1945, including the years of the Occupation. He had also been a member of the Societe Jersiase since 1929.
A most unostentatious man and a deep thinker, he was always quietly spoken. He was also a brilliant mathematician and his memory for dates and data remained unimpaired.
Mr Shepard's younger daughter, Ann, is married to Mr R.E.N. Bellows, manager of the Walford Merchant Banking Corporation, Conway Street, of St. Bueno, St. Brelade's Bay, and they have a young son and daughter. It was with them that he invariably spent his Sundays. He is also survived by two sisters both living in the Island.
The "Evening Post" offers its sympathy to all members of the family.