Return to my Societe Pages index
Return to the School Master Index: VCIndex1.htm
---
College Days: A Brief Memoir
This is a brief account of my education in Jersey from 1962 to 1976. I hope you find it interesting and amusing.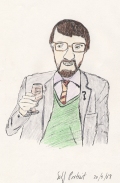 Tony Bellows, April 2001
This part of site last updated 06 July 2001
---
Timeline:

1962-1965 Mandalay Primary School 1965-1969 Victoria College Preparatory School 1969-1976 Victoria College School 2001 Victoria College revisited
---
Brief Information on People mentioned:
Cottril, D
Devenport, MH
Fearon, JA
Green , MC
Landick, LA
Le Breton, JL
Le Quesne, E
Lucas, S
Nicholle, RJ
Powell, G
Salt, HRM
Tricker, BHK
Webb, K
---
In World War II, as a youngster and young man, he was in Jersey during the occupation, and was placed in an internment camp at Grouville by the Germans. (There exists film which shows him placing table tennis during his internment.) After the War, he trained as a teacher in the UK, supplementing the costs of training by playing Jazz (one of his great loves, alongside boxing).
Gym teacher at Prep, also commentator for sporting events on Channel Television in the 1960s. After his retirement, we met up again and he became a personal friend; we worked together (with Ken as editor and myself as assistant editor) on the Channel Islands Mensa magazine until his death. There is also a picture of him from his CTV sports days on that page.
---
Green, Melvin Charles ("Gloop")

Old Victorian (index Green, MC, 3610)

Son of JC Green, Central Hotel, Royal Square. B. 23.6.11. Gained the Kingís History Prize, Maths and Girard de Quetteville Medals. Farnell Prize. Left 1930. Open Scholar Christís College, Cambridge. Wrangler. Assistant Master, Alleynís School, Dulwich. Master at Victoria College 1947-1972. Head of mathematics. Introduced "Cambridge Alternative C Mathematics" O-Level syllabus.

Took outings on local history on Saturday mornings for over 20 years, along with his spaniel, Mandy. Revived College chess club.

Head of archaeology section of Societe Jersiaise for a time; often led outings for Junior Section of Societe Jersiaise. Deceased.
---
Powell, Geoffrey

Head of Junior School on retirement of J.A. Fearon. Taught mathematics and latin. Left to work for Church in England. Published book of poetry "No More Tears". No relation of Colin Powell, the States of Jersey Chief Advisor.
---
Lucas, Stephen ("Spike")

History teacher at Victoria College. After-dinner speaker "double act" with Dixie Landick. Also member and performer in The Island Players, and a very good amateur pianist.
---
Cottrill. Derek

History teacher at Victoria College. Published a history of the College - "Victoria College 1852-1972". Left to become a Church of England minister. Now rector of church in Southampton.
---
Devenport, Martyn Herbert ("Daisy")

Headmaster. b. 11.1.31, Maidstone, Kent; s/o Horace Devenport of Maidstobe. Educated: Maidstone Grammar School 1942-1957. Gonville and Caius College Cambridge 1951-1957. , BA (Cantab), Before training as a teacher at Cambridge he was a research assistant in the Cavendish laboratory from 1954-1956. Asst. Master, Eton College 1957-1967. Mr. Devenport taught science at Eton from September 1957 to July 1967, having in the spring of 1957 done his teaching practice here.He was in charge of the administration of A-levels and also the swimming team, as well as being a member of Eton UDC. He was highly regarded both as a teacher and as an individual. Appointed Headmaster of Victoria College 1967. Deceased.
---
Fearon, John Archibald ("Jack")

Old Victorian (index Fearon, JA, 3555)

John Archibald. Son of E Fearon, Bernica, Beach Road. Gained Mod. Lang. And French Medals. CI Schol. Exeter College, Oxford. Left 1929. Address: Sunnyside, Hastings Road. Colonel (army), retired. French teacher and head of Junior School.
---
Salt, H.R.M. ("Noddy")

Degree Pembroke College Oxford. Teacher at College 1932-1969, Senior Classics Master. With the decline in Latin, he taught himself physics and chemistry, gained A-levels, and taught the juniors science. Deceased.
---
Tricker, B.H.K.

Brian Tricker was head science master at Victoria College during my first two years there. He devised a combined science (physics, chemistry, biology) curriculum workbook for the junior school, and also played a major part in design work for the Princess Anne Science Wing (a.k.a. The Science Block).
---
Le Quesne, Edward

Head science master after Brian Tricker. Also a keen supporter of Oxfam.
---
Le Breton, John Lyndon

Old Victorian

Born 9.9.40. Head of mathematics after M.C. Green. Later Deputy Headmaster. Retired. Became Jurat of the Royal Court. In charge of part of the C.C.F; organised shooting trips to Bisley.
---
Landick, Lennard Aubyn ("Dixie")

Old Victorian

Born 29.8.23. l. 1942. Official Interpreter to Crown Officers in Jersey during Occupation. Official Interpreter of Foreign Office in Western Germany. Taught at Victoria College (German master). Also Scoutmaster at Victoria College (11th Jersey Troop). Deceased.
---
Nicholle, R.J. ("Reg")

Chief instructor of the Jersey School of Phsyical Culture, in charge of P.E. at College until 1971; also took Sea Scouts and Sailing Club
---