Return to my Societe Pages index
---

Rex Falla and the Bolton connection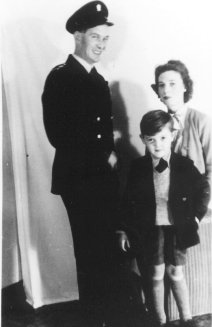 Rex Falla left Guernsey before it was occupied by the Germans in the Second World War.
Because of a motor bicycle accident (on a Harley Davison), Rex Falla was unable to join the armed forces in the Second World War, and was given a placement working at the De Havilland Aircraft Factory near Bolton, Lancashire, England.
It was while living in England that he met his wife to be, a local girl, Lily Savage (coincidentally also the name of a popular 1990s comedian's alter ego).
After the war, he returned to Guernsey, where he and his wife stayed with his parents at Sous L'Eglise, St. Saviour. Their son, Anthony, was born in Guernsey on 27th September 1947.
Around 1953, Rex began seeing Daphne Tippett (nee Dunning), the wife of Ernest Tippett. This came out into the open, and Ernest Tippett filed for divorce, citing Rex as the co-respondent. This citation was delivered to Bolton, as Rex had moved back there from Guernsey. He never moved back to Guernsey.
The daughter of Daphne and Rex, named Kay Dunning, was born on 19th January 1954.
Rex's brother Frank Ewold Falla remained in Guernsey. He died on 8th January 1948 of tuberculosis, and was buried in the Parish Cemetry by St Saviour's church, Guernsey.
Rex's mother died on 25th December 1955, and she was buried in the same grave as Frank. A family friend said that she had known about Rex and Daphne, and heard that Daphne had a daughter, and was heartbroken when Rex left Guernsey. She had never got over the loss of both sons, one dead, the other left for distant England.
After Rex's mother died, his father Stephen John Falla sold Sous L'Eglise and moved to Bolton to be near to his only living son. He died on the 8th August 1956, and is buried in Bolton.
Rex died on 28th February 1977, and was buried with his father.
---