The History Section
La Section d'l'Histouaithe
Firemarks and Fire Insurance in Jersey
A short illustrated synopsis of the talk delivered by David Le Maistre and Alex Glendinning to the Section
John Le Geyt's Firemark

Photograph © Alex Glendinning
This Firemark was found in an antique shop in Jersey in November 1998. Although quite badly damaged, it is still possible to identify it as belonging to the Sun Fire Office and the policy number is intact. It would have been placed on public view at the front of the owner's house to indicate that he was a policyholder. In the event of a fire, a crew of firefighters in the employ of the insurer would turn out in order to extinguish the flames.
Few firemarks have survived in Jersey, this is one of only two that I known about. (The other is from the London Insurance, on the wall of Gallichans the Jewellers in Royal Square. It is actually a fibreglass reproduction, the original is on display in a locked cabinet within the premises). Their poor survival rate has been put down to theft and maybe to the fact that they were made of lead and therefore tended to melt in a house fire!
The Policy
A copy of the policy is preserved among the ledgers of the Sun Fire Office at the Guildhall Library in London. No. 382175. Ledger page dated April 2 1777.
John Le Geyt of Rouge Bouillion in the Parish of St Hellier (sic) in the Island of Jersey Merchant on his own dwelling House only situate as aforesaid (?) and Thatched not exceeding Two Hundred Pounds. Household goods therein only not exceeding Three Hundred Pounds. Wearing Apparel therein only not exceeding Fifty Pounds. Press Cellars Stable and Barn adjoining Thatched not exceeding One Hundred and Twenty Pounds. Bakehouse only seperate Tiled not exceeding Thirty Pounds. House only in the Parish of St Helier aforesaid Stone Slated and Tiled in the Tenure of Samuel Guille Shiphusband(?) & John Le Gros Gent not exceeding Four Hundred Pounds. Cellars adjoining behind and seperate Tiled and Thatched not exceeding One Hundred Pounds. Total £ 1200. (Signed ) J Mason. N Burrell. J Chalie.
Premium in 1777 £ 2. 8s per quarter until Lady Day 1784 when it increased (no reason given) to £14. 5 shillings and 8 pence.
The Geyt Family
Jean Le Geyt was baptised in St Saviour on May 14 1742, the first son of Philippe Le Geyt (1715-1769), who would become a Centenier of the Parish, and Marguerite Pellier (1718-1812) his wife. His godparents were also his grandparents, Jean Le Geyt (1687-1762) and Rachel Laffoley. He would grow up in a household of four boys and two girls.
By 1769 he was established as a merchant in St Helier and married Marie, daughter of Nicolas Fiott. They had two children, Jean Nicolas born in 1770/1 out of the Island and Marie Anne, baptised in St Helier (Law Library Ref: 319/18). Marie Fiott died in childbirth and was buried in St Helier on November 10 1772. Tragically, her son had drowned in an accident at the age of 10 and was buried with her on August 27 1781. His father was to follow in 1788 but was buried in St Saviour on November 5.
Marie Anne Le Geyt, now 16, became the responsibility of her uncle Edouard Fiott, Seigneur of Mélèches, her father's former business partner and a retired privateer Captain. In the Gazette de Jersey of Saturday November 22 1788, Edouard advertised for sale (as her tuteur) "la maison et office qui furent à feu Jean Le Geyt, situeés au Rouge Bouillion". By the issue of December 6 there had been no takers and the house was advertised as for sale by auction two days later. Rouge Bouillion was much longer than the road we are familiar with today and is a town vingtaine. It was shown extending to the sea at West Park on the Le Gros map of St Helier dated 1849. It is therefore impossible to pinpoint exacty where the house was unfortunately!
The Le Geyt tree (SJB V 1904 pp. 248-250) shows that Marie Anne also died young in September 1793 at Gosport, Hampshire, just before her 21st birthday. She was unmarried.
Background supplied by Guy Dixon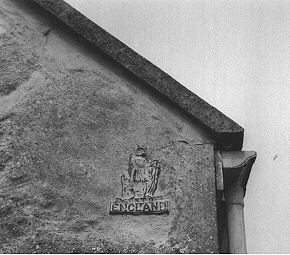 Firemarks photographed in the 1970s by David Le Maistre



West of England and Norwich Union Firemarks in Grouville. Now sadly both have disappeared.
© David Le Maistre