Art & Photographic History Section
La Section d'l'Histouaithe d'l'Art et d'la Photographie

Art & Photographic History Section
La Section d'l'Histouaithe d'l'Art et d'la Photographie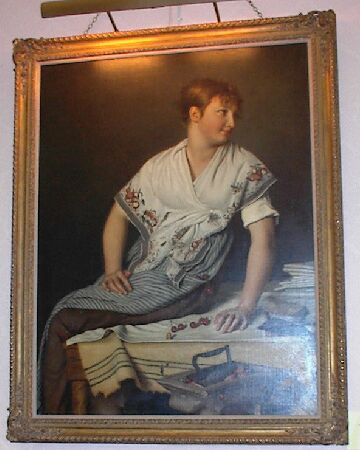 "La Repasseuse"
J.L. David
A three-quarter length portrait of a girl seated at an ironing table. She wears a finely embroidered shawl and blue striped apron. On the ironing cloth are a few cherries and a thimble. Bears a signature.
This is one of 23 oil paintings presented to the Parish by Mrs. Lucian Mary Le Sueur, née Turner, on the 14th January, 1890. It can be seen in the Committee Room of the Town Hall.
Oil on canvas 47" x 34".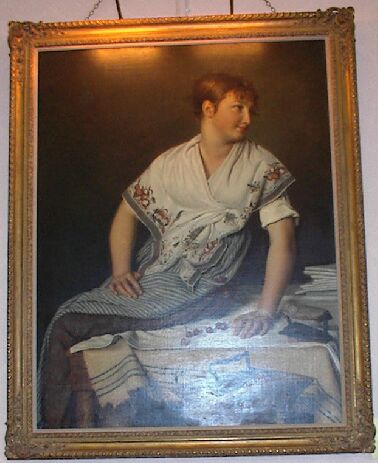 Jacques Louis David (1748 - 1825) Eminent French classical artist, nephew of the artist Boucher, from whom he received his first instruction. After studying the antique in Rome he developed his own classical manner. He took an active part in politics being a supporter of Robespierre during the French Revolution. Later, abandoning politics he became a friend of the first Napoleon, painting many commissions for him. On the restoration of the Bourbons he fled to Brussels and died there in exile on the 29th December, 1825.
His influence on French painting was great. With his pupil, Ingres, he was all powerful until the rise of the Romantic School, lead by Delacroix. This important painting shows the masterly draughtmanship so typical of David, and has not the overcold colour which sometimes marks his work.