Return to the main obituaries page.
---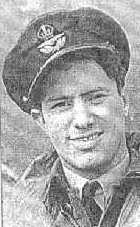 Group Captain Joe Holmes - Obituary
Group Captain Joe Holmes, who has died on Jersey aged 77, was generally recognised as the pilot who wounded Field Marshal Rommel (the "Desert Fox") as he toured German frontline positions in Normandy in July 1944.
Cannon fire from a Hawker Typhoon fighter-bomber of 266 Squadron - of which Holmes was then commander - caused Rommel to be struck in the face by broken glass. A blow on the left temple and cheek-bone fractured Rommel's skull, and he was taken unconscious to hospital.
Research later indicated that Holmes was almost certainly responsible for inflicting these injuries.
Joseph William Ernest Holmes was born on April 22 1916 in Yorkshire; his father had been killed on the Somme. Young Joe was educated at Normanton Grammar School, Trinity College, Carmathan, and Carnegie Hall, Leeds.
He taught at Holme Valley Grammar School, Huddersfield, before entering the RAF in 1939.
Commission in 1941, he joined 263 Squadron at Charmy Down. The next year he was posted to No 137, before returning to No 263 as a flight commander in 1943.
Nos. 263 and 137 were the only two Westland Whirlwind fighter-bomber squadrons to fly operationally in the Second World War. The Whirlwind, a single-seat twin-engined aircraft, did not enjoy the best of reputations, but Holmes coaxed excellent results from it.
Between 1941 and 1943 the Whirlwind squadrons were engaged on cross-channel low-level raids and attacks on enemy shipping.
On one occasion Holmes sank a German supply ship, the Ost Vlanderen, as it approached St Peter Port, Guernsey.
On another he was escorting Bristol Blenheim light bombers on a arid against Cherbourg when he was set upon by three superior Me 109 fighters. "They did all the talking," as he laconically noted.
Holmes was awarded the DFC; and AFC followed shortly afterwards, in recognition of his efforts to raise the standards of air-gunnery.
In February 1944, he was given command of No 266 (Rhodesia Squadron).
After the war, a succession of postings led to a command in 1950 of No 603 (City of Edinburgh), a Royal Auxiliary Airforce squadron.
From 1952, he was chief flying instructor at No 233 Operational Conversion Unit, and in 1954, he was posted to the Far East, where he contributed significantly to the air operations which led to Britain's eventual success in the Malaysian Emergency.
During this period, while sitting in the second pilot's seat of a No 1 squadron (Royal Australian Airforce) Avro Lincoln bomber (the successor to the four-engined Lancaster), Holmes saved both crew and aircraft from disaster.
The bomber hit high ground after taking off from RAF Tengah on Singapore Island, and two of its engines caught fire. Holmes seized the controls, managed to "splash-down" in the sea, then spurred the crew as they swam through shark-infested waters to safety, pushing with them a dinghy in which lay injured airmen. He was mentioned in despatches.
In 1960, after staff work at the Air Ministry, Holmes was appointed air attache in Bangkok. He was station commander at RAF Benson from 1963 and in 1965 joined Supreme Headquarters Allied Powers Europe as a senior operations officer.
In retirement, he taught at Victoria College, Jersey.
Jo Holmes was much involved in the affairs of the island and in ex-Service organisations.
He was married, and had a daughter.
---